Severe staff crunch major impediment
Over 5,000 posts of master and 3,500 posts of lecturer are lying vacant in government schools
Neeraj Bagga
Amritsar, February 27
Staff crunch, lack of infrastructure and obsolete teaching material. This sums up the state of affairs in the education sector in the border district.
Elementary education is in dire straits with 1,030 posts of teachers and headmasters lying vacant. As against the sanctioned strength of 3,657, teachers and headmasters, only 2,627 teachers are available. In all, there are 866 elementary schools in the district. Of these, two are being run from rented buildings and six either from gurdwaras or village land, said District Education Officer (Elementary) Jaspal Singh.
However, there are a number of elementary schools in rural areas that are being run from dilapidated buildings and many do not have boundary walls. Insiders say there are several one-teacher schools.
There are about 420 secondary schools in the district, 147 middle schools, 105 high schools and 90 senior secondary schools. Besides, 77 middle schools are being run under the Sarv Sikhya Abhiyan and one under the Rashtriya Madhyamik Sikhya Abhiyan.
Students in rural areas do not have much choice post-matriculation. District Education Officer (Secondary) Sukhwinder Singh conceded that 90 senior secondary schools did not have the commerce and science streams. He said there were several reasons for this omission, ranging from lack of staff and poor infrastructure. Those schools lucky enough to have science labs have obsolete equipment. Many buildings are in need of repair. Despite the drawbacks, the pass percentage for matriculation was 81 per cent for the session 2010-2011 and 83 per cent for the plus two classes.
Chief Minister Parkash Singh Badal's ambitious project of imparting public school education to students of remote areas resulted in only two schools opening in the district. Two Adarsh Schools, one at Chogawan village in Rajasansi and another at Phatu Gillan village in Majitha, were set up.
Though the Education Department has begun to implement the Right to Education Act in government schools in right earnest, private schools in the district are reluctant to do so and insist that they be compensated for any losses.
The department pressed into service 250 teachers in various blocks to bring all the students in the 6-14 age group to schools. Tricycles for fetching children with special needs to schools have been made available under the compulsory education programme.
As many as 70 primary schools have already been upgraded to the middle level and approval for upgrading seven schools to high schools has been forwarded to the authorities concerned.
Facts & figures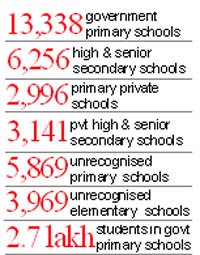 Infrastructure pangs
n There are a number of elementary schools in rural areas that are being run from dilapidated buildings
n Many do not have boundary walls
n There are several one-teacher schools
n A large number of senior secondary schools do not have the commerce and science streams
n The schools lucky enough to have science labs have obsolete equipment
Evening Schools
Under the National Child Labour Project, a total of 27 schools have been set up in Jalandhar with 1,350 students (50 for each school). These Evening schools are meant for the children of labourers.
Teachers in these schools have not been paid salaries since April 2011 and the students have recived a stipend of only Rs 1,200 in the past three years. The salaries of teachers were supposed to be raised (from Rs 1,500 to Rs 4,000 per month) from April 2011. Similarly, the students were promised a stipend of Rs 150, which they have yet to receive.
Some of these schools are supervised by NGOs which take a lot of interest in helping the children, contributing towards their uniform and stationery. But this is not true of all such schools. There are schools where mid-day meals are prepared inside classrooms as there is no cooking shed. Government funds are often delayed and basic amenities absent. One of the NGOs running the Garha and Model House NCLP schools said they did not have enough funds to run the schools and they needed help.
RTE Act
Given the fact that the deadline for implementing the RTE guidelines in schools is 2012, Jalandhar schools are way behind. The education department has neither carried out mapping nor ensured proper facilities for students. Schools abound where classes are conducted on the bare floor as there is no furniture. Some schools are being run from marla houses with no playground or lab.
Dropout rate
The dropout rate in the city schools is 4.36 per cent. Children, teachers say, run away from school for menial work because they know their names will not be struck off.
Official Word
District Education Officer Neelam Kumari said: "We will recruit as many teachers as we get. It is up to the government to frame a policy that ensures the schools get adequate staff. Before elections, a state recruitement cell was formed but due to the election code, things came to a standstill." She said under the Sarv Shiksha Abhiyan, schools were given grants liberally.