PowerCom blames MC, Town Planning officials
Gurdaspur, February 21
Punjab State Power Corporation Limited (PowerCom) is fighting a losing battle against the menace of overhead high-voltage wires in heavily populated residential areas. The corporation blames residents for constructing illegal houses under power lines "which have been in existence since the pre-Independence days".
Heritage Walk: Tourism board on course correction
Amritsar, February 21
Even as the Heritage Walk and the Panj Sarovar Walk launched by the Punjab Heritage and Tourism Promotion Board (PHTPB) has failed to draw tourists, the authorities are planning to breathe a fresh lease of life into these initiatives.
Wires just 2ft above rooftops
Amritsar, February 21
Residents of Indira Colony here are forced to live in houses with 11000 KV high-tension wires running overhead.
A mishap waiting to happen
Patiala, February 21
The lives of hundreds of residents in the city's densely populated areas of Prem Nagar, Bhadson Road, Anand Nagar and Ranjit Nagar are are at risk because of overhead high-tension wires.
Punjab's claim on Sukhna's catchment area refuted
Chandigarh, February 21
Adding a twist to the ongoing controversy over the Sukhna Lake's catchment area, amicus curiae or friend of the court Tanu Bedi today refuted State of Punjab's claims that it did not fall in its territory. For the purpose, she referred to a board in Sukhna Wildlife Sanctuary saying that 277 hectares of agriculture land in the catchment area falls in Punjab, 252 hectares in Haryana, and 366 hectares in UT. She also sought details of the high-rise constructions in the area.
EcoSikh initiatives help increase forest cover
Chandigarh, February 21
What years of sensitisation about environment could not yield, an initiative of EcoSikh, a Washington-based organisation bore fruit and recorded an increase in forest cover by 16 sq km in Amritsar while the national average has come down by 100 sq km.
SAD workers block traffic
Protest against beating up of Chandumajra's supporter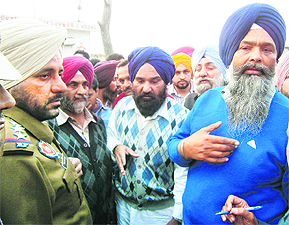 Fatehgarh Sahib, February 21
Supporters of Prem Singh Chandumajra, SAD candidate from Fatehgarh Sahib in the assembly elections, blocked traffic on the Sirhind-Chandigarh road today in protest against beating up of Lakhbir Singh Sondha, a close confident of Chandumajra, allegedly by Didar Singh Bhatti, PPP candidate from Fatehgarh Sahib, and his son Gurbinder Singh Bhatti, president of the Municipal Council, Sirhind-Fatehgarh Sahib, and Sarabjit Singh Makhan, a PPP leader.
SAD leader Prem Singh Chandumajra, along with Lakhbir Singh Sondha, briefs the police in Fatehgarh Sahib on Tuesday. Photo: Surinder Bhardwaj

Appointment of Sainik Welfare officer quashed
Chandigarh, February 21
In a significant ruling, the Punjab and Haryana High Court today set aside the appointment of Lt Col Manmohan Singh as Jalandhar District Sainik Welfare Officer. The High Court also imposed an exemplary cost of Rs 50,000, while allowing the PIL. The costs shall firstly be paid by the Punjab Government to the legal aid services authority, and subsequently recovered from the officer found responsible for making illegal appointment of Lt Col Manmohan Singh.
Patwari's arrest sparks agitation
Fatehgarh Sahib, February 21
Revenue work has come to a standstill in the district due to a strike of the Revenue Patwar Union in protest against the arrest of union vice-president Mohan Singh of Fatehgarh Sahib. He is arrested by the Vigilance Department, Ferozepur, in a paddy scam worth Rs 2.65 crore.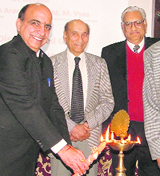 PTU to tie up with industry for training
Ludhiana, February 21
Punjab Technical University (PTU), Jalandhar, is planning to tie up with leading industrial groups to provide practical training to engineering students. This was revealed by PTU Vice-Chancellor Dr Rajneesh Arora while talking to The Tribune during a seminar on "Education and value system" here today.

PTU V-C Dr Rajneesh Arora lights a ceremonial lamp in Ludhiana. Tribune photo: Inderjeet Verma

Procurement Pangs
'Can't make direct payments to farmers'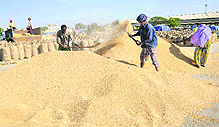 Punjab tells Centre, urges transportation of 40 lakh tonnes of wheat to other states
Chandigarh, February 21
There appears to be no solution to the problem relating to the moving of surplus wheat stock of 40 lakh tonnes to other parts of the country from the state. Sources said officials of Bihar, Uttar Pradesh and some other states today conveyed to the Centre that it should not send more wheat to their states.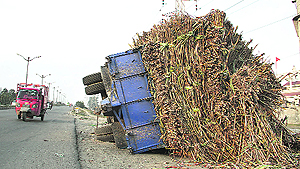 Side-effect of overloading: Loaded beyond capacity, a truck carrying sugarcane had to bear the brunt as it overturned near Jalandhar on Tuesday. Photo: Sarabjit Singh

A first in Punjab
Counting to be videographed
Chandigarh, February 21
For the first time ever in Punjab, the Election Commission would be video-graphing the counting of votes in all 117 centres across the state on March 6. Punjab Chief Electoral Officer Kusumjit Sidhu today passed instructions in this regard to all election officers of the state through a specially convened video-conferencing session.
Suspect's brother among 2 detained in DSP murder case
Jagraon, February 21
A team of the CIA Staff from Ludhiana today conducted raids at three different locations here and detained two youths for interrogation in connection with the double murder case of Moga DSP Balraj Singh Gill and a woman identified as Monica Kapila.
Dhingra's Memorial
Notice issued to Amritsar DC
Chandigarh, February 21
The Punjab and Haryana High Court today issued notice of motion to the State of Punjab and Amritsar Deputy Commissioner on a PIL for setting up martyr Madan Lal Dhingra memorial.
SGPC steps up efforts for early session
Amritsar, February 21
Intensifying efforts to expedite the process for the election of its new office-bearers, the SGPC today shot off a fresh missive to the Union Home Ministry, seeking an appointment with Home Minister P Chidambaram.
Man getting 'threats' from policemen
Baretta (Mansa), February 21
A local resident, Baldev Sharma, who secretly captured a video of a policeman beating a woman at the Baretta police station, fears for his life and has sent a complaint to the Chief Election Commissioner, demanding security.


Regular staff to replace guest lecturers, HC told
Chandigarh, February 21
Guest lecturers in Punjab would only be replaced by regular staff. Another set of guest lecturers would not be hired in their place. An assurance to this effect has been given by the State of Punjab to the Punjab and Haryana High Court in more than one case. The significant declaration comes as a relief to so many guest lecturers, working in Punjab, who were apprehending that their services would be terminated for adjusting other candidates on the posts on similar terms and conditions of appointment.