Dera chief's case put off again
Bathinda, February 18
The hearing of the case pertaining to "hurting" sentiments of the Sikh community by Dera Sacha Sauda chief Gurmeet Ram Rahim Singh has been deferred till March 17.

Gurmeet Ram Rahim Singh
SGPC writes to Centre on House session
Amritsar, February 18
A day after the Supreme Court allowed the new SGPC House to function, the SGPC today shot off missives to the Centre and the Sikh Gurdwara Election Commission along with the copy of the SC verdict, seeking holding of the SGPC session to elect its new office-bearers at the earliest.
Clear dues or no books for SC students: PSEB
Chandigarh, February 18
Lakhs of schoolchildren belonging to the Scheduled Caste (SC) families in the state may not get free books for the next academic session with the Punjab School Education Board (PSEB) informing the State Welfare Department that it won't supply the same in case its whopping book bill of Rs 47 crore was not cleared.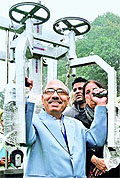 flexing muscles
DGP (Jails) raises another storm
Kapurthala, February 18
Not letting the controversy surrounding the drug mafia operating in state jails die down, DGP (Jails) Shashi Kant today alleged he was not getting cooperation from his colleagues in other wings of the Punjab Police. Citing an example, Kant said he had submitted details about the recovery of 721 mobile phones from inmates lodged in various jails last year but "nothing much was done to pursue the case".

DGP (Jails) Shashi Kant inaugurates a gym inside a jail. A Tribune file photo

EC allows transfer of cops to Ludhiana
Chandigarh, February 18
Facing embarrassment for not being able to solve the sensational murder case of Moga DSP Balraj Gill on February 1, the Punjab police is depending on its old horses to get back in saddle in Ludhiana to crack the case.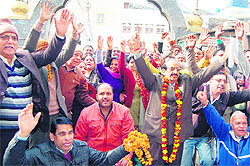 After 26/11, first Hindu jatha leaves for Pakistan
Amritsar, February 18
For the first time after the 26/11 Mumbai terror attacks, a 45-member Hindu jatha, including seven women, left on a pilgrimage to Katasraj in Pakistan from the Attari-Wagah joint check-post near here today.

pak-bound: A group of Hindu pilgrims leaving for Pakistan to celebrate Mahashivratri at Katasraj Chakwal, in Amritsar on Saturday. Photo: Vishal Kumar

Railway Ministry favouring transport lobby, says Chawla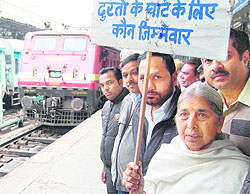 Amritsar, February 18
The Union Railway Ministry is working under the influence of Punjab's transport lobby and is looking for an excuse to discontinue Amritsar-Chandigarh Duronto Express. This was alleged by Punjab Social Welfare Minister Laxmi Kanta Chawla while staging a protest at Amritsar railway station, seeking stoppages for the train at Jalandhar, Ludhiana, Sirhind and Mohali today.

on protest track: Social Welfare Minister Laxmi Kanta Chawla during a protest in Amritsar. She has been demanding stoppages for the Amritsar-Chandigarh Duronto at Jalandhar, Ludhiana, Sirhind and Mohali. Photo: Vishal Kumar

Pollution board raids six industries in Dera Bassi
Patiala, February 18
The Punjab Pollution Control Board (PPCB) today raided half a dozen industrial units in the Dera Bassi area. During the raids, all the six industrial units were found violating various provisions of the Water (Prevention and Control of Pollution) Act, 1974 and the Air (Prevention and Control of Pollution) Act, 1981.
Staff crunch hits working of health dept
Patiala, February 18
The staff shortage has hit the functioning of the Department of Health and Family Welfare in Patiala district. With as many as 87 posts of staff nurses lying vacant out of total 160, other health workers are forced to take extra pressure to carry out routine work.
Repair snaps supply






Power corporation staff replace cables in Patiala on Saturday. Due to the ongoing maintenance work, long power cuts are being imposed in the city. Students preparing for their final exams are the worst hit. Tribune photo: Rajesh Sachar

Govt can change use of acquired land: HC
Chandigarh, February 18
The Punjab and Haryana High Court has ruled the public purpose for which the land is acquired can always be changed by the state government for its optimum utilisation.
Sukhi Chahal bail plea adjourned to Feb 25
Ludhiana, Feburary 18
Sukhjit Singh Chahal aka Sukhi Chahal, a US-based NRI who has been accused of demanding a ransom of Rs 10 lakh from former minister Malkiat Singh Birmi in 1992, today assured the court that he would not cause any harm to the former minister if released on bail.
Cong leader sets man on fire, booked
Ludhiana, February 18
The former District Youth Congress Committee (DYCC) president, Komal Khanna, and his two accomplices have been booked for setting a man on fire.