State eyes revenue of Rs 3,000 cr in FY '12
Incentives to set up wineries
Geetanjali Gayatri
Tribune News Service
Chandigarh, February 18
The Haryana Government now wants tipplers to be high on low alcohol drinks. At least that's what the state's new excise policy, approved by the state Cabinet today, envisages even as it hopes to end the next financial year with a revenue of nearly Rs 3,000 crore against expected "earnings" of Rs 2,600 crore this year.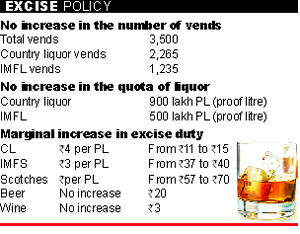 While "maintaining" the maximum basic quota of country liquor (CL) and Indian Made Foreign Liquor (IMFL) for the third year in a row and keeping the maximum number of retail outlets unchanged, the new policy comes packaged with incentives to encourage wineries in the state.
This finds reflection not only in the decision to keep the excise duty on wine and beer unaltered but to also reduce the licence fee from Rs 1 lakh to Rs 10,000 to encourage the setting up of wineries in the state.
A new licence, L1W, for local manufacturers of wine has been introduced for making wholesale supplies to L1s (IMFL licencees) of the state at a concessional licence fee of Rs 1 lakh as against Rs 10 lakh for similar wholesale licences for IMFS (Indian Made Foreign Spirit). Also, now local wineries shall be allowed to sell their wine at the premises adjoining the winery and visitors will have the option of tasting the wine.
Under the new policy, announced by Chief Minister Bhupinder Singh Hooda, after the Cabinet meeting here, the excise duty of country liquor (CL) and Indian Made Foreign Liquor (IMFL) will go up marginally.
While VAT has been reduced from 25 per cent to 15 per cent only on bar licences, from now on, vends will be clubbed into groups comprising a maximum number of three vends, for the purpose of allotment.
Approving the state's excise policy for 2012-13, the Cabinet also decided to marginally increase the minimum retail price of liquor, hiking it by 5 to10 per cent for all liquor with the exception of beer.
The open quota for CL, the licencees can lift from the distilleries as per their choice of brand, has been increased from 55 per cent to 65 per cent in accordance with their demand.
The Cabinet decided to allot vends in groups of a maximum of three vends by inviting sealed tenders for all groups, individually and separately and a reservation of 10 and 5 per cent for SC and BC (A) categories, respectively.
The CL licencees in the rural areas will now have the freedom to locate their main outlet in any village falling in the command area of the vend.
Prospective licencees can cheer in the fact that there would be no increase in the ex-distillery issue price (EDP) of country liquor for the third year in succession and the wholesale licence of country liquor (L-13) will continue to be granted to retail licencees as in the case of wholesale licence of IMFL (L-1).
From 2012-13, DETCs (Excise) will be empowered to grant the wholesale licences L-1 and L-13 and also to grant permission for setting up sub-vends and permit kaksh.
Further, while some amount from sale of liquor will be devolved to the municipal committees and Panchayati Raj Institutions to augment their resources, Rs 20 crore has been earmarked for promotion of sports and another Rs 10 crore for encouraging barley cultivation.
The distilleries of the state are being encouraged to produce spirit from grain as it will give reasonable remuneration to the farmers even for sub-optimal quality or even spoilt grain.