M A I N N E W S
Bengal coins its own definition of corporal punishment
Aditi Tandon/TNS
New Delhi, March 2
For school-goers in Bengal, protection from corporal punishment is a distant dream. No matter what the Right to Education (RTE) Act says about a stress-free environment in classrooms, the Mamata Banerjee-led TMC-Congress combine has its own definition of corporal punishment.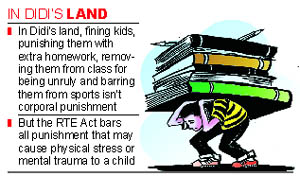 So, fining children, punishing them with extra homework, removing them from class for being unruly and barring them from sports and other activities on grounds of indiscipline don't constitute corporal punishment in the wisdom of the West Bengal State Education Department.
The state, while framing rules under the RTE Act, has granted teachers several safeguards from the punitive provisions contained in Section 17 of the Act.
The RTE Act bars all forms of corporal punishment that may cause physical stress or mental trauma to a child aged six to 14 years.
But the West Bengal School Education Department has coined its own definition of harassment. It has issued a notification listing certain actions which "won't be considered as physical punishment or mental harassment if taken by teachers, administrators or school authorities to regulate, control and check disciplinary activities of a disobedient child".
The notification, while seeking to protect children from corporal punishment, ironically exempts teachers from a range of punitive actions in the name of discipline.
Teachers' actions that won't be considered as corporal punishment in West Bengal are: imposition of fine and penalties not contrary to the spirit of free education; punitive requirement of extra academic work; removing a child temporarily from class when his presence is disrupting the class functioning; prohibiting a child from participating in sports and other co-curricular activities on disciplinary grounds; referring a disobedient child to a counsellor; intimating parents of the activities of children with respect to disciplinary matters and calling them for meetings to enable them to understand the emotional and academic needs of a child.
"Every school shall take every effort to enable all concerned to understand that discipline is an integral part of education," the notification states.
Speaking to The Tribune, National Commission for Protection of Child Rights (NCPCR) member VK Tikoo said the notification goes against the spirit of the RTE Act and the state had been directed to rectify it.
"We have issued instructions to the state. We have taken serious objection to the use of the word disobedient in context of children. The Act talks of an enabling environment. Nothing that causes trauma to a child can be tolerated," he said.
Vikram Sen, Education Secretary, West Bengal, told The Tribune, "We have sent the notification to the Law Department for advice. The NCPCR has said that it is in violation of Section 17 of the RTE Act. We have exempted from the definition of corporal punishment fines and penalties that are not contrary to the spirit of free education."
Out of 1,150 complaints regarding RTE Act violations which the NCPCR received in the past year, 80 pertain to corporal punishment. "We have received a spate of corporal punishment complaints from Bengal," Tikoo said.
The suicide by Rouvanjit Rawla, 13, a student of Le Martiniere School, West Bengal, is still fresh in public memory. He had been physically harassed by teachers.