Female foeticide: Officials seal nursing home, arrest doctor
Our Correspondent
Surinder Bhardwaj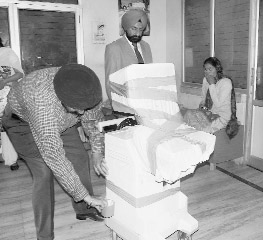 A team of health department officials seals an ultrasound machine at Oberoi Nursing Home in Fatehgarh Sahib. A tribune photograph

Fatehgarh Sahib, March 9
A nursing home was sealed by a team of district health department yesterday. The team was led by Dr Gurmail Singh Chahal, civil surgeon. The nursing home was being run by a BAMS couple, near Administrative complex district, carrying out female foeticide in the area by using unregistered ultra sound machine.
The department registered a case registered against Dr Dinesh Oberoi and has recovered the equipments used for abortion. The police has registered the case under Section 312 of the IPC, 23 PC and the NDPT Act.
Addressing media persons, Dr Gurmail said that one pregnant woman, Jasbir Kaur, a resident of the nearby Adampur village had registered with the health department for routine check-up and ASHA workers used to visit her everyday. Thereafter, the woman was found missing from her in-laws house for the past three days. Dr Gurmail added that he got suspicious and formed the teams to check all the nursing homes in the district immediately. After he got suspicious, their team visited Oberoi Nursing Home, Fatehgarh Sahib and with the help of ASHA workers, the team succeeded in tracing the woman, who had gone to her parent's house. He said that the questioned the woman who further revealed that she had aborted her female foetus child at Oberoi hospital after conducting ultra sound at the same place.
Dr Gurmail said that said, the team took the lady along with them who identified the hospital and the doctor. The team of doctors raided the hospital and was able to seize the unregistered ultrasound and equipment used for abortion. He said that the department was further tracing the woman, identified as Tarlochan Kaur, a resident of Balahri a "Dai" who worked as a middleman for the nursing home for female feticide.
He said the department was taking female feticide and drug abuse strictly and a campaign has been launched against the same.
When contacted the woman, admitted in hospital, she said that she already had two girl children and her in-laws took her for abortion, when they came to know that the police was after them, they took her to her parent's house.
William Jayjee, the SHO Fatehgarh Sahib, said that the police had arrested the doctor and presented before the court, which remanded the doctor to the police custody.