Jats up the ante, stir to intensify
Protesters refuse to cremate body of youth killed in clash with police, demand release of all leaders
Raman Mohan/TNS
Hisar, March 9
Even as DGP Ranjiv Dalal and Deputy Commissioner Amit Aggarwal appealed to the pro-reservation Jat protesters to cremate the body of the youth who had died in a clash with the police on Monday, the protesters today decided to intensify their agitation following government's refusal to release all their arrested leaders.
Suresh Koth, a senior Jat leader, said there was no question of cremating the body before the release of all the persons arrested in connection with the ongoing agitation.
He said since the government had not released the arrested men by noon today, it had been decided to intensify the stir by blocking rail and road traffic "at all possible places" in the state.
Koth said the protesters would not hold any talks with the government on any issue till the arrested persons were released.
Over 5,000 protesters gathered at the railway track in Ramayan village today. They removed the stone metal from the tracks and spread the pebbles on the national highway to render it unusable.
The protesters have also removed fish plates from the railway track to rule out the possibility of resumption of rail services forcibly.
The police has registered a case of murder against officers and jawans of Rapid Action Force on the complaint of Karamvir Singh , uncle of Sandeep, who died in the clash with the security forces on Monday.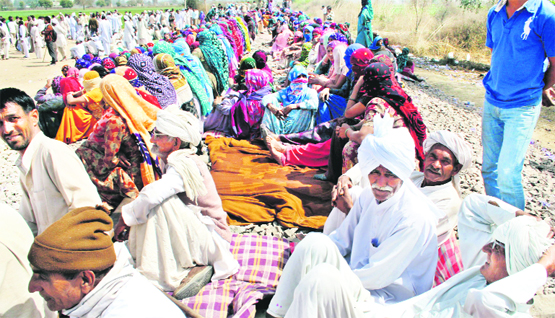 DEFIANT: Jat protesters squat on railway tracks at Mayyar village, Hisar. Photo by: Manoj Dhaka
The stir so far
Feb 2: The Akhil Bhartiya Jat Aarakshan Sangharsh Samiti demands quota by February 19
Feb 20: Jat leaders extend deadline by 24 hours
Feb 21: Talks between Jats, govt fail, stir intensifies
Feb 27: Khaps jump into the fray, warn government
March 3: Government, Jats strike deal
March 4: Deal falls flat, stir intensifies
March 6: Youth killed, as cops, Jats clash
March 7: Agitators torch police post, Army called out