(1) Students in jubilant mood after receiving their certificates during a function at Mount Carmel school, Sector 47, Chandigarh on Monday, (2) Patients and their relatives receive food at a 'langar' outside the PGI, Chandigarh, on Monday, (3) Household items lie on the roadside after a demolition drive conducted by the UT Administration in Kaimbwala village, Chandigarh, on Monday. Tribune photos: S Chandan, Pradeep Tewari and Manoj Mahajan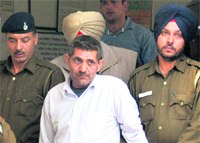 'We care for you?'
Chandigarh, March 12
Leaving the UT police red-faceda yet again, two UT police constables created nuisance in an inebriated state and fired gunshots near the SSP's residence at Sector 16 last night.



Jagbir Singh being produced at a district court in Chandigarh on Monday. Tribune Photo: Pradeep Tewari
Over 300 mobile towers in city illegal
Chandigarh, March 12
Shocking but true: more than 300 mobile towers in the city are illegal. Deputy Commissioner (DC) Brijendra Singh today submitted a report on mobile towers to UT Finance Secretary VK Singh.
Liquor dearer in Chandigarh from May 1
Chandigarh, March 12
There is bad news for Bacchus lovers as from May 1: they have to pay more for liquor. In the excise policy for 2012-13, the Chandigarh Administration has proposed a hike of between 10 and 15 per cent in the annual licence fee which parties interested pay to bag liquor vend licences.
Mending ways not MC's forte
Chandigarh, March 12
Not learning a lesson from yesterday's incident on the supply of contaminated drinking water from tubewells at Sector 38 (West), the municipal corporation (MC) has not taken any step to fix non-functional chlorinators installed at the 30 tubewells for purifying water before supplying it to the residents.


It's like winning a war if one gets 6'X5' space to park
Chandigarh, March 12
With about one-lakh vehicles coming to this prime sector of the City Beautiful on any given day, the parking scenario has worsened here.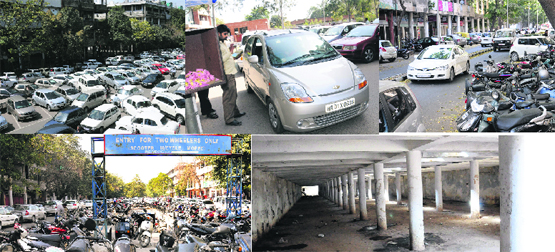 1 A view of traffic chaos at Sector 17, Chandigarh, on Monday. (2) No, CCTV camera has been installed at a parking lot in Sector 17. (3) Cars continue to be parked wrongly along road berms in the non-parking area opposite Hotel Mehfil in Sector 17 (4) Two-wheelers parked haphazardly above the underground parking, opposite the CMC Hospital, in Sector 17. (5) No vehicle is parked in the underground parking even during peak hours in Sector 17. Tribune photos: Manoj Mahajan
Coordination with neighbouring states becoming tough for UT Administration
Chandigarh, March 12
Lack of co-ordination with the two neighbouring states in the overall development of the tricity is one of the major challenges faced by the UT Administration, said Finance Secretary VK Singh at a CII-organised annual session on Leveraging Growth for Social Return today.
Medical scheme for Central Govt's officers
Chandigarh, March 12
The officers of the Central Government Group-A civil services have been brought under the purview of the annual medical examination scheme that would enable them to get a comprehensive medical check-up every year.
Liquor vends in Sectors 10, 12, 14 fetch Rs 3.51 crore
Panchkula, March 12
Liquor vends of Panchkula district were today auctioned for the year 2012-13. For the first time, the auction of 117 liquor vends were held in groups. Each group had three liquor vends. A group of liquor vends in Sectors 10, 12 and 14, fetched Rs 3.51 crore as against the reserve price of the group Rs 2,91,60,000.
All set for swearing-in ceremony of Cabinet
Mohali, March 12 As part of the hectic preparations going in for the swearing-in ceremony of the new Punjab Cabinet at Chappar Chiri on March 14, the health department is gearing up to meet any eventuality at a function which will be attended by VVIPs, apart from thousands of people.
Women's Day celebrations end
Chandigarh, March 12
The department of Life Long Learning and Extension, Panjab University, organised a week long celebration on International Women's Day from March 6-12.
Charity necessary for social growth, say experts
Chandigarh, March 12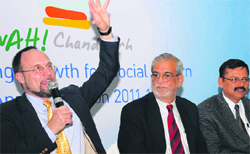 Charity is the way to social growth, but not the only way, and entrepreneurs need to be a part of social growth said David Wittenberg, CEO, The Innovation Workgroup, speaking on 'Innovating for Social Return' at the CII today.

From left: David Wittenberg, CEO, The Innovation Workgroup, Vijay Thadani, Chairman, CII, Chandigarh Council, and VK Singh, FC, Chandigarh Admn at the Innovating for Social Return, CII Chandigarh, on Monday. Tribune photo: Manoj Mahajan
3-day fest on Kabir opens at Tagore
Chandigarh, March12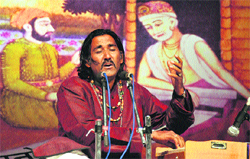 Sufiana spiritual fervour pervaded the ambience of the Tagore theatre as the three day festival on Kabir - Films and Bhakti Sangeet - organised by the Chandigarh Sangeet Natak Akademy, titled "Suno Bhai Sadho" opened to a grand start here today.



Mukhtiar Ali performs during Kabir festival at Tagore Theatre, Sector 18, Chandigarh, on Monday. Tribune photo: Pradeep Tewari
Sufiana maestros enthral audience
Chandigarh, March 12
The acclaimed duo of Sufiana and Rajasthani folk maestros, Idrim Khan and Shakur Khan, enthralled the audience at the NZCC Kalagram complex in a programme organised by the School of Punjabi Studies, PU, and Punjabi Sahit Akademy, Ludhiana, in collaboration with North Zone Cultural Centre (NZCC) here today.
PU Boys' hostels to have self-service
Chandigarh, March 12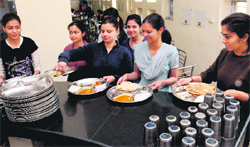 PU students would no longer be given the facility of having food served at their tables in the university mess halls and canteens as the authorities have decided to introduce self-service. While self-service has already been introduced in all the girls hostels, the new rule would soon be introduced in boys hostels as well.
Girl residents of hostel number 3, Panjab University, take their food from the mess on Monday. Tribune photo: Manoj Mahajan
DAV function cancelled due to shoot out
Chandigarh, March 12
The shoot-out at DAV college campus today led to the cancellation of the star night that was to be held on Tuesday. Fearing more trouble, the DAV College cancelled the function that was organised by the Student Council of DAV College.
PUSU announces candidates
Chandigarh, March 12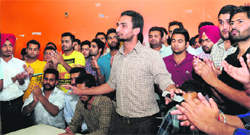 The political scene is gearing-up at the Panjab University with the student organisations announcing their general bodies for the next session. PUSU members today announced their candidates who would be taking charge of the organisation for the student elections to be held in the coming session.
PUSU members announce their candidates for the student elections at Panjab University, Chandigarh, on Monday. Tribune photo: Manoj Mahajan
Month-long job fest at CGC
Mohali, March 12
In an initiative aimed at facilitating placement for polytechnic diploma holders and ITI trained students, the Chandigarh Group of Colleges (CGC) has organised a month-long job fest on its campus at Gharuan.
Bags distributed among students
Mohali, March 12
About 300 students from Jeevan Mukta Nishukla Vidyaliya, Jagatpura, Sector 48, were given bags, stationary and food items by the GJ-IMT Rotaract Club during a cultural function held at Jeevan Mukta NishuklaVidyaliya here today.