M A I N N E W S
Budget will stabilise prices: PM
n BJP calls it preparation for midterm elections
n Left terms it anti-poor
Ashok Tuteja and Faraz Ahmad/TNS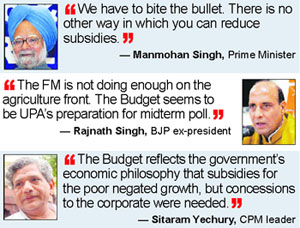 New Delhi, March 16
Prime Minister Manmohan Singh today complimented Finance Minister Pranab Mukherjee for "tackling well" the twin task of accelerating the tempo of economic growth and at the same time ensuring moderation in price rise in his General Budget proposals.
"Fiscal deficit in the current year has turned out to be as high as 5.9 per cent. The Finance Minister has promised to bring it down to 5.1 per cent of the GDP. If that happens, that would be a material contribution towards stabilising the price level," Singh said in his reaction to the Budget.
Noting that Mukherjee had promised to bring down the subsidies to less than 1.7 per cent of the GDP in the next three years, the PM said the task would require the government to put forward an effective programme for adjusting prices of petroleum products. "So we have to bite the bullet. There is no other way in which you can reduce subsidies," he added.
On whether Trinamool Congress chief Mamata Banerjee had been consulted on rise in the prices of certain commodities, he said there would be difficulties in running a coalition government. "But ultimately, if the government is to govern, it must have a sustainable strategy for managing the economy," he added. When the time comes to take tough decisions, the government would consult all its allies and take them on board, he added.
The BJP criticised the deficit Budget saying that it would not help industrial production. Former Finance Minister in the NDA government Yashwant Sinha predicted that the government might have to borrow over Rs 5 lakh crore from the market, forcing a credit squeeze for private sector and in turn affecting the industrial growth.
Former BJP president Rajnath Singh attacked the FM for not doing enough on the agriculture front. He described the Budget as "UPA's preparation for midterm poll".
The Left accused Finance Minister Pranab Mukherjee of robbing the poor to help the rich. CPM leader Sitaram Yechury said the Budget would further widen the divide between the rich and the poor. "In the name of the 'aam aadmi', the budget has been made for the 'khaas aadmi' (special people). It clearly reflects the government's economic philosophy that subsidies for the poor negated growth, but concessions to the corporate were needed for growth," he said.