Decoding televille

Barter fifteen hours of each day for all the fame and lakh rupees a month! It does not end here. Also barter the little joys of life-having a cup of coffee with friends, chit-chatting with family or going for the first-day late night film show. Nothing comes without a price, especially if it's about making it to the television show that airs on prime time! Ankur Verma and Vidhi Parekh, the lead pair of Imagine TV's Jamuna Paar, who were in Chandigarh on Friday to promote their show, realised the harsh facts of the television industry pretty soon.
Custodian of a heritage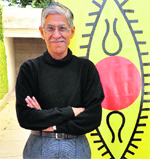 "The West must not be derided. They have given us fantastic things when it comes to the outward domain but when it comes to the inner domain, it's our heritage that has all the answers," says Kiran Seth, the man behind the movement called SPIC MACAY. For this IITian and IIT professor, discovering heritage happened by a fluke. But he doesn't want to leave it to that, "Whatever is valuable in the world, we must preserve for our children. Knowing one's tradition is every child's birthright," he says. In Chandigarh, Kiran Seth shares with us excerpts from the journey called SPIC MACAY.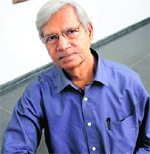 Eye of a devout
We all knew or rather accepted it as truth when some wise guy told us that eyes were the window to the soul. But can eyes be a parameter for measuring an artist's growth? In Ram Kishore Yadav's case, it is. Yadav, who came to the city to exhibit his Devotion series at the Fine Arts Gallery in Panjab University, has adopted a pair of closed eyes to show the level of maturity he has achieved during the past decade, ever since he embraced 'devotion' as a theme for his artistic journey.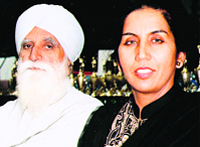 An inspired voice
From the science class in school to the inspirational quotes of Richard Bach or Brian Wiess, change has always been defined as the rule of life. Kuljeet Mondair hasn't read any of the 'how to live better life' writers, but she understood pretty early that change in herself, change in the thought process and change in the mindset was what would define the rest of her journey.
Foreign STEPS


With Bollywood having penetrated in markets across the globe, our industry is increasingly seeing the influx of artistes from different countries. Maryam Zakaria, born in Iran and brought up in Sweden, is one of them. Currently basking in the attention she received doing a mujra with Kareena Kapoor in the movie Agent Vinod, she is inching closer to her dream!
Simple living, great going!
Sanjeev Rattan, a solitary filmmaker was happily hiking around in the hills around his hometown Khaniara,

Dharamshala, when he was inundated with phone calls. Occasion — his two films Panchakki and Dille Ch Vasaya Koi bagged the 59th National Film Awards! While Panchakki was awarded for Best Short Fiction and Best Music Direction, Dille Ch Vasya Koi got Rajat Kamal for the Best Dogri (Himachali) Film.
Village flavour: A still from Panchakki pensive mood (left) and A grab from the movie Dille Ch Vasaya Koi
More than skin deep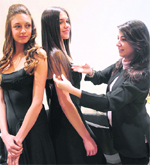 Luxury also means a deep pocket and one look at Prive, Sector 9, Chandigarh and you know what we are talking about. This luxury salon thrives on the uniqueness of serving only the hi-end clientele. The products offered at this outlet, Keratase and Kera Skin by L'Oreal are the outcome of advanced research in hair and skin care. Says Mumbai-based, Binaifer Pardiawala, head of key accounts, professional products division fro L'Oreal, India, "Our hair goes through a lot of wear and tear because of chemical treatments or natural conditions. Kerestase acts as a rejuvenating agent for damaged hair."
Master Chef
Orange Oomph!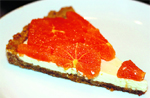 Orange, kinnow, mausambi, I love citrus in any avatar. It doesn't bother me if they are not sweet enough. If they are bordering on tart, then out comes my can of chaat-masaala! Juicy, flavourful, fragrant and healthy, that are ultimate heaven! The almighty sculpted them in such a manner that we don't need knives, peelers, even plates to savour them. You could skip the rinsing, ease off the skin, and pop the juicy crescents straight into your gob! Many a dish can be prepared from oranges but a gorgeous upside down cake wins hands down! Not only does it look grand, it even tastes scrumptious with the sharp hint of orange peel. Slices of this cake make a great dessert when served with ice-cream or warm custard.


HEART talk
Make your point
Movie Meter
Another love triangle