M A I N N E W S
Zardari addresses Parliament for record fifth time
Afzal Khan in Islamabad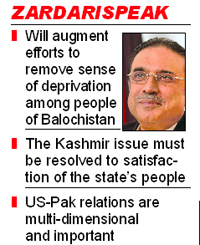 Pakistani President Asif Ali Zardari on Saturday scripted history by becoming the country's first President to deliver a record fifth address to a joint session of Parliament at a time when the government led by his PPP party is grappling with crisis and facing a strong challenge from the judiciary.
Zardari promised smooth transition in free, fair and transparent elections next year amid ruckus by Opposition members, who chanted slogans to obstruct the speech. The President recounted achievements of the present government despite enormous challenges.
Zardari said the government has strengthened democracy and consolidated the institutional framework for protection of rights of the people, women in particular, expansion in provincial autonomy and promoting harmony and reconciliation.
The Opposition that included PML-N, JUI and others later staged a walkout from the House accusing the President of misleading the people by falsifying figures.
Zardari appreciated the political wisdom of Prime Minister Yusuf Raza Gilani in handling various challenges with courage and perseverance. He also appreciated the contribution and support of the coalition partners to the PPP government during the past four years. He said, "We all worked together to restore the 1973 Constitution. The rule of law has been established. The supremacy of the Parliament has been assured."
Zardari vowed to augment efforts for removing the sense of deprivation and isolation among the people of the troubled Balochistan province.
He reaffirmed support for an Afghan owned and Afghan led peace process in Afghanistan, removing current problems in the Pakistan-United States relations. He also underpinned the importance of bilateral dialogue with India to restore normal political and trade ties.
The session was attended by top brass of the armed forces, diplomats and politicians. However, Chief Justice Iftikhar Muhammad Chaudhry, Punjab CM Shahbaz Sharif and Sindh Governor Ishratul Ebad stayed away.
(With PTI inputs)