US identifies Afghan massacre suspect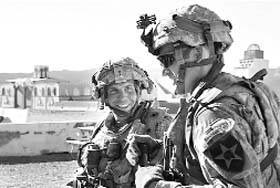 File photo of Staff Sgt Robert Bales (L) at the National Training Centre in Fort Irwin, California. — AFP
Washington, March 17
The US Army identified the soldier suspected of being involved in the massacre of 16 villagers in Afghanistan this week as Staff Sergeant Robert Bales, and said he arrived on Friday at a Kansas base where he will be held in a solitary cell.
Bales, a four-tour veteran, is suspected of walking off his base in southern Afghanistan on Sunday and gunning down the 16 civilians, including nine children and three women, in a massacre that sent American-Afghan relations into a tailspin.
"The Army confirms that Staff Sergeant Robert Bales was transferred to Fort Leavenworth, Kansas. Bales is being held in pre-trial confinement," the Army said in a statement.
The 38-year-old soldier, whose military unit is based south of Tacoma, Washington, had been held in Kuwait after he was flown out of Afghanistan on Wednesday. Bales has not yet been charged.
"I would assume he'll be charged pretty fast," said Jeffrey Lustick, a defence attorney and former Air Force military prosecutor and defense attorney in Bellingham, Washington.
Bales is expected to face justice under U.S. military rules, but it is not clear where any trial would take place.
Photos of a soldier identified as Bales, wearing camouflage and battle gear, appeared in an article about training for soldiers headed for Afghanistan on a web publication linked to Fort Irwin, a California military base. According to the website, the photos were taken in August.
Bales' wife and two young children have been moved to Joint Base Lewis-McChord near Seattle for protection, said Bales' Seattle-based lawyer, John Henry Browne.
The Army said Bales will be held in "special housing in his own cell" in the Fort Leavenworth detention center, which it described as a "medium/minimum custody facility."
Bales, who completed a two-year associate college degree in 1992, joined the Army in 2001, the Army said. His home of record was listed as Jensen Beach, Florida.
His military training included education in sniper skills, military leadership and a course called "combat life savers."
The Baleses' off-white, spacious wood home sat dark on Friday night in a neighborhood now filled with news media in the town of Bonney Lake east of Tacoma. A children's playset was in the backyard, situated about a block from Lake Tapps.
Few neighbours were present. At one house backing on to Bales' property, a handwritten sign addressed to media was posted on the door, reading: "We don't know Bales, so don't ask."
Beau Britt, staying at his parents' house across the street, said he did not know Bales or his family. "It's not the sort of area where you just walk up to a house and start talking to them," Britt said. — Reuters
Staff Sgt Robert Bales, 38, is married and a father of two
Afghanistan was his fourth tour in a war zone
He underwent anger management counselling a decade ago
Bales is said to be currently living in Washington state