M A I N N E W S
Rajya sabha election

BJP chief caught in wave of discontent
Leaders protest support for 'moneybags'
Faraz Ahmad/TNS
New Delhi, March 20
The decision to dump BJP oldtimers like SS Ahluwalia, Ram Naik and Kirit Somaiya in favour of Anshuman Mishra, Bhupendra Yadav and Ajay Sancheti in the biennial election for the Rajya Sabha, today led to an unprecedented outcry against party's national president Nitin Gadkari.
While Gadkari was closeted with Mohan Bhagwat and other senior functionaries of the RSS at Nagpur, at a stormy parliamentary party meeting in New Delhi, senior leaders wondered if Rajya Sabha seats were being auctioned to the highest bidder. The former union finance minister Yashwant Sinha suggested that the only way for the party to redeem itself would be to issue whips, asking party MLAs against voting for the 'outsiders' and the 'moneybags'.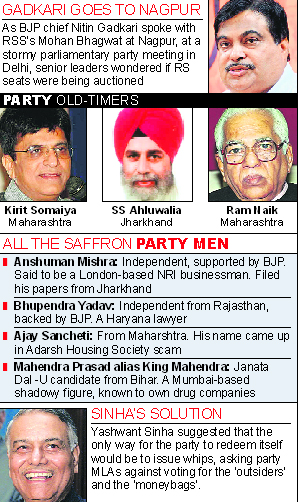 Mishra, said to be a London-based NRI businessman, filed his nomination from Jharkhand. He was seconded and proposed by BJP MLAs and the party's Organising Secretary accompanied him. While Mishra is an independent candidate, the BJP, which has 18 members in the Assembly chose not to field an official candidate, although with support from its ally, Jharkhand Mukti Morcha, it could have won a seat for himself.

Former union finance minister Yashwant Sinha said the party's support for Mishra had sent a wrong signal to the people and would dilute the party's fight against corruption. In Rajasthan, BJP supported another independent candidate, Bhupendra Yadav, a lawyer from Haryana. Both Mishra and Yadav are rank outsiders in Jharkhand and Rajasthan and are unknown to the party rank and file. Sancheti's name had come up in the Adarash Housing Society scam with allegations that he had booked a flat in the name of his driver.

In Bihar, the BJP failed to re-nominate S.S. Ahluwalia or party loyalist R.K. Sinha and allowed Janata Dal(U) to field Mahendra Prasad alias King Mahendra, a Mumbai based shadowy figure known to own several pharmaceutical companies. He has been a frequent member of the Rajya Sabha and was once nominated by the President for his distinguished

social service. In Maharashtra, similarly, the party ignored the claim of Ram Naik and Somaiya in favour of little-known Ajay Sancheti.

Parliamentary Party chairman L.K. Advani had a hard time containing the members as they expressed their anguish and annoyance over the veterans being ignored. Even within the party the members felt that the leadership had ignored the claims of genuine people and nominated rank outsiders.

A member summed up the mood saying, "Jab satta bikne lagti hai to samapt ho jaati hai" translating virtually into "The end of political power is near when it is up for sale." Eventually Advani brought down the temperature, promising to speak to Gadkari and seek an emergency meeting of the core group.

Referring to Mishra, Yashwant Sinha said six BJP MLAs have signed his nomination papers and top members of the BJP were present when this gentleman was filing his nomination paper. So a clear impression has gone that he is supported by the BJP.

BJP vice president Shanta Kumar spoke in the same vein, followed by Balbir Punj and their Nawada MP Bhola Singh.

In the melee, Belgaum MP Suresh Chanabasappa, rose to demand the reinstatement of former Karnataka chief minister B.S. Yeddyurappa, after the Karnataka High Court has quashed former Karnataka Lokayukta Santhosh Hegde report against him. Immediately Aonla MP Maneka Gandhi was on her feet supporting this demand.

BJP leaders, however, defended Bhupendra Yadav's nomination from Rajasthan, saying that he had studied and worked as a student leader in Rajasthan and therefore he is no outsider for Rajasthan. Sushma Swaraj claimed that Ajay Sancheti is from a committed RSS family and his home in Nagpur has served as the office of several Sangh outfits.