What a bug!

Some fall for the looks, for others it's an extension of history while for some others it's the 'vintage-meets-classic' feel…owning a Beetle car is sure a matter of pride
Sonam Kapoor's Aisha may have done more good to the car than her career, but it put across one point — being cute is a serious business! Accordingly, those looking for lots of leg space, boot space, trying to fit in everyone in the family, looking at the practicality of a SUV or those simply looking at value for money will never understand.
Red hot: Preeti Singh. Photo: Nitin Mittal

Yes Boss…
Pulkit Samrat, the lead actor in Bollywood movie Bitto Boss , says he learnt everything from lighting to how to handle a camera from all angles for the project
Sculpting a success story
Latika Katt, a woman of substance, is lending her heart and soul to her passion in life - sculpting. She talks about it and much more…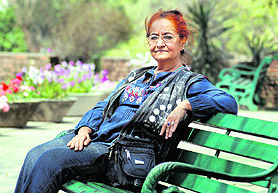 For any ordinary woman, the mere thought of a missing husband would be to drown in a sea of grief. For Latika Katt, whose husband went missing in the year 2000, it gave her an insight into the mindless political system of the country and spineless friends. Busy sustaining her passion for sculpting, her short frame is a striking contrast to the meaningful existence behind her.
Passion bound: Latika Katt. Photo: S Chandan

Astro turf
ARIES: You may be under some stress this morning. Do not attempt to get new plans going. Stock brokers take a back seat. You and your coworkers are on different wavelengths. Tarot message: You can stabilise your financial situation if you make property investments. Lucky colour: Orange.
The year ahead
If your birthday is March 21...

Chatter box
Second time lucky
Stepping into the shoes of the grown up Shivaji, actor Dr Amol Kolhe is glad to be playing this role. He has earlier done the same role in a regional show based on the great Maratha Warrior and feels blessed to repeat the same in Colors' Veer Shivaji.
Once more: Amol Kolhe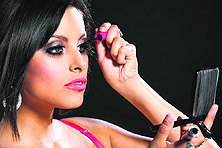 Make it up!
Cooking classes now have a strong rival. Short-term make-up courses are fast catching up
The moment you stand in front of the mirror there are some things that need your attention — whether you are wearing the right kind of clothes, donning the right kind of hair style, right footwear, matching handbag or clutch, and last but not the least, the right kind of make-up. All depends on whether you know the real art!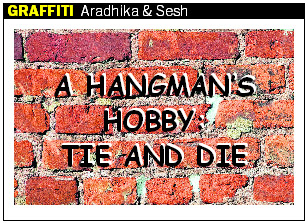 Fight anxiety attack
My son was a good student. However, in the 12th he did poorly. That really upset him. I feel he did not manage his time well and as a result even average students did better than him. He still does not prepare well and then gets very anxious before the exams to the extent that his mind goes blank during the exams.
The stark similarity
This is uncanny and strange; this Vidya-Divya discussion that started with The Dirty Picture! Vidya is an actor par excellence, but what I find weird is this constant comparison with her in both looks and acting.
The worst one wins
With the season currently dominated by awards that honour stars for excellence in cinema, the Ghanta Awards dishes out trophies to the worst of the movie season, the most poorly constructed movies, most wooden actors and actresses, and the worst rip-offs.
Buzz about Ishaqzaade
The film Ishaqzaade which marks the debut of Sonam Kapoor's cousin Arjun opposite actor Priyanka Chopra's cousin Parineeti, has already generated a great deal of buzz on Twitter.
Rocking star
His song Lak 28 became the anthem for the youngsters within no time of its release. Punjabi singer and actor Diljit Dosanjh rocked the music industry with his debut album Ishq Da Uda Ada. Success, however, came in with Lak 28. He made his debut with the Punjabi film The Lion of Punjab. The otherwise introvert singer takes to our one-line questions rather seriously!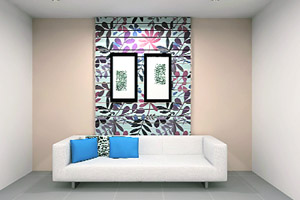 The art of display
There are various techniques used by designers to display your nick-knacks around the house. Here are a few basic tricks you can use to style and display your stuff beautifully. Triangles: This kind of a display is pleasing to the eye and reads the display from the top to the bottom left and right, and then back to the top. The triangle display enables the eye to perceive the group as one whole instead of each individual item separately.
Tuning in love
Hollywood couple Will Smith and wife Jada Pinkett blew rumours of trouble in their marriage into thin air by kissing publicly at a basketball game.
All bags Full


Prachi Desai is too busy to work with Rock On!! director Abhishek Kapoor. A source says, "She is busy shooting for Bol Bachchan with Abhishek Bachchan and Ajay Devgn so had to turn down Abhishek's film. She is quite upset about it because till today she had dates and now suddenly her calendar is full. It was Abhishek who helped her make the transition from television to the big screen and he recommended her to Ekta and that is how she got her big break. After Rock On, she sparkled again in Once Upon a Time in Mumbai and got a few films with the Bhatts. She also has a film with John Abraham."
Back on track
After numerous stories of their friendship going sour and reported patch-ups until the last one after bashing up Shirish Kunder, Shah Rukh Khan and Farah Khan are working together again.
House arrest
Lindsay Lohan to stay indoors until end of probation. With less than two weeks to go until her probation comes to an end, actress Lindsay Lohan is putting herself on lockdown.
Charlize fond of her baby
Hollywood beauty Charlize Theron says she finds it hard to be away from her newly adopted son Jackson.
Picture abhi baaki hai!
Arjun Kapoor's parents Mona and Boney are very happy. His trailer Ishaqzaade has got a tremendous response and everybody is calling the family up and congratulating them!
Launch pad
Veena Malik and Yaana Gupta graced the opening of a store at a mall in Delhi. They came in different clothes and changed into clothes available at the store.
Stolen credits
Sonam Kapoor feels someone has stolen her credit. In the sense, someone has taken credit for her work. We are guessing that she styled a look herself and her stylist friend took credit for it.

Couple at work
Ajay and Kajol are shooting a commercial together. Kajol has only been doing endorsements lately and her last film was Toonpur Ka Superhero.
Being together: Ajay and Kajol
Vidya's attitude post success
Vidya Balan only wants to do meaty roles and has become quite a bankable star post the success of The Dirty Picture and Kahaani. She is even making the Khans wait and will only do a film in which her role is at arm with her co-star.