Star Track
Weekend plans
Check out what A-list Bollywood stars are doing this weekend…

Kareena Kapoor 
Kareena Kapoor is awaiting the release and response to action thriller Agent Vinod which stars her and Saif Ali Khan. They hope to receive a bumper opening.
Priyanka Chopra
Priyanka Chopra is shooting for Barfee and is personally planning her best friend Tamanna Sharma's wedding which will happen in April.

Katrina Kaif 
Katrina Kaif is in London shooting for Yash Chopra's romantic film with Shah Rukh Khan. The film will release in November. The shooting of Dhoom 3 has been postponed due to Aamir Khan's wish.
Ranveer Singh 
Ranveer Singh is in Bengal shooting for a period romance called Lootera with Sonakshi Sinha. The film is directed by Vikramaditya Motwane. Crowds often gather to see them on set.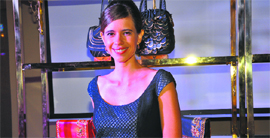 Kalki Koechlin 
Kalki Koechlin is shooting for Yeh Jawaani Hai Deewani at an outdoor location and she has a supporting role in the film. The film is directed by Ayan Mukerji and Ranbir and Deepika are the lead pair.
Comic move
Ali Zafar has been successful with his innings in Bollywood. He is currently shooting for David Dhawan's remake of Chashme Baddoor and is loving the jhatkas and matkas and commercial comedy in the film.

Waiting for Mr Right…
Actress Priyanka Chopra is riding high professionally. But as far as her personal life is concerned, she hasn't found her Mr Right.
Talking about her wedding plans, Priyanka said at a press conference, "The moment I find my Mr Right, I will get married."
Meanwhile, she is busy planning a hen party for her best friend Tamanna Sharma's wedding.
Professionally, the 29-year-old actress is reported to play Jaya Bachchan's character in the remake of the 1973 blockbuster Zanjeer and has been offered 11 crore for the role. Well, that's a huge sum.

From reel to real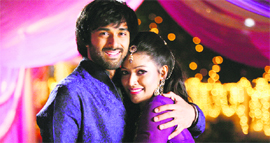 It was a rare occasion when the stars of a movie had to go out of their way and stop a wedding so that the crew could commence with the shooting. During the shoot of Viacom 18 Motion Pictures and Wide Frame Pictures' Kumar Mangat Pathak and Abhishek Pathak's movie Bittoo Boss in Shimla, actress Amita Pathak and actor Pulkit Samrat had to go to a wedding close to the shooting venue and stop it.
A scene of the movie was being shot in a hotel and just close to it a wedding was taking place. The sound of the band-baaja hindered with the shooting. So Amita and Pulkit decided to take charge of the situation and went to the wedding posing as reality show hosts. They asked everyone to stop the band from playing and took interviews of all the people present for 2-3 hours till the scene was being shot in the hotel. "It would have obviously been quite awkward to tell them to stop the wedding because we are shooting a movie scene in the next hotel. This way we just kept them busy," says Amita. The crew and the cast members then joined the wedding celebrations. Danced and wished the newly-wed couple and wrapped up the day. "I loved the tikkis they were serving there," quips Pulkit.
After the scene was shot in the hotel and Amita and Pulkit were informed about it, the two young actors thanked everyone at the wedding and told everyone the truth. All the people at the wedding got very upset and felt conned. "Their anger was understandable. Amita and I tried to pacify them. Some of the crew members also came to our rescue. We then spoke to the bride and groom and asked for their forgiveness. The couple saved us from being beaten up for sure," says Pulkit.
Bittoo believes in spreading happiness through the beautiful moments he captures, moments, which you can rewind and keep watching for years and smile looking at them thus making them heartfelt experiences which last forever. He falls in love with an educated and strong-headed girl who makes him realise the importance of financial stability and monetary gains in order to gain respect and recognition. Smitten in love and bitten by the one he loves, the smart and righteous cameraman is lured to take a shortcut in order to earn a quick buck and get his life back on track. What follows is a madcap ride. Pulkit Samrat and Amita Pathak have been linked romantically after filming Bittoo Boss. Talking about their link up, Pulkit denies the rumours. Amita is dating Raghav Sachar since a long time. —HRM

Ranveer and Sona's fan following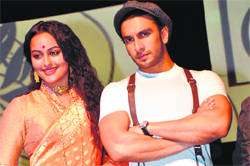 There used to be huge crowds everyday on the sets of Lootera when Ranveer and Sonakshi were shooting in West Bengal. At times almost, reaching about 1.5 KMS from the location of the set.
And for every shot the crew had to lock-up the sounds and ask for everyone to keep quiet while the shot was in progress.
A source says, "They had crazy crowds on first two days of outdoors pouring in from all corners of the fields. They had people helping from all departments to lock up vehicles, farmers, motorcycles, cyclists and general fans so that they were not visible in the frame while shooting. Someone or the other would end up making some noise and the actors would have to do the entire shot all over gain. The crowd had gathered just to have a glimpse of their favourite stars: Ranveer and Sonakshi.."
Vikramaditya Motwane says, "For the initial part of the schedule it got a little difficult to shoot as someone or the other from the crowd would end up making some noise. It was only after Ranveer and Sonakshi took things in their hand and explained to the crowd, the crowd cooperated. Ranveer and Sonakshi have a way of talking nicely to people so they listen. They are very humble and co-operative."
Lootera is a grand Diwali offering from Balaji and Anurag Kashyap's production company.

Has Nargis moved in with Shahid?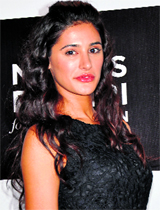 Looks like love is finally blooming for Shahid Kapoor! After stories of him dating Nargis Fakhri, it has been reported that she has moved into his house.
A source says, 'Nargis lives in Bandra and Shahid lives in Versova in suburban Mumbai. After getting close to each other, she stayed over at his place for about a week and this was a fortnight ago. In fact, her mother came from New York and met Shahid while she was here. So they are definitely serious. They love being in each other's company. They have even been spotted at a restaurant together and are guarded about their relationship status. Nargis is trying to establish herself here and she has found a buddy, a partner, and a guide in Shahid Kapoor. They are compatible and very relaxed with each other. They got to know and got close when Nargis returned from New York earlier this year.'
Buzz about them started when they went to Goa together for Shahid's birthday. Nargis has been linked with Ranbir Kapoor and Shayan Munshi.
Shahid has been linked to Priyanka Chopra, Vidya Balan, Amrita Rao, Bipasha Basu, and Anushka Sharma in recent times. His public relationship has been with Kareena Kapoor in the past.
Well, we wish Nargis and Shahid a happy romantic future together!

Worth emulating
Legally Blonde star Reese Witherspoon and her production partner have snapped up the film rights to the much-hyped children's book series Pennyroyal's Princess Boot Camp.
The 35-year-old actress will now develop the books and she is also attached to play a supporting role. "Finally, there is a princess story that reflects the values young women truly want to embody," Reese said. — PTI

Imran gets complete makeover
Actor Imran Khan is going through a complete makeover as an actor with his upcoming film Matru Ki Bijli Ka Mandola being a challenging project.
Apart from physical changes in look et al, Imran will be using abusive language.
It may not be shocking that Vishal Bhardwaj's next movie, Matru Ki Bijli Ka Mandola will be as pastoral as his previous ones, and foul and abusive language will be employed abundantly, just like in his earlier works like Omkara and Kaminey, for example.
Our source informs, "He is all set to get rid of his chocolate boy image for something more raw and rustic. He's sporting a beard and has put on weight to even look older for his character in the film.
He is required to speak Haryanvi and has even taken lessons to get the pronunciation correct. The language is so abusive that Vishal's close friend Gulzar expressed his worry over the language and asked Bhardwaj to tone it down and limit it to fewer scenes."
Vishal is currently shooting for Matru Ki Bijli Ka Mandola at Wankaner palace in Rajkot.
The movie is directed by debutant, Supavitra Babul and will release on April 13th, 2012. The music of the movie is composed by Raghav Sachar and the lyrics are written by Kumaar.
The movie also stars Anushka Sharma who has won appreciation for doing fun roles.

Masala magic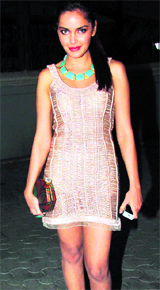 Bollywood actress Shazahn Padamsee, who will soon be seen in multi-starrer comedy film Housefull 2, says she always wanted to work in an "out and out masala film".
The 24-year-old started her career in Bollywood with 2009 release Rocket Singh and later went on to do Dil Toh Baccha Hai Ji opposite Ajay Devgn.
"I always wanted to do these kind of films. This is an out and out masala film that has all elements of a quintessential Bollywood film. There is so much fun and crazy humour here. Moreover with songs, dances and feel good moments, it makes for a perfect family entertainment," Padamsee said.
Housefull 2 is directed by Sajid Khan and is a sequel to the 2010 release of the same name. The movie hits screens on April 5.
The film will see veterans Randhir Kapoor, Rishi Kapoor and Mithun Chakraborty sharing the screen space with actors Akshay Kumar, Asin Thottumkal, John Abraham, Zarine Khan, Jacqueline Fernandez, Riteish Deshmukh and Shreyas Talpade.
Padamsee is all praises for her director and said, "Sajid Khan is an encyclopedia on Bollywood as well as Hollywood. He would share with us various anecdotes of films made in the past and present. When you have a director who is so well versed in the industry and has such great knowledge, you are further confident about your own film." — PTI
Only romance for Kareena...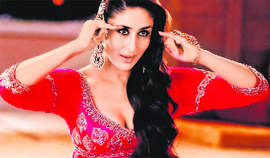 Kareena Kapoor has had her shares of action films with Ra.One, Bodyguard, and now Agent Vinod. She has fun shooting with Saif Ali Khan and doesn't intend to do an action film for a while. She prefers the romance and drama genres.
Dream project
Saif has always wanted to make a thriller film with a spy theme and he wanted me to be part of this so I did this. I don't enjoy jumping off building so I have not done that in this movie. My action scenes are more intriguing than that. This is my last action film. Saif was also keen that I highlight my eyes in this movie and we have done that. It is a glamourous role. I had a great time shooting in exotic locations.
My type of films
I like films that challenge me and help me grow as an actress. I love romantic comedies and drama. I am looking forward to seeing Titanic in 3D as it is one of my favourite films of all time.
Farah's acting debut: Farah Khan is making her acting debut in Bela Sehgal's Shirin Farhad Ki Nikal Padi. Boman Irani enjoys shooting with her as she is funny, witty, and has loads of trivia. When Parsis get together, it is madness!
facing th camera: Farah Khan
Glam diva
Priyanka Chopra has been named Glam Diva by BIG CBS Love channel. She beat Vidya Balan, Kareena Kapoor, Deepika, and others to the top spot! She looks like a contemporary princess!
Anushka's single
Anushka Sharma is furious at being linked with Suresh Raina and says she is single! She says she only watched the final match of the World Cup last year with MS Dhoni's wife and is not inclined towards cricket or even aware of who exactly Suresh Raina is!
Change of plan
After making thrillers such as Johnny Gaddaar and Agent Vinod, Sriram Raghavan will move to science fiction and make a movie called Happy Birthday. This movie was supposed to be made earlier than the others.
No comparisons please
Kareena Kapoor doesn't like being compared to anyone, especially Vidya Balan. She says that they both do completely different films and it is unfair to compare them. She likes Vidya as an actress, though.

Mirror break
Sachiin Joshi of Aazaan fame now ready to star opposite Mallika Sherawat in Mumbai Mirror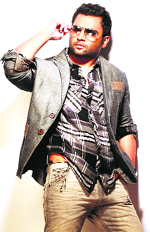 Sachiin Joshi gathered a decent share of critical acclaim through his debut film Aazaan. Hailed as one of the most technically brilliant films made in Bollywood, the movie even fetched the newbie a Stardust Award. Taking his quest further, Sachiin is now all set to star in his next project Mumbai Mirror with none other than glam sensation Mallika Sherawat opposite him.
Sachiin plays a quirky cop in this realistic commercial potboiler, while Mallika essays the role of an irresistible dance bar queen. The movie mirrors the Mumbai underbelly and revolves around the nexus between powerful corrupt dance bar lords and the Mumbai Police.
Directed by Ankush Bhatt, of Bhindi Bazaar Inc. fame, Mumbai Mirror has music my Anand Raj Anand. Shooting commences April end and wraps up in three months.
"Mallika and Sachiin make a very unique and fresh pair. Mallika is the apple of the teenage eyes, and her chemistry with daredevil Sachiin is sure to create a hullabaloo," says the director.