PUNJAB

HARYANA

JAMMU & KASHMIR

HIMACHAL

REGIONAL BRIEFS

NATION

OPINIONS

LETTERS

BUSINESS

SPORTS

WORLD


EDUCATION

JOBS & CAREERS

HEALTH & FITNESS

SCIENCE & TECHNOLOGY

REAL ESTATE
Tribune analysis
Army Chief's Age Row



A matter of Honour vs Propriety


The second big anomaly


The Twist in the Tale


The General's Gambit


The General gives his 'word'


A matter of propriety vs integrity
Saturday, March 24, 2012, Chandigarh, India
Edition update time 2:30 am (IST)


Latest news, updated at 5:00 pm
Media shouldn't play judge: Omar
Jammu, March 23
Lauding The Tribune for maintaining credibility throughout its 131-year history, Jammu and Kashmir Chief Minister Omar Abdullah today said free media was an important pillar of democracy, but it should refrain from becoming a judge and bringing personal slant in news.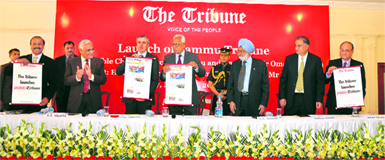 J&K Chief Minister Omar Abdullah (third from left) unveils Jammu Tribune at a function in Jammu on Friday. Others on the dais (from left to right) are: The Tribune Editor-in-Chief Raj Chengappa, The Tribune Trustee Lt-Gen (retd) SS Mehta, Chief Guest J&K Governor NN Vohra, Trustee Justice (retd) SS Sodhi, Trustee Naresh Mohan and General Manager Sanjay Hazari. Tribune photo: Anand Sharma
Nation page


Print media has to be prudent and relevant


Journalists shouldn't jump to conclusions


We strive to be an effective watchdog


The Tribune launches a new edition for J&K and a local supplement for Jammu
Starting today, we are glad to present to readers of Jammu and Kashmir a common edition across the state with more news and analysis. For readers of Jammu, there will be a new daily full colour pull-out, Jammu Tribune, that will provide extensive local coverage of the city and its environs, as well as many new entertainment features.
— Editor-in-Chief

Fuel bonhomie: India may soon export petrol to Pak
New Delhi, March 23
In another sign of improving trade relations, India may soon begin petrol exports to Pakistan from the Bathinda oil refinery. Though a broad decision seems to have been reached between the two countries, terms and conditions like price and volumes remain to be negotiated.



Business Page:No plans to decontrol diesel price: Reddy