are women safe anywhere?
Paradoxically, as women improve their lot, grab opportunities and excel, violence against them too grows proportionately. As the number of women per thousand men declines, it spells more trouble for the women who have survived.
Ravinder Kaur

THE celebration of International Women's Day on March 8 every year may not make much difference to women's lives in India, but it is a good occasion to evaluate the balance sheet and assess our distance from the goals of gender equality and women's empowerment.
These phrases may sound rather utopian and lofty and the goals a tad unrealistic when we peruse the daily papers, in any city, anywhere, in India. The main news (after the political corruption headlines and the continuing fiascos of the government and party in power) is of violence against women. Violence against rural women, urban women, young, old, upper or low caste; even infants, it seems, are not spared. The home, the street, the office, the park, no place it seems is safe for a woman.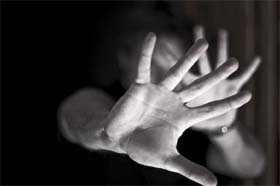 The forms of violence are myriad and sometimes boggle our imagination – girls being pulled into cars, being shot, acid thrown on their faces, being murdered, raped, harassed at work, 'honour killed' by parents or siblings in the home, the list is endless.
It may be safe to assume that the media has space only to report violence with the most dangerous consequences and the most sensational value. It is disheartening that despite not wanting to, one has to return to the depressing topic of 'violence against women'. For readers, has such violence become boring, routine and 'banal' or commonplace as Hannah Arendt deemed the violence of the Nazis to have become? Has it become the thoughtless 'everyday' that 'just happens' which most of us read about and move on to the next story? Can we allow this state of affairs to continue?
Better, hence battered?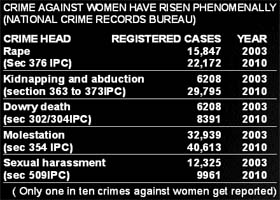 A long time ago I had written that the intensifying violence against women could possibly be read as a result of the narrowing of the gender gap. Women were catching up on several development indicators, growing in independence and spreading their wings. This posed a challenge to male patriarchy and masculinity and men were resorting with violence (in the short run, hopefully) to defend their hegemony and power in the existing social arrangements.
Is this still the case? Is it that women are doing better and that getting battered is a price that current generations of women have to pay before men adjust to the idea and fact of gender equality?
Before answering this question, let us review some development indicators for women and pose certain unexplained conundrums that confront us.
Women have gained in several ways since India embarked on its post-independence development path; for example, female life expectancy in India is now higher than that of males (63.2 for males and 66.4 for females in 2010), fewer women die in childbirth (212 per 100,000 live births in 2007-09 as against 254 in 2004-06); maternal mortality declined from 254 in 2004 to 212 by 2009, per 100,000 live births. The literacy rate rose by 6.9 per cent for males and by 11.8 per cent for females – a little less than double that for men – not something to be scoffed at; and both rural and urban females showed a much higher improvement in literacy than males (Census 2011); the gender gap in literacy has come down from 24.6 to 19.8 between 2001 and 2011; among girls there are large increases in school enrolment as well as better performance in school and a lower incidence of dropping out.
There has been continuous improvement in the overall sex ratio from 2001 to 2011 (933 to 940). Female infants, however, continue to experience higher mortality rates compared to male infants, although the rate of decline in mortality is higher for females than for males between 2005 and 2009 (Census 2011). The child sex ratio (0-6yrs) however, declined once again plunging to a new low of 914 girls for every 1000 boys in 2011 – an issue I will have occasion to return to later in this piece.
Fertility has been declining rapidly and will most likely be close to 2.1 by 2015 – that is reaching replacement levels. Fertility decline may sound like a prosaic statistic but it has huge implications for women's lives. As a result, not only do women have to undergo fewer pregnancies and childbirths, less of their time is devoted to the mothering role and more of it freed up for other things they may wish to do. Many women have the opportunity to return to work or undertake other goals they find fulfilling.
More opportunities
In the field of work today, women have many more opportunities than they did earlier, although overall female labour participation rates remain very low and have been stagnant in recent years.
Yet, the diversity of occupations women are pursuing today is far greater than it ever was – women throng new fields such as IT, media and the hospitality industry, not to mention providing labour in traditional sectors such as factories and education. Call centres, garment factories, domestic work in towns and cities; employment in anganwadis and school teaching, hard labour on cotton and tobacco fields and in brick kilns draw women in large numbers.
Wages may still not be commensurate with those of men and all sectors of the economy may still not be open to them but they are more willing than ever to work, in order to support their families, earn dowries for themselves or have pocket money for their own new found selves. There is a new found confidence in women everywhere but violence poses a huge and debilitating challenge to it.
Not safe anywhere
It is interesting that an extremely common reason encountered today among parents for not wanting girl children is the insecure environment in villages, towns and cities.
I have often wondered whether there is substance to this claim, this reasoning, and how one could test it. When parents say they don't want to have a girl child because sending her to school is not safe; allowing her to go to work is not safe; even getting her married is not guaranteed to be a safe course of action, how much of this is fact? Or is it just a handy excuse as it is really the economic calculus that makes Indian parents reject daughters?
Let us look at this conundrum a little closely. As is well known by now, the child sex ratio which tells us about the number of girls born for the number of boys born, has been consistently declining since 1961 (going by census decades).
In the past, the elimination of daughters took place post-birth through infanticide or neglect. Much of the contemporary depletion of girls is achieved by the use of pre-natal diagnostic technologies such as ultrasound which make sex determination possible. The detected female foetuses are then aborted. Incidentally, the peak of such daughter elimination took place between 1990 and up to 2005.
According to an article in the respected British medical journal, The Lancet, and estimates by P.M. Kulkarni, a demography scholar, about 12 million female foetuses have been aborted between 1980 and 2010 with higher numbers being aborted in the 1990s than in the 2000s. The fact that the sex ratio in the 7+ population has been improving between 1991 and 2001 (905 to 933) confirms that most of the loss is occurring in the pre-birth period.
More men spell more trouble
Is it a fear for the girl's future safety that explains their elimination? If so, can governments not take this bull by the horns and do something about female safety? Instead, Chief Ministers and police officials simply throw up their hands and prefer to shackle women and reduce their freedoms. Young ministers in Haryana kowtow to Khap panchayats as if women are the ones who pose a threat to society. Few, if any, have focused on the fact that an excess number of males can itself become a threat to female security.
Having focused on the decline in the numbers of girl children for so long, it is time that we now focus on the excess of grown males and not only because they can't find brides!
In a book on the subject, "Bare Branches: The Security Implications of Asia's Surplus Male Population", authors, Hudson and de Boer, discuss how across history an excess of masculinity has been dangerous for women and for society. They predict dire consequences for both China and India as a consequence of the male surplus in both societies.
In another recent article, Jean Dreze and Reetika Khera show that crime goes up in areas which have skewed sex ratios. They find that the strongest correlate of the murder rate is the female-male ratio: districts with lower female-male ratios have higher murder rates.
Here we do have evidence that an imbalance in the sex ratio creates an insecure environment vis-a-vis physical security. And women are more often at risk than men, the latter being more able to defend themselves against certain kinds of violence. Anecdotal evidence from low sex ratios states reinforces the supposition that violence against women is growing. Abductions, rapes and honour killings are evident in states experiencing a shortage of young girls and adult women.
Fewer women, greater risk
The shortage of girls defies the economic logic of higher value of scarce goods; indeed the remaining girls and women will be at greater risk as competition over them grows. They will be at the receiving end of greater sexual and reproductive demands, more domestic work and farm work, beginning at younger ages. The hard won gains of more years of education and being able to choose a career and follow their dreams could easily be reversed.
Hence, if we have to dedicate this International Women's Day to something, we should dedicate it to renewed efforts to restore the balance in the sex ratio and make society violence free for women.
(The writer is a Sociologist and teaches at IIT Delhi)