jat agitation
Another day, another 'deal'
Jat faction leader, govt negotiators claim end to the 21-day stir
Geetanjali Gayatri/TNS
Chandigarh, March 10
There were conflicting reports about the Jat agitation being called off. The government today claimed to have "brokered peace" with the protesters for a second time in a week.
A faction of the pro-reservation protesters tonight agreed to call off the protest tomorrow on the condition that all its leaders, in police custody since the Ramayan village swoop, were released tomorrow morning. Reports from Ground Zero, Hisar, suggested the protesters were in no mood yet to commit themselves. "Before the government holds talks with us, we want our leaders out of jail," said a UP Jat leader Yashpal Malik.
The Jats have been demanding Other Backward Classes status for the community. Saturday was the 21st day of the protest. On March 3, a 26-member khap committee, authorised by the protesters to talk to the state government, had similarly arrived at a "compromise."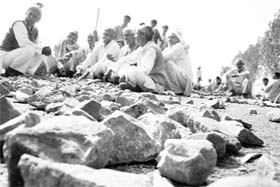 Protesters block the Delhi Road at Mayyar village near Hisar on Saturday. Tribune photo
The agreement called for ending the agitation as the Haryana Backward Classes Commission was in the process of giving its recommendations. The government had said it wanted a six-month window to implement the recommendations. The protesters rejected the agreement.
Talks between the protesters and Chief Parliamentary Secretary Dharambir Singh and principal OSD to the CM, MS Chopra went on late into the night. Secretary of the 26-member khap committee, which had arrived at last week's agreement, Subey Singh Samain, said the protesters were ready to end the agitation if the arrested leaders were freed and the terms agreed to by the khap committee headed by Nafe Singh Nain were accepted.
The Chief Minister has called a meeting of the Cabinet tomorrow to discuss the issue.
(With inputs from Raman Mohan in Hisar)
kurukshetra
The Jat reservation agitation spread to Kurukshetra district on Saturday with protesters blocking the highway in response to the bandh call given by the Jat Arakshan Samiti to protest against the arrest of their leaders and seek their release. The protesters also burnt an effigy of the CM. — TNS
Fatehabad
Even as the situation continues to be tense at Gajuwala and Parta after this week's clashes between the police and villagers, the Jat agitators on Saturday blocked vehicular traffic at Baijalpur village and threw stones at vehicles of the subdivisional magistrate and the police party that went to stop them. — TNS
Jhajjar
The Jat Aarakshan Sangharsh Samiti has described the ongoing agitation in Hisar district as "politically motivated". The Samiti's leaders said some people were misguiding members of the community for serving their political interests. — OC