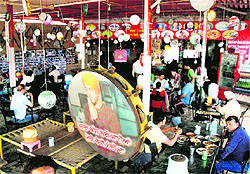 Maan ki baat
While driving at 90 kilometres per hour on the Chandigarh-Ambala Highway, the life-size posters of Punjabi singer Gurdas Maan outside a dhaba draw immediate attention. You slow down for a better view. The board says—Sethi Dhaba. Everything else inside the small dhaba is a story that we share with you, in case you missed out on it.

dedicated cause: People dig into food at the Sethi Dhaba on the Chandigarh-Ambala Highway

On wings of wishes
What is on your wish-list? Building a home? Buying a virgin island or taming a lion? For Avneet Setya it is packing a note for a loved one in a bottle and throwing it into the Ganges. "Hopefully, whoever I have sent it for will know about it," he shares with us. The only contestant from Chandigarh in UTV Bindass Dell Inspiron Road Diaries, Avneet Setya, 24, lived his dreams and came across his worst fears. Being a part of theatre during his education at DAV College, the concept of doing something different always appealed to him.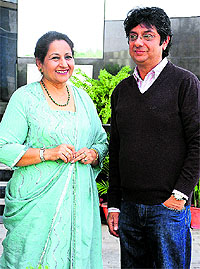 Voice of tradition
No matter how far we end up calling ourselves modern, the charm of turning back to the legacy will never fade away. Dolly Guleria quotes an example of the same. "We keep talking about going Western, but I have been approached by a Punjabi couple based in the UK to sing for their wedding," Dolly says, smiling ear-to-ear. Recognising the true talent in Punjabi music, Dolly Guleria and Atul Sharma will be judging the second edition of UK music studio Big Punjabi Awards. Dolly Guleria, the traditional jewel of the Punjabi music industry, speaks at length about her devotion towards music and changes in the industry.


on panel: Dolly Guleria & Atul Sharma. Photo: Parvesh Chauhan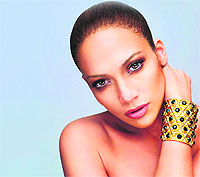 J.Lo still single
Jennifer Lopez has dismissed reports claiming that she married toy-boy Casper Smart in a secret ceremony. The superstar found a photo of herself on the cover of a magazinemagazine alongside the headline, "J.Lo Married in Mexico!" The accompanying article alleges the singer/actress married dancer Smart in a low-key ceremony onboard a yacht with no guests in attendance.

Rumour mill: Jennifer Lopez
Barrymore planning a summer wedding?
Actress Drew Barrymore is reportedly planning to tie the knot with beau Will Kopelman this summer before their baby is born.
Destination Alabama
Oscar-winning actress Octavia Spencer has called on Hollywood bosses to shoot more movies in her native Alabama to help boost the economy in the state.
Cruz learning ballet
Soccer star David Beckham and singer-designer Victoria's son Cruz is taking ballet lessons in a bid to get closer to girls.
Second home
Supermodel Kate Moss has reportedly given hairdresser James Brown one of the seven bedrooms at her new London mansion.
Third Hangover in line
Bradley Cooper and his three buddies are returning for another drunken misadventure in third Hangover film, which will release on May 24, next year.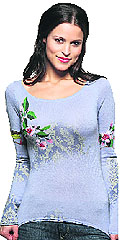 Neck-to-neck
Spring is here and it is time you show off some bare necks and trimmed waist-lines. From statement-making prints to cool new colour combos, discover tons of new outfits and necklines for the warm weather ahead. And trust us, you'll find something you just can't wait to put on. Talking of neck styles they are the very basis of a good outfit, so we list what is going to be hot in the coming season. Boat neck is one trend, as it showcases the beauty of the shoulders. As for the designers, they are playing with the versions of this trend where necklines can go as deep as you wish. "During summer, neck-lines are an important tool to woo the customers," says Ankush Mahajan, manager, Whistles, Sector 17, Chandigarh.
TROUBLE SHOOTER
Fight anxiety attack
My son was a good student. However, in the 12th he did poorly. That really upset him. I feel he did not manage his time well and as a result even average students did better than him. He still does not prepare well and then gets very anxious before the exams to the extent that his mind goes blank during the exams.
it's rocking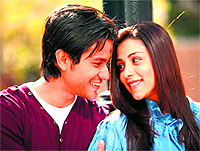 One for the romantics
The upcoming movie Blood Money, starring Kunal Khemu and Amrita Puri, has the track Chaahat which proves yet again that love songs do sell like hot cakes. Rahat Fateh Ali Khan's magical voice makes the song suitable for everyone in love. With melody as base, the song has various shades, starting on a slow note and then going on a high as Sayeed Quadri's lyrics turn passionate.
A still from Blood Money
Gursharan Singh Maha-Utsav
To salute the legend of Punjabi theatre Gursharan Singh, the Adakar Manch is staging a series of 101 plays written by Gursharan Singh from March 27, 2012 to March 27, 2013.
Play on
The Community Theatre Workshop is coming with their latest production Mera Laung Gwacha, a Punjabi play directed by Parveen Jaggi.
Master Chef
Heart smart!
Don't scowl! You needn't be a bed ridden patient to read further. It would be good to remember from time to time that food related to the heart's good health is beneficial to one and all, no matter what your age or fitness-level is. Healthy food consists of bright coloured fruit and veggies, whole grains, beans, nuts and soya products.
its happening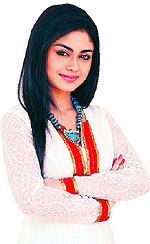 Food that sizzles
It's time to sizzle your tastebuds. Hometel has organised a sizzler food festival at the open—air Terrace Grill in the evenings. The beautiful ambience of the open-air restaurant lends a perfect match to the sizzling sound of the food.
Sreejita De: I'm not a perfectionist
Popular show Uttaran is all set to take an 18-year leap, with actress Tina Datta playing a double role as 35-plus Ichcha and her young daughter Meethi whereas Sreejita De will be playing the role of a perfectionist —Mukta Rathore, daughter of Tapasya and Raghuvendra Pratap Rathore. Sreejita De, popularly known as Ash of Miley Jab Hum Tum, is returning to television after a hiatus of almost a year. We caught up with the pretty actress to talk about the show, movies etc.
Second innings: Tina Datta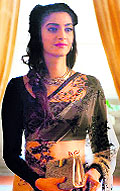 Waiting for Hollywood?
Even as her father Anil Kapoor graced Hollywood screen with Slumdog Millionaire and the latest Mission Impossible series, actress Sonam Kapoor feels she is not lucky enough to get right opportunity on that front. Slumdog Millionaire opened Hollywood gates for Anil, who soon landed a role in a US television series 24. The 52-year-old actor was also seen sharing the screen space alongside Tom Cruise in the fourth series of MI franchise Mission Impossible—Ghost Protocol.


new horizon: Sonam Kapoor

Vidya Balan my best co-star: Parambrata Chatterjee
Bengali actor Parambrata Chatterjee, who re-united with Vidya Balan in Kahaani nine years after beginning their film journey in Bhalo Theko, says she still remains an instinctive and spontaneous actress. "Both of us have moved ahead from those days, she has now turned out to be Vidya Balan, one of the best actors in the country. But she remains a very instinctive actor, very spontaneous till this date", Parambrata said.
Success rate: Vidya Balan
The new brand ambassador
Durian Industries Ltd has appointed Sonali Bendre Behl as their new brand ambassador to promote Durian in India. Sonali will endorse the products and services of Durian through advertising, marketing and promotions.
Noble soul
Russell Brand recently reduced a homeless man to tears by handing him over 400 pounds. The 36-year-old comedian, who is waiting for his divorce from estranged wife Katy Perry to finalise, withdrew 400 pounds from a cash point and handed it to the man.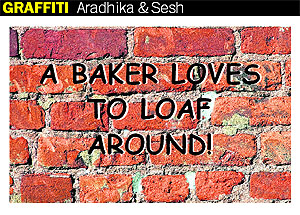 Agnee for The Avengers
A special Hindi theme song titled Hello Andhero has been composed by popular band Agnee for the release of much-anticipated Hollywood movie The Avengers, which hits the screens on April 27.