Nasheed: India must ensure early elections in Maldives
Seeks referendum to establish new regime's legitimacy
Chandani Kirinde in Colombo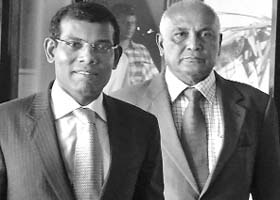 Ousted Maldives president Mohamed Nasheed (L) in Colombo on Saturday. Photo by writer
Former Maldivian President Mohamed Nasheed, in Colombo on his first overseas visit after being ousted from office in February this year, said India must play an active role to ensure early elections in the island nation.
"We always respect Indian leadership among Indian Ocean nations, but security in the region cannot be ensured without stability in the Maldives and, hence, the need for India to play an active role to ensure that early elections are held in the Maldives," he told reporters at a press briefing in Colombo on Saturday.
He also warned that an early election was a must to stop an emerging dictatorship in that country from consolidating itself in power. "The longer those who ousted the legitimately elected government of the Maldives are in power, the more difficult it will be to remove them," Nasheed said.
The former President said he did not disagree with the idea of holding of a referendum to decide on the legitimacy of the new government, if it was the way to break the stalemate in which the two sides have been locked in since the change in leadership in the country. "The MDP commands the support of the people in the Maldives and I am definite that we will win in the next election," Nasheed said.
He also said that he would seek the ticket from his party, The Maldivian Democratic Party, to be the party candidate at the next elections and was ready to face anyone who contests opposite him, be it former President Maumoon Abdul Gayoom or anyone else. "One reason they might be hesitant to announce a date for the election is because they can't decide who their candidate will be. There is already infighting between them," he said.
Nasheed, who resigned from his post of President on February 8, later said he had been forced to do so at the behest of rouge elements in the police and the military who are now backing the government of President Waheed. "There will be pin drop silence on the streets of Male the day a date for the elections are announced," Nasheed said adding that his party does not condone violence in any manner.
Supporters of Nasheed have been staging daily protests in the streets of Male calling for an early elections. The government has accused them to resorting to violence.