Anna back in action, fasts for Lokpal
Pass the Bill by 2014 or go, warns govt
Aditi Tandon/TNS


Supporters of Anna Hazare during his daylong fast near Parliament House in New Delhi on Sunday. Tribune photo: Manas Ranjan Bhui
New Delhi, March 25
After getting a cold shoulder in Mumbai last year, activist Anna Hazare today returned to the national capital to rejuvenate his sagging anti-corruption campaign by daring the government to pass the Lokpal Bill by 2014 or go.
At the end of his daylong fast for the protection of whistleblowers, Anna made a slew of new announcements to boost his movement and give it a fresh lease of life.
So he warned the government afresh on the allegedly tainted Cabinet ministers and demanded FIRs against them by August; announced a new collaboration with yoga guru Baba Ramdev on key national issues and listed Right to Reject, gram sabha empowerment and farmers' concerns as the next big items on his reform agenda.
In a strategic shift to appear apolitical, Hazare's aides Arvind Kejriwal, Kiran Bedi and Shanti Bhushan, for the first time today, publicly slammed the BJP-ruled states as much as the Congress governments for failing to protect the whistleblowers and for shielding the corrupt.
Among main speakers today was Uday Veer Chaudhary, the uncle of Madhya Pradesh police officer Narendra Kumar, recently mowed down by the mining mafia in Murena on March 8.
Not just that, the backdrop of the dais where Anna sat was carefully crafted to avoid resemblances to any RSS motifs. So the image of Bharat Mata, used during Anna's first fast at Jantar Mantar in March last year, was gone and the frame of Mahatma Gandhi was back.
Along side Mahatma's life-size photo were 15 frames of people who died fighting corruption across India. "Bhrashtachaar ke khilaaf jang: Kitne aur shaheed," was the writing on the wall behind Anna. That the activist had resurfaced after the Mumbai lull was evident from the frenzied cheering of a 10,000- strong gathering at the venue, where he appealed to the people to court arrests by August if tainted Ministers had not bee booked by then. Among visitors were schoolchildren, professionals and housewives.
Anna's key aide Arvind Kejriwal had earlier in the day produced a long list of 14 allegedly tainted ministers with Home Minister P Chidambaram and Telecom Minister Kapil Sibal (both members of the Joint Drafting Committee on the Lokpal Bill) topping his chart.
Also in the list that Kejriwal kept sourcing to the media were Ajit Singh, Farooq Abdullah, GK Vasan, Sharad Pawar, Sriprakash Jaiswal, Sushil Kumar Shinde, Vilasrao Deshmukh, MK Alagiri, Virbhadra Singh and Praful Patel.
"Arvind has named tainted ministers. Till August, FIRs should be registered against all who face charges. If that doesn't happen, we must prepare to court arrest," Anna said, sensing that the crowds were receptive unlike in Mumbai where in MMRDA grounds on December 27, 2011, he hardly managed to draw people. But Delhi proved his lucky charm yet again as he informed people of his planned India-wide "yatra" where he would awaken them of their powers in sovereign India before returning to Ram Lila Groounds yet again if the tainted ministers were not booked.
"The government's intention on Lokpal Bill is not clear. If they don't pass the Bill by 2014, they must go. While Janlokpal Bill will partially end corruption, we also want the Right to reject so that criminals can't enter the assembly and Parliament. After that we must demand greater power for gram sabhas and justice for farmers. No farming land should be acquired without the consent of gram sabhas," Anna said.
In his trademark style wherein he invoked "Bharat Mata", the activist urged people to continue the fight against corruption by saying, "If you don't fight now, you won't fight ever."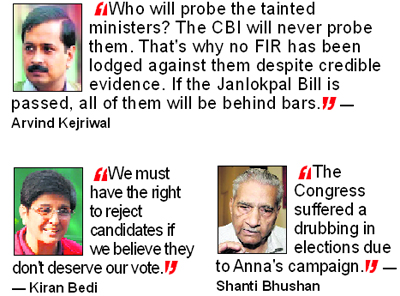 Team Anna takes potshots at politicians again
Tribune News Service

New Delhi, March 25


As always, activist Anna Hazare's fast generated political controversy by the time it ended at 6 pm, an hour behind schedule here today.

Lead creator of the controversy was Anna himself as he took on his old adversary and Rashtriya Janata Dal chief Lalu Yadav, who had earlier needled the activist by advising him against going on fast.

"Lalu ji had advised me to take rest and had expressed concerns about my health when I went on a fast last time. But I want to tell him that I'm fit and fine and ready to serve the nation. How will a father of 10 ever know the power of a celibate?" Anna said, as the gathering cheered him.

Earlier in the day, another member of the Anna Hazare team, Manish Sisodia had made objectionable remarks against the president of Janata Dal United Sharad Yadav.

After displaying at Jantar Mantar excerpts of Sharad Yadav's December speech on the Lokpal Bill in the Lok Sabha, Manish Sisodia said: "Lokpal se darr (he is afraid of the Lokpal Bill) isko kehte hain chor ki daadi mein…" The crowd filled in the blanks, even as JDU slammed the language as unparliamentary.