M A I N N E W S
From apples to vegetables, Himachal takes a green leap
Rakesh Lohumi/TNS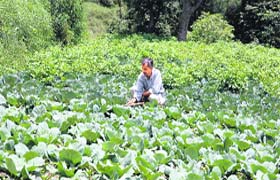 Shimla, April 2
Known as the "apple state" of the country for the past five decades, Himachal has undergone a silent transformation with "vegetables" overtaking the premium fruit as the main cash crop.
While the production of apple has been fluctuating, the outturn of vegetables has been constantly on the increase and accordingly its contribution to the Gross State Domestic Product (GSDP) has been improving. The apple production plunged from a record 10.27 lakh tonne in 2010-11 to 2.72 lakh tonne in 2011-12 due to failure of crop. Consequently, its contribution to GSDP came down from Rs 2,100 crore to Rs 850 crore, whereas that of vegetables shot up from Rs 1,850 crore to Rs 2,150 crore.
In recent years, the apple share in the economy has been declining and it has slipped form around 6 per cent to less than 3 per cent. On the other hand, vegetables share has more than doubled to 3.3 per cent.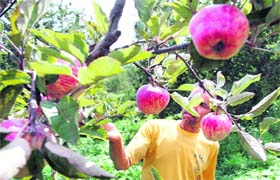 Farmers were growing tomato, capsicum, cauliflower, cabbage, broccoli and other exotic vegetables. Area under vegetables has expanded from 28,000 hectare in 1991-91 to 65,000 hectare and production from 6.5 lakh tonne to 12.69 lakh tonne, while the area under major crops has declined.
It has come down in case of wheat from 3.78 lakh hectare to 3.57 lakh hectare, maize from 3.15 lakh hectare to 2.98 hectare and rice from 98,000 hectare to 85,000 hectare over the period. President of State Fruit and Vegetable Growers Association Lekh Raj Chauhan said farmers of lower belts of Kullu and Shimla districts were switching to vegetable cultivation as it involved less risk compared to apple, more susceptible to weather vagaries, particularly hailstorms. "Even in tribal district of Lahaul ad Spiti, farmers have shifted from seed potato to peas cultivation," says Director of Agriculture JC Rana.
The farmers have three vegetables crops in a year while apple yields a single crop. With three crops the chances of total crop failure, a common feature with apple, are quite rare. "Moreover, the farmers gets returns every four months," points out Lal Singh, Director of Himalayan Research Group. His organisation has been engaged in promotion medicinal plants, mushrooms and vegetables in Mandi and Kullu district.
"Marketing vegetables is easier as compared to apple," says Ranjeet Mehta, a leading apple grower of Kotgarh. While returns from traditional crops range from Rs 18,000 to Rs 25,000 per hectare, cultivation of off-season vegetables yield around Rs 85,000 to 1 lakh per hectare and crops like capsicum and tomato fetch even up to Rs 3 lakh per hectare. Solan has been a leading district in growing vegetables and a large number of farmers in Mandi, Kangra, Shimla, Bilaspur and Kullu districts are following this 'green' trend. It is getting further momentum with the Kisan Baghban Samridhi Yojna launched by government to promote protected cultivation as crops grown in poly houses are safe from wild animals.
The Big Shift
The apple's share in the state economy has slipped from around 6% to less than 3%
The share of vegetables has more than doubled to 3.3%
Experts say farmers have three vegetables crops in a year while apple yields a single crop
With three crops, the chances of total crop failure — common with apple — is rare
Apple production had plunged from a record 10.27 lakh tonne in 2010-11 to 2.72 lakh tonne in 2011-12 due to crop failure