PUNJAB

HARYANA

JAMMU & KASHMIR

HIMACHAL

REGIONAL BRIEFS

NATION

OPINIONS

LETTERS

BUSINESS

SPORTS

WORLD


EDUCATION

JOBS & CAREERS

HEALTH & FITNESS

SCIENCE & TECHNOLOGY

REAL ESTATE
Tuesday, April 3, 2012, Chandigarh, India
Edition update time 2:30 am (IST)


Latest news, updated at 11:40 am
Defence acquisitions to be fast-tracked
Government clears five-year plan, issues new guidelines on transfer of technology policy
New Delhi, April 2
Amid a spate of controversies involving the defence establishment, the Defence Ministry today cleared the long-term integrated perspective plan (LTIPP) for 2012-2027 and the five-year defence plan (2012-2017) besides effecting a key change in the offset policy by including transfer of technology (ToT).
Punjab Cong crisis: Top leaders call parallel meet
Chandigarh, April 2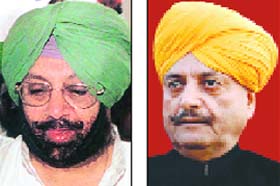 The crisis in the Punjab Congress appears to be reaching a flashpoint. State Congress chief Capt Amarinder Singh has called a meeting of party losers in the Assembly elections on April 4.
AT LOGGERHEADS? Capt Amarinder Singh (L) & Gulchain Singh Charak


Myanmar on cusp of new era: Suu Kyi
Yangon, April 2
Pro-democracy leader Aung San Suu Kyi today hailed a "new era" for Myanmar and called for political unity after her party swept to victory in elections seen as a test of budding reforms.



In exile, Suu Kyi's men still fear going back to Myanmar