Millennium city, medieval mindset
Corporate it might be but cosmopolitan it is not. Unprecedented materialistic progress notwithstanding, Gurgaon is not perceived as a woman-friendly city
Sunit Dhawan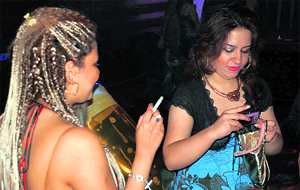 If the glorified title of Millennium City accorded to Gurgaon over the recent years gives you an impression of its inhabitants being broadminded and forward- thinking, think again.



Women visitors at a pub in Gurgaon. As a consequence of increasing crime against women, there is an element of fear that prevents many from frequenting pubs Photos: Sayeed Ahmed

Is your safety just your concern?
Aruti Nayar
By putting the onus of their safety on women alone, is the state not abdicating its responsibility? It is a classic case of making the victims feel like culprits. The recent rape case in Gurgaon stirred a hornet's nest but very soon everything will settle down and all the heated arguments on 24x7 television and edits in newspapers forgotten and buried before something similar happens again.
Archaic laws add to trouble
Pratiksha Baxi
The administration of Gurgaon, one of India's biggest software hubs, recently reiterated the rule that malls and other such establishments in the city should not permit women to work after 8 pm, unless permission is granted by the Labour Commissioner, following reports of a woman employee, who was abducted and gangraped from a Mall.
Gender-based violence is part of a continuum
Sagar Sharma
Cities without violence aganst women are safer cities for all. A clear priority has to be women's security in cities. More people now live in cities marked by strong inequalities (ghettos) that materialise in social and territorial segregation and fragmentation, both of which are conditions for urban violence. Increasing urban violence is also manifested in enhanced gender-based violence.
Love is in the mind
Doting eyes and chubby cheeks of a baby can send many into a heartwarming swoon. Now scientists claim that your affection for an infant actually stems from your brain, not heart.
Helium wasted on party balloons
Scientists have warned their experiments are at risk from a shortage of helium because the gas is being wasted on party balloons. The gas is crucial for scientists because it's used to cool atoms to -27`BAC to stop them from vibrating, which makes investigating their nature far more straightforward.
Art as an agent of change
Folk art forms have been with rural communities for centuries but now artists have been encouraged to develop them into new forms to ensure commercial success and empowerment, finds Baishali Mukherjee
Residing in a faraway village in Nadia of West Bengal, nobody knew Golam Fakir as an artist six years ago. Belonging to a marginalised community and without formal education, Golam used to carry dead bodies from the police station to the morgue.
Junk food as lifesaver
A teenager who gorged on chocolates and junk food is on the road to recovery from a dreaded liver disease that could have killed her, says a report. The report comes soon after another unrelated report which had ruled out junk food's link with obesity.
A musical journey
The music museum in Rudesheim, Germany, gives visitors a fascinating look at the history of mechanical instruments, writes Inder Raj Ahluwalia
Time has passed it by, or so they'd like us to believe. Housed in an architectural historical relic, just a few yards away from a world-famous little street better known for its wine taverns than its length — which happens to be a mere 144 metres by the way — it is deliberately and subtly old-fashioned in appearance, almost archaic.
A tale of two leagues
M. S. Unnikrishnan
At the half-way mark, the World Series Hockey (WSH) League has not created ripples that the Indian Premier League Twenty20 (IPL) had generated when it was launched five years ago, and then sustained in the subsequent editions.
CO2 may be making us fatter
Carbon dioxide (CO2) in the atmosphere is being blamed for global warming issues — but it may also be making us all fatter, a Danish researcher has suggested. Researcher Lars-Georg Hersoug, a post-doc at the Research Centre for Prevention and Health at Glostrup University Hospital, said that the increase in obese people in Denmark is roughly equivalent to the increase of carbon dioxide in the atmosphere.
Footprints on the sands of time
Shoma A. Chatterji on the versatile Soumitra Chatterjee, who was recently awarded the Dadasaheb Phalke Award
Soumitra Chatterjee has been awarded the Dadasaheb Phalke Award this year. The hour of glory has come after it was felt that his contribution to Indian cinema would remain marginalised. Who is Soumitra Chatterjee? Amitav Nag, who is writing a book on Soumitra Chatterjee, says he is an 'enigma' who, like Amal, the character he portrayed in Satyajit Ray's Charulata, stormed into films to stay on for 53 years.