Govt orders CBI probe into Army Chief's bribe charge
Uproar in Parliament, Oppn demands explanation from govt
Tribune News Service
New Delhi, March 26
The Defence Ministry on Monday ordered a CBI inquiry into the allegation made by Army Chief General VK Singh that he was offered a Rs 14-crore bribe by a lobbyist for okaying a deal to buy some vehicles.
Terming it as a "serious" matter, Defence Minister AK Antony said: "We have to handle it...I have taken action."
When asked if the Army Chief had informed him about the bribe offer, he said, "Parliament is in session," indicating that he would make a formal statement in the House on the issue.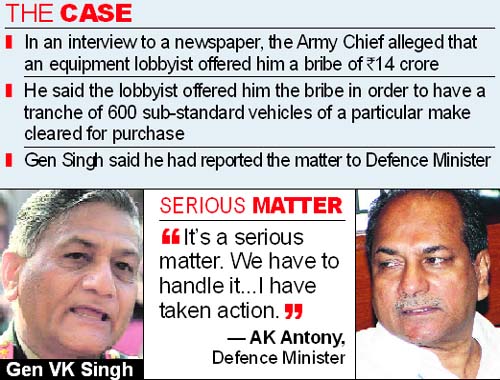 In an interview to a newspaper, the General alleged that an equipment lobbyist offered him a bribe of Rs 14 crore, which he had reported to the Defence Minister. He said the lobbyist offered him the bribe in order to have a tranche of 600 sub-standard vehicles of a particular make cleared for purchase.
Separately, the matter caused a political uproar with both Houses of Parliament being adjourned as the Opposition demanded an explanation from the government.
While the BJP wanted the Prime Minister and the Defence Minister to answer the nation on the subject, Congress spokesperson Abhishek Singhvi said his party would not like "comment on the Army or its Chief."
Earlier in the day, Manish Tewari of the Congress and former Defence Minister of the NDA regime Jaswant Singh, in separate statements, asked why did the Army Chief not lodge a complaint against the person who offered the bribe.
The Army Chief explained his position in a TV interview to a regional channel. "When a person, who has just retired and then talks about the bribe along with many other issues and you have not heard of such things before, you will be shocked. I could not take any action as it was an indirect offer. I just told him to get out. And then I informed the Defence Minister (AK Antony)," the General said. The Army Chief hasn't named the person who offered bribe.
The ministry has sent a formal letter to the CBI asking it to probe the matter. Soon the CBI will seek the terms of reference and start a "preliminary inquiry."
Though the Army Chief has not named the vehicle maker in his interview or the person, the Army Headquarters on March 5 in a press release had named Lt Gen Tejinder Singh (retd) as the one who "offered bribe on behalf of Tatra and Vetra Limited, which supplies vehicles to Bharat Earth Movers Limited (BEML)."
The BEML is a defence public sector undertaking. The press release had blamed the former Lt General for planting false news stories in the media. Lt General Tejinder Singh has replied back with a legal notice.
He said: "I have never worked with any government or private company even for single day. The Tatra is part of the BEML, if I worked for them it can be found out" Officials of the Ministry of Defence responding to reporters on the sidelines of a press conference regarding the forthcoming Defence Expo, said: "The Army has 7000 Tatra vehicles in its inventory and these have been supplied since 1986."
Joint Secretary Land Systems, Rashmi Verma, said: "We have never received any complaint from the armed forces regarding Tatra."