AGENDA 2012-17 Border Villages
Within state, but too far to be heard
For successive governments, villages along the Indo-Pak Border have only been a theoretical existence. The area's problems are often highlighted in the media, yet development remains a stranger there
Perneet Singh
Tribune News Service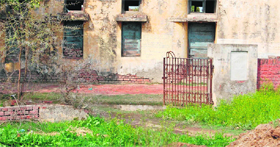 A health sub-centre amidst sewage and heaps of garbage and cow dung at Rania village.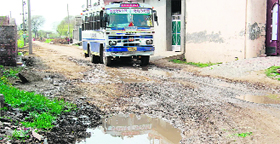 A virtually non-existent road in the border village of Rania.
Rania (Indo-Pak Border)
Out of sight, out mind. The phrase finds literal meaning in villages along the Indo-Pak Border in the state. To spell out specific problems of the area is hard, for every aspect of living there is a challenge for the residents.
If the government means to address the issues, it will need to send officials, and ministers, out there personally so they may not only learn but also feel the miseries suffered by the people who do not even seem to belong to the state.
The Tribune has made the trip — which may well be summed up as a litany of potholed roads, no potable water, dilapidated school buildings with inadequate staff, no health care, lack of transportation, and no sewerage system.
HEALTH CARE
Along the Rania stretch of the border in Amritsar district, Muzzafarpur is one non-descript village. Dotted with mud houses, it is a picture of poverty. With the waterworks located at a distance, water doesn't reach the village, forcing residents to use ground water, which is not fit for drinking. The nearest government hospital is around 10 km, which means a patient needs to have luck on his side to reach there in case of an emergency.
Rania village is no different. It is pieces of road that mark an unending stretch of potholes, while there is hardly any difference between the condition of the dispensaries for animals and humans. The health centre is surrounded in sewage, and there are heaps of garbage and cow dung in the front. Karam Singh, a resident, said they were forced to drink the contaminated ground water, even as villagers had deposited their share of the money for setting up a drinking water facility.
Even at Ranike village, from where Cabinet minister Gulzar Singh Ranike hails, there is only a vaccination centre for children. For medical aid, residents have to rely on a primary health centre at Attari.
In the entire area, one health sub-centre — often understaffed and without facilities — caters to six or seven villages. These centres too open only for a limited period during the day. In any case, these centres cannot address anything more than a headache or stomach pain. For more serious problems, patients have to reach primary health care centres (PHCs) — often not very close — or government hospitals at the district headquarters.
The condition of PHCs is also not good. For instance, the one at Attari should have six beds in two wards. However, one of its wards is locked with some machines and furniture inside, while the other has just two broken beds. Pargat Singh of Ranike says patients visiting the PHC have to buy medicines from private chemists. For most residents, there is little choice — government facilities are ill-equipped to serve, and treatment at private hospitals they can't afford.
EDUCATION
Government schools portray an equally dismal scenario, as they lack adequate infrastructure and staff. Children sit on the floor in their classrooms, though there are benches which they use as desks. Staff crunch in primary schools forces teachers to club two classes. There are four teachers in the primary school at Ranike. So one teacher takes care of Class I and II simultaneously, while the others take care of the remaining three classes. As no Class IV employee is there, the sanitary condition in these schools is also terrible.
Cashing in on the situation, private schools have started coming up in the border villages. There were two in front of the government middle school at Waniyeke village.
NO SEWERAGE
Various welfare schemes do not seem to have reached the border villages. Sewerage doesn't exist in most villages, in the rest it is faulty. In Kakkar Kalan village, sewerage lines have been laid, yet the streets are waterlogged. Water supply has been discontinued as it would only add to the waterlogging, said Pratap Singh, a local resident.
ROADS, TRANSPORT
Leave alone the roads in the interiors, the approach road to Ranike village, which is not far from the GT Road, is also in deplorable condition. Similarly, the 1.5 km stretch from Modde village to Dhanoe Kalan village is awaiting repair for the past five years. The border villages of Wariah and Khushpur are connected by a wooden bridge built across a drain by villagers themselves.
Commuting is a challenge also because there are no government buses on these routes. "We solely depend on private transporters," said Sukhdev Singh of Dhanoe Kalan.
LACK OF EMPLOYMENT
Dwindling landholdings, lack of employment opportunities and rising drug addiction have hit the economy of these villages. In the absence of job avenues, people from around 20 villages, inhabited by the Rai Sikh community, are forced to go out to the Malwa region to work on cotton and potato fields along with their families. As these people have to keep shifting for employment, it takes a toll on their children's education.
Residents of these villages complain nobody bothers for their wellbeing once the elections are over. More and more youths are falling prey to drugs, as smuggling is rampant due to proximity with the border.
LAND FENCED OFF
The farmers' cup of woes is also brimming. Agriculture is not viable for small and marginal farmers anywhere in the state, but their situation is worse in this area because of the border fence that has cut through their land. Part of it is thus on the other side, to which they have limited access for cultivation, that too with permission from the BSF. Also, they don't get tube-well connections beyond the fence, and farm labourers charge more for working on those fields. Farmers have long been demanding compensation for the land on the other side, but successive governments have ignored the plea.
Problems of the border villages find some hearing around election time, but their voice is cut off just as soon. Development, much the buzzword, is not for them, it seems.
NEEDED ON PRIORITY
n Accessibility by building roads and ensuring public transport.
n Schools adequately equipped with infrastructure and staff.
n Health care services; staff, medicines at health centres.
n Sewerage and drainage to ensure sanitation.
n Drinking water for every house.
n Check on flow of drugs; employment opportunities for youth.
n Solution to the problem of farmers with land across border fence.