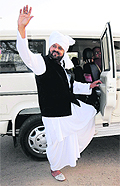 Mohd Sadique opts for traditional attire
Chandigarh, March 19
As folk singer Mohammed Sadique got up to take oath, a thunderous thumping of benches greeted him. It is an honour when the MLAs greet someone like this. What was distinct about Sadique was his traditional Punjabi dress. He came to the House wearing a white long "kurta" and "chadra" and a matching "torewali" turban. "Charda", a traditional Punjabi wear, staged its comeback in the assembly after many years. In the 1980s, Harchand Singh Fattanwala used to come to the assembly wearing "chadra", which was part of the normal dress, especially in the rural Malwa three decades ago.

Khalsa College excluded from private university proposal
Amritsar, March 19
The historic Khalsa College that was in the eye of storm last year over a controversy surrounding its proposed conversion into a private university would continue to function as it is even if the proposed private university came into inception.


No Jalandhar candidate files poll expense details
Jalandhar, March 19
None of the 79 candidates who had contested the Assembly elections from the nine constituencies in Jalandhar district have cared to file their expenditure reports with the Election Commission authorities so far.

State's interests supreme: Jakhar
Chandigarh, March 19
The newly appointed Congress Legislative Party Leader Sunil Jakhar is willing to extend all cooperation to the SAD-BJP alliance as long as it is in the interest of Punjab.

A moment of disbelief for 45 first-time MLAs
Chandigarh, March 19
It was a moment of disbelief for the first-timers in Punjab Assembly who rubbed their shoulders with the big guns of Punjab politics, whom they have been holding in awe, during the first session of the Vidhan Sabha here today.

House Potpourri
Changed equations
The oath-taking ceremony was held in a relaxed atmosphere. It was a different show today from the previous two occasions (in 2002 and 2007) when the relationship between the Badals and Capt Amarinder Singh was bitter.

Charak warns Congmen against indiscipline
Chandigarh, March 19
The incharge of the Congress party affairs in Punjab, Gulchain Singh Charak, today cautioned the party leaders against criticising each other in public and issuing statements against party leadership. "This will invite strong disciplinary action under the party rules," he said.

Randhawa blames Cong leader from Patiala for defeat


Rajpura, March 19
After the poll debacle in Punjab, "discontentment" among Congress candidates, who had lost the Assembly election, is coming out in the open. Two-time former Punjab minister Jasjeet Singh Randhawa, who had unsuccessfully contested the election from Dera Bassi, alleged that a senior Congress leader from Patiala had opposed him in the election and he demanded disciplinary action against the leader.




Transparency in Revenue Dept priority: Majithia
Devigarh (Patiala), March 19
Minister for Revenue and Rehabilitation, Information and Public RelationsBikramjit Singh Majithia today said he would take requisite steps to ensure transparency in the functioning of the Revenue Department.

Akal Takht Jathedar tells Rajoana to appeal against death sentence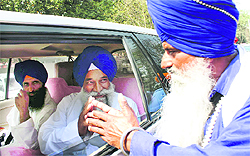 Patiala, March 19
Akal Takht Jathedar Giani Gurbachan Singh along with Takht Sri Kesgarh Sahib Jathedar Giani Tarlochan Singh today met Balwant Singh Rajoana, who is on death row in the Beant Singh assassination case, at Patiala Central Jail.

Akal Takht Jathedar Gurbachan Singh comes out of the Central Jail after meeting Balwant Singh Rajoana in Patiala on Monday. Tribune photo: Rajesh Sachar

Sikh high priests to meet today
Amritsar, March 19
A meeting of the five Sikh high priests will take place here tomorrow. The agenda of the meeting is the "will" of Balwant Singh Rajoana, former CM Beant Singh's killer, which was handed over to the Akal Takht Jathedar by the convict's sister, Kamaldeep Kaur, yesterday.
Fearing 'threat' to his life, complainant writes to CM
Patiala, March 19
Days before the final verdict in the murder case of Harpreet Kaur, daughter of former SGPC president Bibi Jagir Kaur, the main complainant in the case, Kamaljit Singh, alleged that he was facing a threat to his life because of his complaint against Bibi Jagir Kaur. In a letter to Punjab Chief Minister Parkash Singh Badal, Kamaljit requested him to ensure the safety of his family.
3 judicial officers in dock
Chandigarh, March 19
Three judicial officers of Punjab are virtually in dock in an alleged sexual harassment case. Narrating a tale of alleged persecution, humiliation, indifference and cover-up attempts, a peon, in her petition before the Punjab and Haryana High Court, has not only accused a judicial officer of making advances at her, but has also accused his wife of harassing her. To make the matters worse, she has accused the Amritsar District and Sessions Judge of placing her services under suspension for not wearing a uniform, instead of initiating action on her complaint.
3 Pak smugglers shot, Rs 110 cr heroin seized
Amarkot (Tarn Taran), March 19
BSF jawans gunned down three Pakistani smugglers near Dharma border post here and seized as many as 22 packets of heroin worth Rs 110 crore following a brief encounter late last night.