Sea of blue and saffron at swearing-in
Jangveer Singh/TNS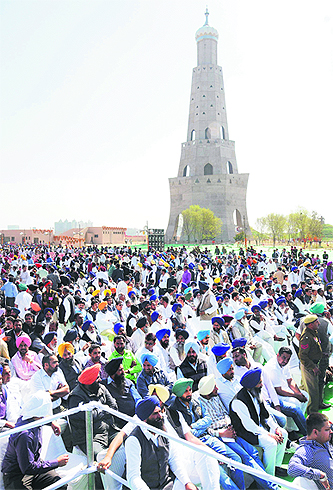 Crowds at the historic Chappar Chiri wait for the VIPs to arrive. Tribune photo: Manoj Mahajan

Chappar Chiri, March 14
It was all about the colour blue tinged with saffron today at the historic battlefield made famous by the rout of Sirhind Governor Wazir Khan at the hands of Guru Gobind Singh's disciple Banda Singh Bahadur. The swearing-in ceremony was conducted from a huge flower-decked stage, with the base wrapped in blue (representing the Akalis) and the top in saffron (representing the BJP).
Most of SAD minister designates turned up in smart suits. These included Parkash Singh Badal, Adeish Partap Singh Kairon, Janmeja Singh Sekhon, Parminder Singh Dhindsa, Sikander Singh Maluka, Bikram Majithia, Sarwan Singh Phillaur and Surjit Singh Rakhra. It was left to SAD chief Sukhbir Singh Badal and Jathedar Tota Singh Ajit Singh Kohar and Sharanjit Singh Dhillon to uphold the favourite attire of politicians, the mandatory white kurta pyjama with a half jacket. Gulzar Singh Ranike was attired in a safari suit.
Except for the VVIPs many of whom were flown in by helicopters, it was a tough task getting to the venue with traffic jams all along the route. Even Youth Akali Dal president Bikram Majithia who was travelling in a bus with his family members to the venue was caught in a traffic jam. He had to borrow a motorcycle from two youths to reach the venue in time to be sworn in.
While NDA representatives were present in full force, the most-awaited guest was Gujarat Chief Minister Narendra Modi who reached the venue in a helicopter when the ceremony was in progress at 11.30 am. After the ceremony, Badal took him to show the memorial in a golf cart. Modi termed the SAD-BJP victory as historic. He said the victory was made possible due to the "intense development" that took place in the state during the last five years.
The entire top BJP leadership was in attendance at the ceremony. These included senior leader LK Advani, who was accompanied by his daughter Pratibha, party president Nitin Gadkari, Himachal Pradesh Chief Minister Prem Kumar Dhumal, his son Anurag Thakur, former Rajasthan Chief Minister Vijayraje Scindia, Rajnath Singh, Shanta Kumar, Vijay Goel and JP Nadda. Others included trusted friends of the Badal family, including INLD chief Om Prakash Chautala and his sons Abhay and Ajay Chautala.
Those who attended the ceremony representing their respective governments and parties were Jharkhand Chief Minister Arjun Munda, Union Minister for Heavy Industry Praful Patel, Karnataka PWD Minister CM Udasi, Delhi Minister Padam Singh, Tamil Nadu MPs Thambi Durai and Dr Maitre, Bihar Rural Development Minister Dr Bhim Singh and West Bengal Minister Rashpal Singh. Also present were JD (U) president Sharad Yadav, Punjab MPs Naresh Gujral, Sukhdev Singh Dhindsa and Balwinder Singh Bhunder and former Canadian MP Ruby Dhalla.
Earlier, the Chief Minister negotiated the steps to the stage effortlessly despite his age and for BJP legislature party leader Bhagat Chunni Lal who is five years younger to Badal at 80 years, it was quite a climb. There was an enthusiastic response from supporters for new entrants into the Cabinet, including Anil Joshi, Sikander Singh Maluka and Surjit Singh Rakhra. Elsewhere, despite efforts to ensure proper seating arrangement, Jalandhar Cantonment legislator Pargat Singh was left without a chair. So was the case with BJP legislator KD Bhandari.
The exodus following the ceremony resulted in even more severe traffic jams on both Chappar Chiri-Mohali and Chappar Chiri-Kharar-Mohali roads with many stuck for more than one hour.
Power dressing
Most of SAD minister designates turned up in smart suits. These included Parkash Singh Badal, Adesh Partap Singh Kairon, Janmeja Singh Sekhon, Parminder Singh Dhindsa
Traffic mess
Except for VVIPs many of whom were flown in by helicopters, it was a tough task getting to the venue with traffic jams all along the route. After the ceremony, thousands of vehicles stuck in long traffic jams on all roads leading to the village
Effortless climb
Parkash Singh Badal negotiated the steps to the stage effortlessly despite his age and for BJP legislature party leader Bhagat Chunni Lal who is five years younger to Badal at 80 years, it was quite a climb
New entrants
There was an enthusiastic response from supporters for new entrants into the Cabinet, including Anil Joshi, Sikander Singh Maluka and Surjit Singh Rakhra
No chair for Pargat
Despite efforts to ensure proper seating arrangement, Jalandhar Cantonment legislator Pargat Singh was left without a chair. Similar was the case with BJP legislator KD Bhandari