| | | |
| --- | --- | --- |
| | OPED — HEALTH | |
We've all known parental pressure, in some form or the other. Though this pressure is the result of good intentions, it has reached colossal proportions in today's competitive world. We need to let children be and let them be kids for a little while longer
Little minds, big burdens
Dr Samir Parikh
A woman once came to me, worried about her son's academics. I asked her how his grades at school were - they were above average, she replied. I asked whether there had been any sudden drop in his performance or if there were any complaints from his school teachers. None. The problem, she said, was that while he was being able to keep up with school work and do his homework on time, it was the tuitions and the extra work at home that came along with it that was troubling him. A greater cause of concern was that the child was resisting studying during the summer vacations. The child was nine years old. He was studying in the fourth grade. And she isn't the only mother facing this concern.
Nuclear families
We've all known parental pressure, in some form or the other — be it pressure to select a respectable career, find a suitable partner or just develop basic moral values and good behaviour. The intensity of this pressure, however, has reached colossal proportions these days. In our generation, there were far too many kids running all over the place for an adult to focus all their efforts on one child in particular. But with the advent of nuclear families, parents are focussing all their energy on their one, or at the most, two children. Subsequently, the pressure on these children to perform becomes greater.
Added to that, our society has become a lot more competitive than it was before. The population is booming and there is a greater struggle for resources at every level - in this case, university seats. Parents are increasingly trying to better the chances of their children making the cut. Where once upon a time, the coaching for IITs started in Class XI, children have started enrolling for these classes in Class IX onwards.
Tuitions were unheard off a couple of decades back, and no child faced any problems without the tuitions. Now every child has tuitions, at least for maths and science, if not other subjects. Not only does every child have tuitions, children as early as Class I now have tutors for multiple subjects. And these are all students studying in good schools, known for their competent teachers. In fact, in an endeavour to get a head start for their child, even nursery admissions have become a nightmarish experience for parents these days, with parents queuing up in front of schools at 3am, just to be able to get an admission form.
Stressed out childhood
Children receive pressure from parents not just to perform well academically but also face pressure in the way they live their day-to-day lives. Do well in sports, do well in creative arts, be a prolific speaker and writer, be socially skilled, be well mannered. Be perfect.
Children these days are rushed from school to tuition to dance class to tennis class to art class and what not. Everything is planned, everything is structured and there's no room for free time. An interesting trend has started these days wherein a child's prowess has become a source of pride for parents, even among their own social circle. Parents brag about their child's achievements and every award is another feather in the parent's hat.
Children these days lead high pressure-high stress lives. They feel the need to fit in with their peers, live up to their own expectations and those of their teachers, and outperform their friends and siblings. Add parental pressure to that, and it sometimes becomes a burden children can no longer carry.
When children perceive pressure from their families to be too intense, they may begin to act out and exhibit problem behaviours. They get antagonistic towards their parents, may start lying, and begin looking for ways to avoid their parents or circumvent their rules. In all seriousness, a child's mental health is becoming a serious concern today.
Children increasingly have to grapple with problems of self esteem. Childhood and adolescent depression is on the rise as is teenage aggression and unhealthy risk-taking behaviour. In fact, suicide is the third leading cause of death among adolescents; it has increased four folds since the 1950s, and it is not something we can afford to take lightly.
All said and done, however, parental pressure is the result of good intentions. It's simply the outcome of a parent's efforts to give their child the best they can offer. It comes from the desire to fulfil our child's wishes and desires, sometimes vicariously fulfilling our own in the process. It comes from desperation of not wanting to see our children make the same mistakes we made; to give our child as smooth and happy a life as is possible.
But in our preoccupation, we often forget that despite our parents' best efforts, we too made mistakes. We learnt from our own mistakes, and we did fine. We need to let children be. Let them be kids for a little while longer. Guide them as best we can, but let them stumble and make their own way.
(The writer is a psychiatrist and the Chief of Department of Mental Health and Behavioral Sciences, Max Healthcare, New Delhi)
Bringing up children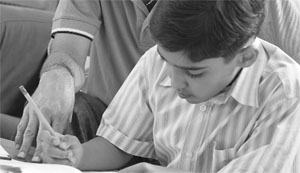 z Give children an opportunity to explore their own likes and dislikes: Do not impose the activities your child should engage in or the subjects your child should pursue. Don't enrol your child into music lessons simply because you played the guitar or always wanted to. Remember that your child is a person in his own right, and his likes and dislikes are likely to vary from yours. The best you can offer your child is an opportunity to explore various avenues that are available, and let them make an informed decision.
z Maintain a balance between the structured and unstructured: Discipline is an essential life-skill in every child's life, and unfortunately that's the one skill children aren't going to learn themselves. You are going to have to instil it in them. Instead of a military regiment, however, the best way to accomplish this is to maintain a balance between structured and unstructured activities. Do not compromise on the need for a routine, but take the child's inputs in what the routine should be. Enrol the child into some extracurricular activity of their choice and encourage the child to remain busy and productive. But at the same time, leave enough free time for them to just be - to play in the park, to gossip to friends, or just to chill out in front of the television once in a while.
z Pick your battles wisely: Don't let your everyday interactions with your child turn into battlefields. We all have certain values and beliefs we're unwilling to compromise on, and that's alright. Prioritise and pick your battles wisely. It's important to set some uncompromising rules and boundaries. But at the same time, just let some of the other - not so important - stuff go, and let your child have his way every once in a while.
z Talk to your child: As you would already know, your child is unique, just like everyone else. He has his own fears and insecurities, his own abilities, his own priorities and aspirations. Talk to your child, not just about goals and targets, but about everything under the sun. Get to really know your child, and let him know that you understand him. Spend some quality time with your child, become a part of his world and spend some time together doing whatever it is that he enjoys doing.
z Look beyond performance: It's sad that academics, career, fame and money have become the only benchmarks for success. Appreciate your child for what he is, the way he is. Let him be a source of joy in your life, rather than one of frustration. Don't focus all your energies on turning your child into a brilliant student. Instead, focus on building a strong character, a good human being, and for now, just a happy child.