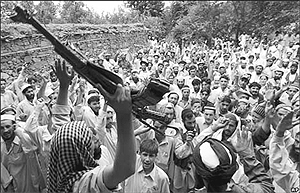 TERRORISM is not a mere security issue. It disrupts society in ways that go beyond the body count, particularly in its physiological, social and economic aspects. Maintaining, and in some cases restoring, the confidence of people in a terrorism-hit state is an uphill task, but efforts are made to sustain the same often through responses on the security front.
Usually, the state ignores or pays less attention to the associated challenges that accompany violence. Economic assistance for the victims emerges as an immediate challenge as does development in the affected areas.
In Pakistan's context, the issue of IDPs (disappeared persons) is also a critical one. Rehabilitation of victims of terrorism, IDPs and terrorist detainees help keep up the public's confidence in the state. Quite obviously, ad hoc reaction to challenges cannot garner that and an institutional response is needed.
It is crucial to develop a comprehensive institutional response, especially since terrorism and conflict in Pakistan seem set to continue in the near future. That has more than a bit to do with the fact that the state has not evolved a strategy to deal with conflict, including the ethno-political and sectarian violence, a nationalist insurgency in Balochistan and, most importantly, the networks and structures of terrorists that remain intact despite extensive military campaigns in the tribal areas.
For victims of conflict, the immediate crisis that emerges after a terrorist attack is critical. The government usually does not prioritise a response to that as highly as it does the security response. A little more attention to these issues can make a huge difference, not only in building faith in state institutions, but also in contributing towards saving the population from terrorists' influence and propaganda.
Compensation or assistance for civilian victims of terrorist attacks is a critical issue across the country, which deserves the attention of the state. It has assumed greater importance in Khyber Pakhtunkhwa and Fata because of the impact of the conflict there. Lack of reliable data and long delays and complexities in the process to access assistance have emerged as key obstacles.
The Campaign for Innocent Victims in Conflict (CIVIC) and the Institute of Social and Policy Science (I-SAPS) have done some excellent work on the issue and both have been working on increasing awareness and sensitising in that respect.
I-SAPS, in a recent report titled "Compensating Civilian Victims of Conflict and Terrorism", noted that even federal and provincial governments did not have any budget lines for that purpose. After every act of terrorism, officials announce financial assistance for the victims, but every case of compensation has to be sent to the chief minister for approval.
Apart from lack of a uniform procedure, political influence also plays a significant role — from determination of the compensation amount to its disbursement. In Fata, another issue that has emerged in recent years is the government distributing compensation money for victims of terrorism mainly to "lashkars" or peace committees for further disbursement, which has given rise to complaints of embezzlement.
In recent years, the scale of internal displacement induced by conflicts and natural disasters has grown exponentially. The largest IDP population is from Fata and Swat in the Malakand region of Khyber Pakhtunkhwa. The state's response to internal displacement in Swat was comparatively quick and effective but in Fata it was considered slow and inadequate. The rehabilitation of IDPs and the rapid completion of development initiatives in the displacement-affected areas in Fata and Khyber Pakhtunkhwa are crucial.
According to data compiled by Pak Institute for Peace Studies, terrorists destroyed 137 schools across Pakistan in 2011 alone, while 49 incidents of targeting public or private property were reported. These figures do not include the attacks on railway tracks, gas pipelines or power pylons. Twenty-six mosques, shrines and other places of worship were also attacked and in these cases the government did not even consider compensation.
Although the Fata Secretariat has launched an initiative called the Damage and Assessment Programme to rebuild the destroyed schools, it is proceeding very slowly because of cumbersome procedures and the lack of interest by the government and international donors. Apart from rebuilding schools, shortage of the teaching staff is another issue, where the government is yet to pay adequate attention.
The situation is even worse in Balochistan, which is already the poorest and least developed of the four federating units of Pakistan. The government and civil society have been less responsive to victims of conflict in the province. The provincial government does not have a rehabilitation plan, which has contributed to fuelling public sentiments against the state.
The Australasian Journal of Disaster and Trauma Studies has pointed out in its 2011 issue that physiological services in response to the conflict-related traumatic situation do not exist in the healthcare system of Pakistan. Although in the absence of proper healthcare facilities in conflict zones, trauma centres might seem like a luxury, it is also true that terrorism and armed conflict have acute physiological effects on people that deserve consideration. This is the area which civil society and the media should keep under the spotlight.
All these challenges need a coordinated institutional response. The government needs to evolve a national conflict rehabilitation policy, which should have representation from the relevant federal and provincial departments and institutions, and resources should be pooled by the federal and provincial governments.
Though national and provincial disaster management authorities already exist in Pakistan and some of the challenges fall under their ambit, their performance needs to be made effective, and a special coordinating body should be formed under its supervision to focus only on terrorism and conflict-related disasters.
The writer is the Editor of a quarterly research journal, Conflict and Peace Studies. (By arrangement with Dawn, Islamabad)