RS poll: Nadda likely to be BJP nominee
Shimla, March 14
With the state election committee of the BJP approving the candidature of national BJP general secretary JP Nadda, it is almost certain that he will be the ruling party's nominee for the Rajya Sabha seat falling vacant on the completion of the tenure of Congress MP Viplove Thakur.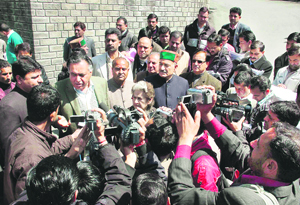 Pandemonium in Vidhan Sabha
Oppn refuses to budge on its demand for Bindal's removal
Shimla, March 14
Refusing to budge on its demand for the removal of Health Minister Rajeev Bindal, the Opposition Congress created a pandemonium in the Vidhan Sabha for the third consecutive day today.
Congress MLAs talk to mediapersons after staging a walkout from the Vidhan Sabha in Shimla on Wednesday. Photo: Amit Kanwar

Lecturers oppose move to close addl exam centres
Mandi, March 14
The HP Government College Lecturers' Association has opposed the decision of Himachal Pradesh University to close down additional examination centres in state's 16 big colleges saying that it will make things difficult for one superintendent to conduct examinations of over 1,900 to 2,300 students at one centre.
Cong to launch campaign for Bindal's ouster
Shimla, March 14
While maintaining pressure in the Vidhan Sabha, the Congress will take the fight against corruption to the people by launching a statewide campaign for the removal of Health Minister Rajeev Bindal from the ministry.
Satti has a dig at Cong
Shimla, March 14
Disapproving of the tactics of the Opposition in the House, state BJP chief Satpal Singh Satti today said the attempts of Congress members to disrupt the proceedings indicated their "desperation" to remain afloat politically after the drubbing the party received in the Assembly poll.
NIT told to bear water charges
Hamirpur, March 14
The Irrigation and Public Health (IPH) Department has asked the authorities of the National Institute of Technology (NIT), Hamirpur, to bear the annual water charges and maintenance cost of a drinking water scheme of about Rs 1 crore from their own funds.
SSB volunteers take out protest march
Mandi, March 14
Members of the Trained SSB Volunteers Berozgar Sangh (Guerrilla) today staged a protest march in this town reiterating the demand of their employment in the paramilitary forces.
'Need to learn from success stories of differently abled'

Shimla, March 14
The Institute of Integrated Himalayan Studies (IIHS) at Himachal Pradesh University (HPU) will start a research on media and accessibility and separate budgetary allocation will be made to conduct these research activities. This was stated by Prof SP Bansal, Director, IIHS, while inaugurating a two-day workshop on "Media and accessibility" here today.
Students attend a workshop on "Media and accessibility" in Shimla on Wednesday

Nalwadi Mela from March 17
Bilaspur, March 14
The state-level annual seven-day cultural Nalwadi Mela will be held at Luhnu ground on the bank of the Sutlej from March 17 and its main attraction will be the four-day wrestling bouts that will be held from March 20.
Wages of anganwari workers up
Shimla, March 14
The state government today enhanced the honorarium being received by anganwari workers and helpers by Rs 300 and Rs 200, respectively, with effect from January 1, 2012.
Man gets 16-month RI
Chamba, March 14
Special Judge, Chamba, Kanwar Chirag Bhanu Singh today convicted Rajinder Singh, resident of Garah village, Jalandhar district in Punjab, for possessing 600 gm of charas. He sentenced him to undergo rigorous imprisonment (RI) for one year and four months (16 months) and pay a fine of Rs 50,000.
Chaitra festival begins
Hamirpur, March 14
A month-long Chaitra festival began with flag hoisting by Deputy Commissioner (DC), Hamirpur, Rajinder Singh Thakur at the Baba Balak Nath temple, Deoth Sidh, today. The district administration has made all arrangements for the festival and efforts are being made to accommodate maximum number of devotees in the temple complex.
Murder accused arrested
Nurpur, March 14
The local police, which had rounded up four youths of Denkwan for investigation into the murder of Satyabhushan, son of Chhaju Ram of the same village on Sunday night, has succeeded in nabbing the culprit who had strangulated Satyabhushan after attending a marriage in the village. Suram Singh, son of Beli Ram of Denkwan, who is one of the suspects, had confessed his crime during police interrogation and was arrested on Monday evening. A case under Section 302, IPC, has been lodged against him.
Woman's murder: Police clueless
Mandi/Kullu, March 14
The Kullu police is clueless over the charred body of a woman found at an isolated spot near the PWD rest house at Mahol in Kullu. Though the police has registered a case of murder under Section 302, IPC, nobody has come forward to claim the body.
Threatens to gherao CM
Dharamsala, March 14
The Congress today launched an offensive against the state government on the issue of the resignation of Health Minister Rajeev Bindal. District Congress president Suman Verma, while addressing a press conference here, said the Chief Minister should accept Bindal's resignation as there were serious charges of corruption against him.