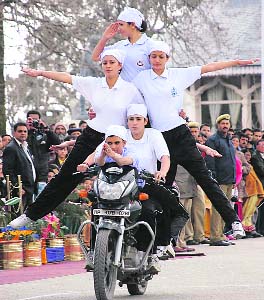 International Women's Day
Policewomen perform daredevil acts
Shimla, March 7
The first Women Police Battalion of North India, established in Himachal Pradesh, presented a spectacular show of skills acquired by the recruits during the course of their training to mark the International Women's Day at historic Ridge Maidan, here today. Addressing the large gathering, Chief Minister Prem Kumar Dhumal, who was the chief guest on the occasion, said the hill state had the privilege to raise the first Women Battalion of North India, providing an opportunity to young educated women to join security forces.
WOMEN POWER: Policewomen display their skills on a motorcycle at the Ridge in Shimla on Wednesday. Photo: Amit Kanwar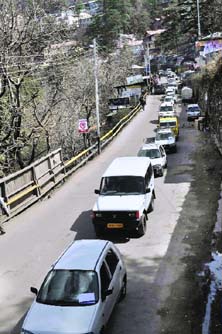 Taxing times: Activists of the Shimla Commercial Vehicles Union hold a "vehicle rally" against the hike in the token tax in Shimla on Wednesday. Photo: Amit Kanwar

Weaker Sections in General Category
Govt set to form welfare commission
Shimla, March 7
With election fervour catching up in the hill state, the BJP regime is all set to formally constitute the Economically Backward Welfare Commission to dole out sops like jobs, scholarships, soft loans, housing and other concessions to the weaker sections in the general category.
Effluent Treatment Plant
NGO raises objections during public hearing
Baddi, March 7
Concerned over the issue of toxicity and varying nature of the effluents let-off by various industrial units in the Baddi-Barotiwala industrial area by the 990 industries, a local NGO Himparivesh today expressed concern whether the Rs 56.80-crore Common Effluent Treatment Plant (CETP) being set up under the Public-Private-Partnership mode would address this critical issue effectively.
Excise barriers auctioned
Solan, March 7
Even as the Baddi-Barotiwala-Nalagarh (BBN) industrial area houses 70 per cent of the state's industries, accounting for about Rs 700-crore revenue, the Excise and Taxation Department has managed to gain a hike of barely 18.6 per cent in its annual barrier auctions held yesterday.
Female foeticide: Need to spread awareness, says CM
Tauni Devi (Hamirpur), March 7
Chief Minister PK Dhumal has appealed to women to come forward in checking the female foeticide. Addressing a conference organised by the Bamsan Mahila Vikas Samiti to celebrate International Women's Day here, the Chief Minister said, "Though there are strict laws to check female foeticide, awareness is very important in stopping this social evil and women can play an important role in creating awareness and saving the girl child."
Computer teachers stage protest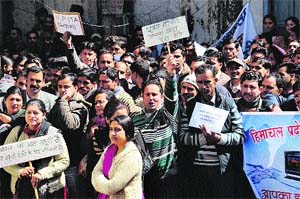 Shimla, March 7
Computer teachers engaged through a private company for teaching information technology in government schools took out a procession and staged a rally in front of the Deputy Commissioner's office in protest against the failure of the government to take over their services as promised.
Members of the Computer Teachers Association raise slogans against the government in Shimla on Wednesday. A Tribune photograph

Mystery shrouds shooting incident
Shimla, March 7
The incident of shooting by the wife of the Director of a hydro-power project is still shrouded in mystery as the police is still not ruling out the possibility of the woman being shot at and not trying to commit suicide as reported.
Leopard, 2 cubs spotted in villages
Bilaspur, March 7
Though attacks of leopards on pets, stray dogs and cattle every now and then have become a cause of worry in areas like Bharadi, Bhapral, Ladraur, Gaahar, Bamm, Sunhani, Shah Talai, Suharghat, Jejwin, Kutheda, Kot Hatwaad and Marottan in this district, now a female leopard roaming about even during the daytime with its two healthy cubs in the Nichli Dadhole area, near Ghumarwin, has been a serious concern.
Holi celebrated with fervour
Mandi, March 7
Residents mainly youth danced, sang and swayed to the colours of Holi almost "painting this temple town red with colours. They went around the town in procession with the chariot of Raj Madhav, which rolled out from its temple to celebrate the festival of colours with his devotees.
Boy, girl commit suicide
Nurpur, March 7
A 20-year-old girl and her boyfriend, identified as Amit Verma (25) of Pathankot, took poison in a hotel on the Pathankot-Mandi national highway this evening.
Screening test for teachers on March 11
Hamirpur, March 7
The Himachal Pradesh State Services Selection Board (HPSSSB), Hamirpur, has decided to conduct a screening test for posts of allied services and physical education teachers on March 11.
Residents seek amendment to monuments Act
Chamba, March 7
Residents of Chamba town led by the Chamba Welfare Association, a local NGO, today took out a silent procession to impress upon the Government of India in bringing about certain necessary amendments in the provisions of the Ancient Monuments and Archeological Sites and Remains (AMASR) Act, 2010, thereby giving a relief to the people living in towns of monuments.
Poll for RS seat on March 30
Shimla, March 7
The Election Commission has announced the election for the Rajya Sabha seat from Himachal that will fall vacant on April 2 on the completion of the term of Congress MP Viplove Thakur.
Govt taking steps to ensure quality education in pvt varsities: Bindal
Solan, March 7
The Private Universities (Establishment and Regulation) Act will play a crucial role in ensuring quality education in the private universities of the state.