Aides of BJP MP join HLP in Kangra
Dharamsala, March 5
Two more close aides of BJP MP from Kangra, Rajan Sushant, today joined the Himachal Lokhit Party (HLP) floated by party rebels led by former MP Maheshwar Singh. At a rally organised in Jawali, the turf of Rajan Sushant in Kangra district, Zila Parishad member from the BJP Ravinder Singh and Block Development Committee (BDC) member Anita Malhotra joined the HLP.


Virbhadra Singh to hold rally in Kangra
Dharamsala, March 5
Union Minister for Micro, Small and Medium Enterprises Virbhadra Singh will hold a rally in Kangra district in the last week of March. HPCC vice-president and former MP from Kangra Chander Kumar said this while addressing a press conference here today.

Former Congress MP Chander Kumar
Political feathers ruffled as MC chief hosts dinner for CM
Dharamsala, March 5
The dinner hosted by Dharamsala Municipal Council (MC) president Kamla Patial for Chief Minister Prem Kumar Dhumal last evening has set off speculation. While the dinner was hosted on behalf of the Dharamsala Municipal Council, the seven BJP councillors, including the civic body's vice-president Onkar Nehria, were conspicuous by their absence.
Congress questions BJP on 'government jobs' to youth
Chamba, March 5
The Himachal Pradesh Congress Committee has asked the ruling Bharatiya Janata Party (BJP) leaders to make it public as to how many youth of Chamba district have so far been given government jobs.
Sushant must resign as MP: BJP
Shimla, March 5
Launching a scathing attack on Rajan Sushant, its MP from Kangra, BJP today said in case he had no faith in the policies and programmes of the party, he must quit his MP seat and seek fresh election.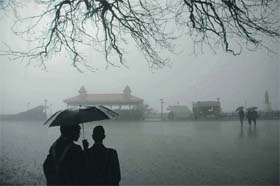 Students with umbrellas during a sudden spell of rain in Shimla on Monday. Photo: Amit Kanwar
Elections in Five States
Himachalis evince interest in Assembly poll results
Hamirpur, March 5
The anxiety over Assembly poll results in five states has reached a crescendo. Political circles in Himachal Pradesh are thus keenly waiting. Experience of the past several elections has shown that the poll results in neighbouring states of Punjab and Uttarakhand have had quite an impact here.
Hospital owner booked in health insurance racket
Mandi, March 5
The State Vigilance and Anti-Corruption Bureau (SVACB) today booked Dr Nand Lal Kaundal, owner of the Apna Aspatal at Ghagas, in connection with a "health insurance racket". But the SVACB has yet to go to the bottom of this "multi-crore racket" as more than 22 private hospitals are empanelled under the Rashtriya Swasthya Bima Yojna (RSBY) in the state.
2 more Tibetans commit self-immolation
Dharamsala, March 5
The Central Tibetan Administration (CTA) has expressed concern over two more reported self-immolations in Tibet. CTA spokesperson here said a 32-year-old mother and a student had set themselves on fire to protest against the continuing occupation of Tibet by China. Both of them have died.
Gopalkrishna Gandhi is IIAS Chairman
Shimla, March 5
A former Governor and youngest grandson of Mahatma Gandhi, Gopalkrishna Gandhi, has been appointed the new Chairman of the governing body of the Indian Institute of Advanced Study (IIAS) and president of its society.
Sofat warned against issuing 'misleading' statements
Solan, March 5
The BJP's youth wing Bharatiya Janta Yuva Morcha today warned Himachal Lokhit Party leader MN Sofat to desist from making misleading statements against the BJP leaders or else they would gherao him.
Land row: Cricket Assn refutes CPM charge
Shimla, March 5
The Himachal Pradesh Cricket Association (HPCA) today asserted that it had no role in the purchase of land in the vicinity of the Annandale ground and termed all allegations made by the CPM as false and baseless.
Telephone mechanic found dead
Bilaspur, March 5
Onkar Singh, a telephone mechanic in the BSNL here, was found dead in a jungle near the government rosin and turpentine factory at Raghunathpura, 7 km from here, this morning under mysterious circumstances.
Villagers demand closure of liquor vend
Bilaspur, March 5
Led by Balha Bhalwana gram panchayat president Ram Krishan, a deputation of village leaders and women met Additional District Magistrate Darshan Kalia on Friday and gave him a memorandum demanding closure of a liquor vend at Balha Bhalwana to save the youth from the menace of addiction.
Man attacked by stray bull
Bilaspur, March 5
Dipak Kumar of Kot village near Ghumarwin, 60 km from here, was injured seriously when a stray bull suddenly attacked him near the Suhel khud yesterday. Reports said Dipak was attacked while he was returning home on foot from nearby Jahu.