People protest against pollution-spreading chemical factory
Dera Bassi, March 5
People of Kheri Gujjran, Behra, and other adjoining villages, today, held a protest against the pollution caused by a chemical factory, Indo-Swift, situated near Bhagwanpura village on the Barwala road.

Blood donation camp
Dera Bassi, March 5
A blood donation camp was organised by the Punjab Group of Colleges and Bharat Vikas Parishad on the college campus.

Maestro honoured
Patiala, March 5
The Fourth Punjab Sangeet Ratan Award was today conferred on the acclaimed vocal classical maestro Pandit Baldev Raj Verma as the three-day Fourth Rababi Bhai Mardana Shastri Sangeet Sammelan being organised by the Gurmat Sangeet Department commenced at Punjabi University here today.

'Rainbow Club' celebrates Women's Day
Patiala, March 5
Rainbow Club for special children celebrated Women's Day with Deaf, dumb and special children under the chairmanship of Nancy Ghuman, president Rainbow Club, today, here at Arts Auditorium, Punjabi University, Patiala. About 100 deaf and dumb children from various deaf schools of Punjab had participated in the programme.



HC: Impart vocational training to inmates
Chandigarh, March 5
Flowers, and visages of inmates, will bloom from behind the jail bars in this part of the region. For, the Punjab and Haryana High Court has made it clear that it is in favour of imparting vocastional training to the inmates, including floriculture, horticulture, mushroom cultivation and other agricultural operations.

Car dealer told to rectify fault or pay Rs 1 lakh
Chandigarh, March 5
The UT Consumer Disputes Redressal Forum has directed a car dealer to rectify the defect in a Toyota Corolla or pay Rs 1-lakh compensation to the complainant if they fail to fix the defect.

Local commissioner appointed
Chandigarh, March 5
The Punjab and Haryana High Court today appointed a local commissioner for submitting a report on the existence and extent of the area under the Sukhna choe.

Mohali murder, two sent to police custody
Mohali, March 5
The two of the accused in a five-day-old murder of Paramjit Singh at Teor village were today remanded to two-day police custody by a Kharar court. The duo, Jagroop Kaur and Dalbir Singh were arrested, yesterday, in connection with the murder of Paramjit

.



Man arrested for rape
Chandigarh, March 5
The local police has booked Dharminder Singh, a resident of Phase 2, Ramdarbar, for allegedly raping his 21-year-old 'friend', at a hotel in Sector 32, here. The incident took place yesterday.

2 commit suicide
Zirakpur, March 5
Two persons including a woman allegedly committed suicide under mysterious circumstances at two separate residential colonies of Baltana, here this morning.

Two die in road accident
Panchkula, March 5
In yet another accident, on the killer National Highway 73, two youths lost their lives in a road accident on Monday morning.

60-yr-old crushed to death by bus
Chandigarh, March 5
Dharam Pal Garg, a 60-year-old resident of Sector 32 here, was crushed to death by a speeding college bus at the Sector 20-21 lightpoint here today.

The accident took place around 8 am when Dharam Pal was returning home on his non-gear scooter after dropping his grandson at his school.

Dharam Pal Garg

Harbhajan stars in Punjab's victory
Chandigarh, March 5
Indian off-spinner Harbhajan Singh's scintillating all-round performance helped Punjab beat Maharashtra in their pre-quarterfinal match at Palam Ground, New Delhi. Fighting to regain his place in the Indian team, Punjab skipper Harbhajan Singh started the day with an economical bowling spell and followed it up with a sparkling unbeaten knock of 79 off 94 balls, studded with seven boundaries and one six, to take his team to a two wicket win over Maharashtra with 10 balls to spare.

Veteran athletes do Mohali proud
Chandigarh, March 5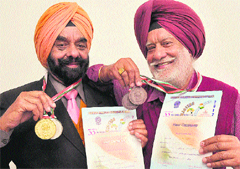 Vetran athletes, Sidhu brothers, of Mohali have done it again. The duo have won four medals at the Masters Athletics Championship held between February 23 and 26 at Bangalore. Advocate Gurjiwan Singh Sidhu won gold medal for the ninth time since 2004 in shot put and also bagged a silver medal in hammer throw in the championship. His younger brother Pargat Singh also brought laurels to the region, winning two bronze medals in the meet.
Gurjiwan and Pargat Singh Sidhu pose with their medals won during the National Masters Athletics Championship, in Chandigarh, on Saturday. Tribune photo: Parvesh Chauhan
Book on Indian hockey legends released
Chandigarh, March 5


While the nation is hoping for a gold medal in hockey during the forthcoming London Olympics, Iqbal Singh Saroya, a Mohali resident, has come out with a book on hockey players who reigned supreme during Indian hockey's golden era (1928-1956). The book was released at the 19th SAIL Jawaharlal Nehru College Championship held today at New Delhi.
Over 130 enthusiasts to take part in SJOBA rally
Chandigarh, March 5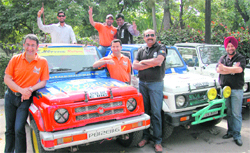 Over 130 professional and budding rally-enthusiasts are likely to participate in the 25th edition of SJOBA Thunderbolt Sub-Himalayan Open Rally to be flagged off here on March 24. "The event is going to be even more exciting and challenging this year because of the new route planned for the rally," said Shivneet Singh, president, St John's Old Boys Association (SJOBA).
Participants of SJOBA Thunderbolt Sub-Himalayan Open Rally at Sector 27, Chandigarh, on Monday. Tribune photo: Manoj Mahajan
DAV Club outplay Coaching Centre-17
Chandigarh, March 5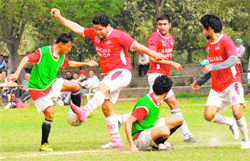 DAV Football Club, Sector 8, earned full points by beating Coaching Centre, Sector 17, by 2-0 in a super league match on the sixth day of the Chandigarh Senior Men Football Championship being played at the Sector 17 football stadium here today.




Players of DAV Club and Coaching Centre-17 in action during the match at the Sector 17 football stadium, Chandigarh, on Monday. Tribune photo: Pradeep Tewari