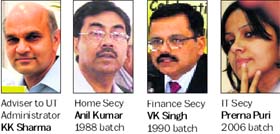 Cadre conflict comes to UT
Chandigarh, March 14
The UT Administration's recent decision to create two more secretary-level positions has not only created a vertical split in the Administration, but has also raised eyebrows on the procedures followed in the reallocation of departments among the secretaries.


Treat to the eyes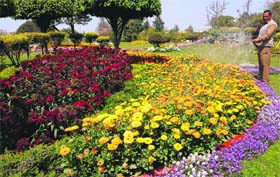 Flowers blooming at the CITCO roundabout in Sector 16, Chandigarh. Tribune photo: Manoj Mahajan
2 constables dismissed
Chandigarh, March 14
Taking stern action against two constables who created nuisance and fired gunshots outside the SSP's residence late on Sunday night, senior police officials dismissed the two policemen today. Constables Jagbir Singh and Baleer Singh, who fired gunshots at about 1.30 am near the SSP's residence, were dismissed from service with immediate effect.
Woman turns hostile, supports 'killer' son
Chandigarh, March 14
The UT police received another setback today when a woman retracted from her statements given to the police and refused to identify her husband's killer in court, who incidentally is her son. The murder case of the senior citizen fell flat in court with the woman turning hostile.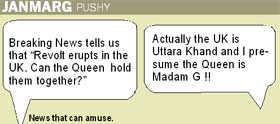 Eve-teaser makes 160 calls at '100'
Chandigarh, March 14
A teenager working as a barber in Sector 15 harassed the staff at the police control room (PCR) by repeatedly dialling "100" and passing lewd remarks against women constables who answered the phone.


Ugly spots in City Beautiful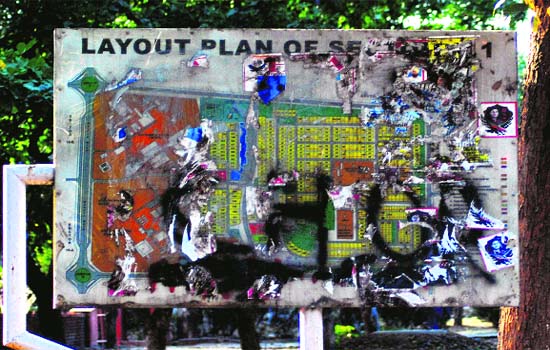 The view of a defaced sector guide map at Sector 11 in Chandigarh. Tribune Photos: S Chandan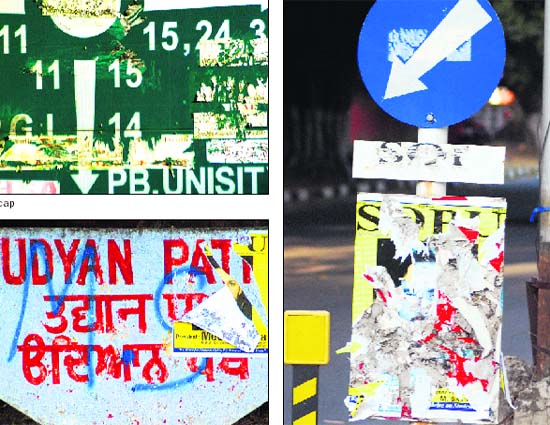 (Clockwise) An information board at Panjab University.
A traffic signboard at Sector 11.
A road pointer to Udyan Path.
Poor response likely to auction of commercial sites by HUDA
Panchkula, March 14
In view of the steep hike in the reserve price of commercial sites in various parts of Panchkula, the Haryana Urban Development Authority (HUDA) is likely to receive a lukewarm response during the auction to be held on March 21. This year, HUDA is going to put 88 commercial sites under the hammer, besides three school sites in various parts of the town.


Special F&CC meeting tomorrow
Chandigarh, March 14
A special meeting of the Finance and Contract Committee (F&CC) of the municipal corporation (MC) has been called for March 16 to finalise modalities of converting two important parking lots at Sector 17 into no-vehicle zones after 4 pm.
Haphazard parking leads to traffic chaos at Sector 17 in Chandigarh on Wednesday. Tribune photo: Manoj Mahajan
Sector 17: Over to city residents, now
In the fourth and concluding part of the series, Chandigarh Tribune seeks the suggestions of residents to solve the problem of parking that ails the heart of the city
Inside Babudom
Monica first woman to head global tax transparency unit
Chandigarh, March 14
A city girl has been chosen to head the Secretariat of the Global Forum on Transparency and Exchange of Information for Tax Purposes within the Centre for Tax Policy and Administration (CTPA).


Redefine success, says Anupam Kher
Chandigarh, March 14
"Been different" is how Anupam Kher's journey so far can best described. The actor who dared to play a 65-year-old man in the movie Saaransh when he was just 27 has done it again. While the entire army of motivational gurus dish out books lauding success and ways to achieve it, here is Kher celebrating failure with his best seller 'The Best Thing About You is YOU'.
Actor Anupam Kher (centre) at Vivek High School in Sector 38, Chandigarh, on Wednesday. Tribune photo: Parvesh Chauhan

Three-day fest on Kabir concludes
Chandigarh, March 14
The performance on the finale of the three day festival on Kabir 'Suno Bhai Sadho' by Padamshri Prahlad Tipanya of Dewas was as grand as its start. The annual event, organised by the Chandigarh Sangeet Natak Akademi as a tribute to mystic saint Kabir featured performances by six well known maestros of Kabir Bani who bared the spiritual and sufiana meanings of Kabir's words with their renditions.


Mahesha Ram and his troupe from Jaisalmer perform during Kabir Utsav at Tagore theatre, Chandigarh, on Wednesday. Tribune photo: Parvesh Chauhan
Hike in licence fee
Admn should consider our views: Liquor contractors
Chandigarh, March 14
As the UT Administration has already proposed a hike in the licence fee under the excise policy for 2012-13, liquor contractors of Chandigarh feel that the UT Administration should listen to their objections before finalising the policy.
Teachers sweep roads, polish shoes in protest
Panchkula, March 14
About 250 teachers from different parts of Haryana protested in a unique style by sweeping roads and polishing shoes near Shiksha Sadan at Sector 5 here today. The agitation led to a traffic jam on the road. Members of the Paatar Teachers Association cleaned up the road separating Sectors 2 and 5.


Defacement of public property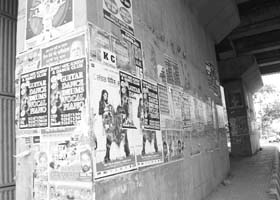 Posters pasted on a wall at Sector 21 in Panchkula. Tribune photo: Nitin Mittal
Leopard yet to resurface
Chandigarh, March 14
To capture the leopard, which was stuck in a pipe at the Indian Air Force (IAF) station since Monday, UT forest and wildlife department officials today placed a live goat to lure the hungry animal. Earlier, a live chicken was hung at the opening of the pipe.
Woman falls into Sukhna, saves herself
Chandigarh, March 14
A 30-year-old woman accidentally fell into the Sukhna Lake here this evening. Laxma, a Sector-7 resident, managed to save herself and came out of the water. She had come for a walk at the lake with her two children, aged seven and five, when she fell at the regulator end.
Blame game mars BJP meeting
Chandigarh, March 14
Allegations and counter-allegations were levelled by senior BJP leaders during a core committee meeting chaired by party national general secretary JP Nadda here today. Sources said the leaders alleged that the responsibility of the defeat in the recent municipal corporation (MC) elections was due to differences between within the party.


Raid on restaurant for tax evasion
Chandigarh, March 14
The Excise and Taxation Department of Chandigarh today raided the Sector 26 located restaurant, Lobby, and confiscated its account books on the charge of not depositing the quarterly returns and tax evasion.

Income tax officials conduct a raid at the restaurant 'Lobby' in Sector 26, Chandigarh, on Wednesday. A Tribune photograph
70 doctors attend opthalmology lecture
Chandigarh, March 14
On the occasion of World Glaucoma Week celebrations, Chandigarh Ophthalmological Society has organised a lecture by Prof Ravi Thomas, an international authority on glaucoma, and Director of Queensland Eye Institute, Brisbane, Australia, here today.

73 students get job through 'Avsar'
Chandigarh, March 14
The Panjab University's job fest 'Avsar' turned out to be lucky for 73 students who succeeded in getting job letters. Over 236 students have also been short-listed by various companies for the final round. With more companies visiting the campus, the placement drive which was to end today, has been extended for two more days.


Students of the UIMS, Panjab University, wait for their interview during the job festival at the south campus, Sector 25, Chandigarh, on Wednesday. A Tribune photograph
Lack of 'guides' irks varsity students
Chandigarh, March 14
With the semester at Panjab University coming to end, the students of various departments are having a tough time finding 'guides' and help books in the market as the books for most humanities subjects are not available. The second semester students of history, Punjabi and political science in particular are finding it difficult to get help books at book stalls in the city.
PU to organise conference on sustainable development
Chandigarh, March 14
With an aim to initiate a peer review of the national and international sustainable development scenario, the University Institute of Legal Studies (UILS), Panjab University, is hosting a national conference on 'Sustainable Development: A Paradigm Shift from Principles to Rights' on March 15-16.


Two-day techno-cultural fest kicks off
Mohali, March 14
Spontania-12, the fifth annual techno-cum-cultural fest of the Swami Vivekanand Group of Institutes, got off with much fanfare at the college premises here today. The organisers claimed that over 50 colleges of region, mostly affiliated with Punjab Technical University, have been participating in the two-day fest.
Students present a folk dance during cultural fest Spontania-12 at Swami Vivekanand Institute of Engineering and Technology in Ramnagar on Wednesday. Tribune photo: JS Virdi
GMCH to train police personnel in accident victim care
Chandigarh, March 14
In order to provide training on trauma and emergency life support to police personnel and volunteers from Chandigarh, the Government Medical College and Hospital, Sector 32, will organise a workshop here tomorrow.