Nephew stabs ASI to death
Amritsar, March 3
Baldev Singh, an ASI, was stabbed to death by his nephew at the former's residence at the posh Ranjit Avenue area here this morning. Victim's blood-soaked body was found from the bathroom of the first floor of the house where his nephew, Jeevan Singh, was residing as a tenant.
Baldev Singh
Reforms chug along slow lane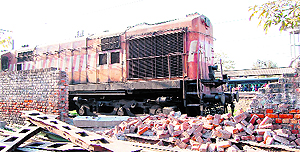 In the 2009 Railway Budget, there was a proposal to develop the Amritsar railway station as a world-class facility. Three years down the line, nothing of that sort appears to be progressing here. The local railway station is one of the most visited facilities in the state. The holy city also attracts a large number of pilgrims who come here to pay obeisance at the Golden Temple.

Fertiliser wagons being used to carry foodgrain

Moga residents demand direct train to Delhi

Needed: A pied piper to trap rats

Hiring rickshaw to reach cloakroom

Trains without toilets causing inconvenience to commuters




Left parties hope for a better show
Chandigarh, March 3
In the 1970s, the Left parties, the CPI and the CPM, were significant players in the state's politics. These had strong pockets of influence and had student wings in almost all major academic institutions in the state. Over the years, both these parties have been pushed to the edge. The failure of the Left parties to relate to the working and lower middle class and to the changing times has led to their downturn.




NRI falls prey to drug menace
Gurdaspur, March 3
A US-based NRI's dream of building a home for the orphans near Kapurthala has been dashed with the former getting addicted to drugs. Assisted by his wife Esme Ralda Sangha, Mandeep Singh is now undergoing treatment at the local Red-Cross De-Addiction Centre.

Modern judicial complexes to be ready in a year: HC Judge


Khamano (Fatehgarh Sahib), March 3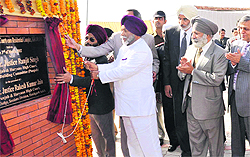 People have high hopes from the judiciary for redressal of their grievances as well as to get justice, which is their fundamental right, so it is the duty of the judicial officers to give proper justice by developing quality delivery system, said Justice Ranjit Singh, chairman, Building Committee of the Punjab and Haryana High Court, while addressing a gathering.

Justice Ranjit Singh, along with other judges, lays the foundation stone of the judicial complex at Khamano. Photo: Surinder Bhardwaj


Before the exams...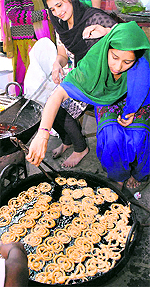 Girl students prepare jalebies during the annual Akhandpath organised before the examination at the Government Girls College in Patiala on Saturday. Tribune photo: Rajesh Sachar

Board Exams
CCTV cameras only in border areas: PSEB
Ludhiana, March 3
The Punjab School Education Board (PSEB) has taken a U-turn on its decision to install CCTV cameras in all examination centres of the state. But cameras in examination halls would only be installed in borders areas and sensitive centres.
Machinery worth crores lying defunct in Rajindra Hospital
Patiala, March 3
Despite repeated complaints by doctors and patients regarding the unavailability of sophisticated machinery at the Ophthalmology Department of the Government Rajindra Hospital here, there has been no improvement since past several months. Though Rajindra Hospital is a tertiary institute where patients should be treated for every kind of eye problem, doctors are only doing cataract surgeries and advising patients where they should go for treatment.
College teachers to hold protest in Delhi on March 14
Patiala, March 3
Punjab government college teachers will hold a protest against the Central government at the Jantar Mantar in New Delhi on March 14 in view of the delay in release of 80 per cent central assistance to states for meeting additional expenditure on account of pay revision from January 1, 2006 to March 31, 2010.
High number of students
Teachers for double shifts in government schools
Patiala, March 3
Many government schools in the state are facing difficulty in handling the increasing number of students due to implementation of the RTE Act and lack of infrastructure in other schools. Therefore, teachers feel that the Education Department should start double-shift in schools with high number of pupils for the convenience of both teachers and students.
15 children hospitalised
Patiala, March 3
As many as 15 children in the age group of 2-12 were admitted to Rajindra Hospital here today after they reportedly consumed some poisonous herbs from the fields at Dhakaunsu village. They were earlier admitted to Civil Hospital, Rajpura, but were later referred to Rajindra Hospital.
HC stay on colony in 'green zone'
Chandigarh, March 3
PUDA's plan of developing a colony in Fazilka was put on hold by Punjab and Haryana High Court after it directed the authorities to maintain status quo.