There is no cultural policy, frame one
Arts — unlike pop trash — world over have thrived essentially on government support. In the absence of any policy or budgetary allocation for culture and arts in Punjab, the state's rich heritage, including Sufi music and theatre, is being starved to death
Vandana Shukla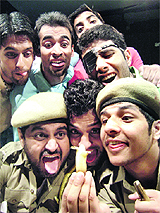 In the business of governance, the much needed hub on "development" has taken away the focus from consolidation of our foundation — our cultural heritage. In the past six decades, successive governments in Punjab have been so obsessed with economic (read agricultural) development that they have failed to pay attention to the cultural moorings of its people. The results are there for all to see.


Apart from facing a decade-long haul with terrorism, Punjab has shown a steady fall in all social indices; whether it is gender ratio, exodus of its youth, rise in dowry deaths and honour killings, or drug abuse. It is only through affirmative action on development, which needs to be inclusive of cultural activities, that these social evils can be curtailed.
What Punjab needs is a cultural vision, which should be translated into a cultural policy that can be achieved through a strategic plan. It is a constitutional responsibility of the government to help people take pride in their tangible and intangible cultural heritage, which not only paves way for development — as has been shown by the success story of Rajasthan — but also helps people find ethical moorings, which are fast eroding under the wild growth of consumerism.
LEFT TO INDIVIDUALS
budget allocation for cultural bodies in the past 5 years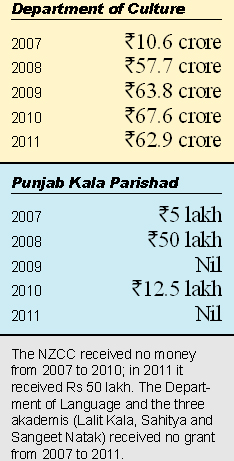 In the rapid pace of change, cultural growth will not take care of itself. In a vacuum created by lack of a policy, it will get filled with trash, as we have witnessed in the case of Punjabi-pop music industry. Secondly, the government must recognise the fact that whatever little cultural activity remains in the state has been carried out by the unfailing endeavour of a few individuals. These individuals and private bodies need to be encouraged and promoted by the government.
Punjab does have a Department of Culture and an elaborate Department of Language. Resources allocated to the Department of Culture have been exhausted in the making of Khalsa Heritage Complex, which is a welcome expense, but it has been done at the cost of neglecting all existing monuments and other intangible elements of culture. The Language Department announces awards annually, but the award money is so little, often writers refuse to accept it. The government headed by Capt Amarinder Singh (2002-07), had initiated heritage festivals in major cities of Punjab to revive cultural awareness, which was discontinued by the Akali government.
Then, the zonal cultural centre is more concerned with enumerating the numerical aspect of cultural events, rather than enriching the fabric of culture. The Punjab Arts Council, which has now learnt to survive on the rent it receives from its auditorium, lacks direction. There are also the three cultural akademis, but these do not receive any funding. Surviving on interest earned on a meagre corpus, which does not give them manoeuvrability to plan events that might give a fillip to the yawning cultural scenario of Punjab. On paper, the government had promised them Rs 2.5 crore, in reality, the funds were never released. Since culture is not on the election manifesto of any political party, it remains last on the priority list of successive governments in Punjab.
LOOK Beyond bhangra-gidda
Though one hears a lot of noise about "Punjabiat", it's been reduced to bhangra-gidda ensembles. Scores of genres of music, dance and folk theatre, and the rich tradition of Sufi poetry, do not find a platform to grow. The meagre resources allocated by the government for cultural activity are given without a thought for what it needs to project and how it wants to project it. Consequently, many great artistes that the state has produced remain unknown and unsung, while mediocrity receives state recognition. The same is the fate of private institutions dedicated to promotion of art and culture.
The state has not created infrastructure, much needed for the promotion of cultural activities. As a result, the awards also make little difference.
At one time, Punjab had a thriving theatre scenario. If the government could provide adequate infrastructure and a little financial help to get it going, a dynamic theatre culture would have emerged, and also produced a "thinking audience" to bring about radical social change. Often, promising artistes migrate out of the state. Those who stick around, fail to grow since they lack exposure to the fast changing art scenario outside. Artistes need good critique and interaction with senior artistes to evolve and grow, which does not happen in Punjab.
The narrative for visual arts and music is no different. Compared to Gurgaon's burgeoning art galleries, the Virsa Vihars conceived by the government are not yet functional and are outdated as such.
The government must have a clear cut budget allocation on its cultural agenda, and should hire professionals to implement it, rather than leaving it in the hands of bureaucrats. It should ensure that conservation of its precious heritage is not given to the lowest bidder of the tender, but to a professional body. It should revive heritage festivals.
public-private partnership
The government will do better to promote public-private partnership for conservation of heritage and promotion of a distinct state cultural identity. Because people have a right to take pride in what is theirs and it needs to be clearly defined and underlined through a well planned cultural policy.
EXPERTSPEAK
check vulgarity

Language is the vehicle that carries culture. In 2008, the Punjab government made teaching of Punjabi compulsory in schools, but it was not implemented with sincerity. How can a child be punished for speaking in his mother tongue? Punjabi channels and music videos are promoting unchecked vulgarity in the name of Punjabi culture, there has to be a censor for these channels and music videos. Culture is not about 'naach gana'; it is about the way people have lived over centuries. The government should create research based archives and institutions for promotion of culture. But, for all this, they should not appoint "sifarishi" people, as has been the culture in Punjab.
—Hans Raj Hans, Sufi singer
SAVE HERITAGE

We need affirmative action. To begin with, the Punjab government should restore its magnificent forts. Their maintenance will give pride and a sense of ownership to people. The government should avoid litigation on heritage properties - the mindset that "if we can't have it, so you too can't get it" has to go. Let public-private partnership work for conservation of tangible heritage. Nabha Fort, Quila Androon in Quila Mubaraq and several others are in dire need of conservation. The government should have a look at the Rajasthan model. They must engage professionals for these projects and should not leave it in the hands of bureaucrats.
—Amita Baig, conservationist
BUILD AUDITORIUMS

Promotion of culture rests on government support anywhere in the world. But, the government of Punjab is least concerned on this front. It needs to create auditoriums for prolific theatre activity. I have nothing against raising Ishmeet Academy, but what about other stalwarts the state has produced. Why is there nothing in the name of Jagjit Singh? Punjab is the home of four music gharanas, it gave Dhrupad and Pakhawaj to the world, but there is no music academy to promote or research our rich heritage. The government should invite artistes who have contributed to different fields to have an open interaction and draft a policy to bring culture on its agenda.
— Dr Atamjit Singh, thespian
FILM INSTITUTE

The Punjab government removed tax from all films - Hindi, English, Tamil, Punjabi - which took away any advantage enjoyed by Punjabi cinema. States like Maharashtra have defined a specific number of shows for cinema halls and multiplexes that is reserved for regional cinema. Many other states select a few films annually that promote regional culture. They are also given financial help; the same needs to be done in Punjab. Secondly, there is no film institute in the North like the FTTI, Pune, to produce quality technicians and artistes for films and TV. The state should give land for such an institute, or attach it with an existing university to provide a three-year diploma, as the FTTI does. Remember, the talent that leaves Punjab for Mumbai never returns.
— Manmohan Singh, Punjabi film producer