The much talked about episode of Ekta Kapoor's serial Bade Achhe Lagte Hain has once again triggered an intense debate over television content. Are lines between what is suitable and what is not fiercely drawn or blurring fast?
Can bold be beautiful?
Nonika Singh
Dateline: March 12.
Time: 10.30.
Place: Indian television.
A burly Ram Kapoor and attractive Sakshi Tanwar create history as they enact the longest and steamiest 'love making' scene in Ekta Kapoor's Bade Achhe Lagte Hain.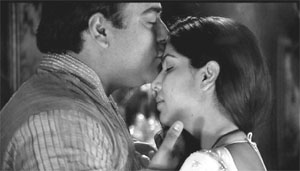 A still from Bade Achhe Lagte Hain
Not too long ago TV's uncrowned queen Ekta Kapoor was grilled for ushering in the age of regressive saas bahu sagas. Today, she is being questioned for making the boldest statement ever on Indian television. As India watched with bated breath, Ram and Sakshi locked their lips and amidst the background score of the lilting AR Rahman number In lamhoen ke daaman mein from Jodha Akbar, made impossible possible. That is portrayed one of the most sensuous, certainly erotic and a long, long foreplay on Indian television industry. Predictably, hullabaloo was to follow. Some puritans have even filed complaints.
Yet nothing can take away from the fact that ever since the (in) famous episode of Bade Achhe Lagte Hain (BAHK) was aired, the buzz hasn't stopped. While You Tube has reported over million viewers, the media has gone into a frenzied mode. And the serial hasn't ceased to make headlines since then.
Much ado about...
Actors' take
BALH's hot episode has created ripples among TV viewers. Has it also ruffled the feathers of TV actors? We bring to you their viewpoints as to whether they think it is a progressive step.

My serial, Virasat with Sangeeta Ghosh had steamier scenes. BALH caught more attention because of the unusual pairing of Ram Kapoor and Sakshi Tanwar. It was good to see one real act on screen but what's important is that such scenes should be the demand of the script. They should take the story forward and shouldn't be used as mere fillers to garner TRPs. Audience is too smart and cannot just be engaged with the support of sensuous shots. Just like Swabhimaan had a storyline much ahead of its time, I hope we have more such soaps. — Rohit Roy

It is important to get bolder storylines and not just scenes. Television soaps are family dramas meant for the collective audience. One bold scene in BALH can't bring an overnight change in the regressive way of storytelling on TV. In fact, the scene was just a gimmick to earn the maximum TRPs. Not that I mind the scene but it should not become an example for other producers to follow. It will make the content even shallower.— Reshmi Ghosh

I saw the first kissing scene on TV in the series, Hotel Kingston so many years back. Suddenly the episode from BALH caught everyone's fancy only because it's after a very long time producers have gone a step forward. There is nothing wrong with showing a steamy scene; in fact it renders a realistic touch to the storyline. I wish more soaps can muster courage to come up with real stuff. Only aesthetics should remain intact.— Rohit Khurana

TRPs are an indication of what audience like. And if the special episode of BALH has earned the maximum TRPs that means viewers really appreciated the effort by the actors, scriptwriters and producers. Slapstick comedy is also a hit on TV, which indicates that audience is ready for bolder stuff. What should be only taken care of is that you are able to cater to the right age group. It's better to slot such episodes late at night. — Shaleen Bhanot

One steamy scene can't revamp the TV industry. Consider older TV soaps like Bangei Apni Baat, Just Mohabbat and Hip Hip Hurray, they were much ahead of their time. Why can't we have modern subjects in real terms and not just a kissing scene blown out of proportion? What is needed is progressive story-telling and not the same old stories. — Ragini Khanna
— As told to Ashima Batish
So what does it mean for Indian television? Do we rejoice in its coming of age or has it crossed the Lakshman Rekha?
Interestingly Ekta's father, yesteryears hero, Jeetendra and brother Tusshar Kapoor are not the only ones defending the bold intimate scenes. Even television producer Kavita Barjatya of Rajshree Productions doesn't think the episode contained anything objectionable that should offend the sensibilities of Indian viewers. Though personally in sync with Rahshree's ethos, she wouldn't make such a programme she deems that both the makers and the channels are well within their right to show what they want to. Chandigarh-based filmmaker Mukesh Gautam too believes the serial has not transgressed any line. For one, the scene fitted into the requirement of the script and number two, it was aesthetically picturised sans obscenity of any kind. Sure the 17-minute-long scene was a trifle dragged. But then shoots off actor Sargun Mehta the lead of Phulwa fame, "So are all the other scenes. In television even a simple one liner is repeated ad nauseam."
The maker in Gautam justifies the length from a purely production point of view. Says he, "See if the producers had been building a crescendo backed by tantalising teasers it is only expected that they would go overboard when they actually present it. Else the impact would have been lost."
TRP booster
Indeed, that is not to say the scene wasn't a well-thought out TRP gimmick. But then that's how television cookie crumbles. After all TV business is all about grabbing more and more eyeballs`85..whatever it takes.
Director producer Ajai Sinha, who made serials like Hasratein and Justjoo more than a decade ago, fails to understand what the fuss is all about. He not only dared to talk about relationships considered taboo in society but also suggested nudity and love making back then. He feels that each time something unconventional happens, people get absorbed by it, whip up a storm and forget that similar things have happened in the past too.
Not the first time
Boldness hasn't been an anathema to Indian television. The bold quotient of Bigg Boss which has seen guests like Pamela Anderson with her eye-popping cleavage, sex siren from Pakistan Veena Malik and more recently porn star Sunny Leone, has always been high. UTV Bindaas' Superstud became truly bindaas with its massage sequence. When the contestants showed off their massaging skills on Kashmera Shah many eyebrows were raised. Soaps too haven't been always about sati savitiris. Barjatya reminds that several serials like Maryada have handled bolder themes like gay sex. Besides, consummation of marriage anyway has been a central theme as well as a highpoint in many a serial. Few like Tum Dena Saath Mera have shown something similar weeks before Bade Achhe's episode was shown. The honeymoon scene in Rang Badalti Odhni too created a stir.
Marketing move
BAHK, however, has generated an unprecedented interest precisely because it's Ekta's serial and she is a mastermind when it comes to marketing her serials. Without a doubt, she is not only a trendsetter in more ways than one but also understands the pulse of her audiences. Sargun, who wouldn't have thought twice before doing a similar act, adds, "Ekta has an uncanny knack of knowing what viewers want and at the same time making them lap up what she offers." Many feel that had Ekta dished out such an episode 10 years ago it would have been rejected outright but today audience is more mature. But seriously, is it?
Viewers' response
Well, judging by the feedback, viewers do seem to have shed their conservative outlook. Of course, there were some nasty tweets on twitter—many even took digs at Ram's weight—a day after. But an overwhelming number also saw nothing wrong in the steamy scenes for the bottom-line was that there was nothing vulgar about it. And those, who keep harping that TV is a family and a drawing room (hence no bedroom scenes please) medium argued viewers at several social networking platforms, had a choice. Even though a miniscule few may have been surprised by the extent of boldness, it couldn't possibly have hit them like a bolt in the blue for the promos were "promising" enough. So, those who call for greater restraint on TV could have stayed away or quite simply switched to a different channel.
Creative licence
That is not to say that regulation should be given a complete miss in the name of creative freedom. But were the axe to fall it should first and foremost on reality television. Programmes like Sach Ka Saamna that make infidelity sound like a commonplace phenomenon, if not a virtue, are far more detrimental to the social fabric. In comparison, scenes that celebrate a union well within the confines of socially sanctioned relationship can at worst be awkward and uncomfortable for family viewing. But certainly not immoral that could send wrong signals down the line. Or, as some say incite crimes against women. Barjatya states that most channels have a regulatory mechanism in place and producers have to follow the dos and don'ts. Perhaps, the contentious episode of BAHK too wouldn't have been aired had it been an eight o'clock show.
New milestone
But has BAHK set a new milestone in Indian television? Perhaps. Will it open the floodgates of similar long drawn enactments? Possibly. After all, the much-criticised kitchen politics too has been ruling the small screen for more than a decade. Gautam feels that each new fad is milked dry till it reaches a saturation point. Will lip-locks and foreplays too become pass`E9 as it has on zillion number of serials being aired on foreign channels? If it does, Ekta Kapoor could take a bow for placing "bold and sexy" on prime time space on our smalls screen and out of our "easily provoked" minds.