Sensex tumbles 405 points on weak rupee, CAG report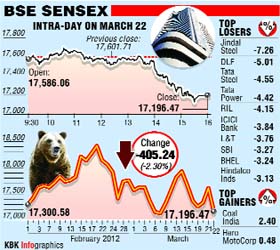 Mumbai, March 22
The BSE Sensex plunged to 2-week low of 17,196.47 today, down 405 points as investors sold stocks amid weakening rupee, official auditor CAG's report that government caused huge losses to the exchequer in allocating coal blocks and shaky overseas markets.
Of the 30 Sensex scrips, 28 tumbled. All 13 sectoral indices closed in losses, with realty, power, banking, capital goods, metal and refinery stocks being hit hard.
Market heavyweight Reliance Industries dropped 4.15 per cent and Infosys by 1.39 per cent. The two carry 20 per cent weight on the Sensex.
The rupee's sharp decline against the US dollar to Rs 51 level worried investors that it will inflate government's import bill, especially on account of oil, worsening fiscal deficit situation.
Sensex moved in a narrow range till late afternoon, but last hour selling pulled it down sharply to 17,196.47, erasing 405.24 points or 2.30 per cent. In the past two days, it had risen 328.34 points or 1.90 per cent.
Similarly, NSE 50-scrip index Nifty tumbled 136.50 points or 2.54 per cent to two-week low of 5,228.45.
Globally, European markets were trading weak, adding to investor woes, he said.
As per SEBI data, FIIs bought shares worth Rs 651.70 crore yesterday.
Asian stocks were down in early trade after a survey showed China's manufacturing has shrunk. Key indices in China, Singapore and South Korea finished with marginal losses, although Hong Kong, Japan and Taiwan ended with gains.
European markets were trading sharply lower in the afternoon. CAC (France), DAX (Germany), FTSE (UK) were down by up to 1.52 per cent. The US index futures too were indicated weak opening today.
Among the sectoral indices, the BSE-Realty fell 4.25 pc, Power - 3.62 pc, Bankex - 3.41 pc, Capital Goods - 3.37 pc, Metal - 3.29 pc, Consumer Durables - 3.15 pc, Oil&Gas - 2.74 pc, Auto - 1.89 pc and PSU - 1.48 pc.
The total market breadth turned negative as 2,019 stocks finished with losses, while 879 stocks ended with gains. The total turnover declined to Rs 2,984.72 crore from Rs 3,302.43 crore yesterday. — PTI