Add life to your liver
The top three causes of liver cirrhosis are viral Hepatitis B & C, alcoholic liver disease and non-alcoholic fatty liver disease
Aditi Tandon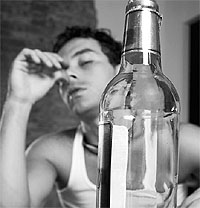 Ask any medic and he will tell you that the liver is the most forgiving organ of the body and unless you injure 80 per cent of it, it won't even show symptoms of degeneration. But beyond this threshold limit of safety, this very organ will, more often than not, have you stare at sure death.
Globally, 70 million people today are estimated to be living with liver cirrhosis or Chronic Liver Disease. Marked by permanent scarring of the liver, cirrhosis is a condition that causes 95 per cent of all liver cancers.
The incidence of liver cirrhosis is rapidly increasing globally, with the Asia-Pacific region positioned most precariously as it houses one-third of the world's burden of liver diseases.
At present, cirrhosis of the liver is known to affect 10 per cent of people globally. Any patient with end-stage cirrhosis will require a liver transplant to survive but will have only a five-year survival rate of 15 per cent.
Most causes of liver cirrhosis are preventable only if people were more careful and governments focused their attentions on strategies to save more than 20 lakh people from dying annually. This was the message at the International Liver Summit organised by Fortis Hospital, Mohali, recently in Chandigarh. Top liver experts from across the world gathered to discuss trends in liver diseases and strategies for prevention and cure.
Also present at the summit was Prof Roger Stanley William, acclaimed as the father of liver disease prevention; the man who set up at King's College, London, a liver unit in 1966 which went on to become the Institute of Liver Disease, the most reputed liver disease treatment centre in the world.
Prof William said that the long-neglected liver diseases had now become the top priority for the WHO, especially in respect to developing countries.
Asia-Pacific region at risk
"In the Asia-Pacific region, Hepatitis B and liver cancer are huge problems. Considering, half of all liver cancers are attributable to Hepatitis B; countries must use the available vaccine to protect every newborn from Hepatitis B. The whole population must be vaccinated," he added.
Among the viral causes of liver cirrhosis are Hepatitis B (infecting 5 per cent of the world's population) and Hepatitis C (infecting 3 per cent). The non-viral causes include alcohol and obesity, which lead to alcoholic liver disease and non-alcoholic fatty liver disease (NAFLD), respectively.
"The Asia-Pacific region houses 350 million carriers of Hepatitis B and 170 million of Hepatitis C. Globally, two billion people have been infected with Hepatitis B. Of these, about 370 million are chronic Hepatitis-B carriers. Most of them are in the Asia Pacific, which is why we have been recommending vaccination for every child," said Prof Stephen Locarnini from Australia, who is also Director, WHO Regional Reference Laboratory for Viral Hepatitis B.
Obesity, a major danger
In 2010, the WHO had declared 2012 as the target year to reduce hepatitis B prevalence in all its regions to below 2 per cent. That target is far from being met and will have to be revised, Locarnini noted. He also listed obesity-related fatty liver disease as another emerging challenge the world over. In the US, obesity will become the leading cause of liver cirrhosis by 2030.
For the Asia-Pacific region, especially India, experts advise universal immunisation coverage to prevent Hepatitis B, whose three-dose vaccine has worked wonders in Taiwan and China. These countries have used the vaccine to reduce the rates of cirrhosis and liver cancer.
"But India was among the last countries to include Hepatitis B vaccine in its national programme. Even today, the coverage is known to be less than 50 per cent. The country has about 2 to 7 per cent prevalence of Hepatitis B which is vaccine preventable," said Prof Arun Sanyal, Chairman, Division of Hepatology, Virginia Commonwealth University.
"There are two types of NAFLD. One of these is NASH (Non-Alcoholic Steatohepatitis), which is related to cardiovascular disease and diabetes. More than 20 pc of all NASH patients will develop chronic cirrhosis; most will die of heart disease before they die of liver cancer," he said. Professor Sanyal recommended moderate living, balanced diet and regular workouts.
On obesity and Hepatitis B as the focus areas for the Asia Pacific, there was unanimity among experts. The Hepatitis B virus is 100 times more infectious than the HIV; it causes 30 pc of all cirrhosis cases and 50 pc of all liver cancers globally. The good part is — it can be detected with a simple blood test.
That explains why 172 countries have included the Hepatitis B vaccine in their national immunisation programmes. But even today, the global coverage is just 75 per cent. Only one in five children in the world are getting all the three doses of Hepatitis B vaccine, which is administered at birth, at one month and at six months.
"We want the government to ensure 100 per cent coverage with all three doses. This vaccine is inexpensive and is now available in India. It costs less than Rs 1,000 per child. Compare this to the cost of a liver transplant which is above Rs 20 lakh a patient," says Dr Arvind Sahni, Director, Gastroenterology, Fortis, Mohali. So far as Hepatitis C goes, there is no vaccine available and the only prevention is blood safety and screening, since this virus is transmitted by blood.
While the overall prevalence of liver diseases in India is about 20 per cent, 4 per cent of it is attributed to Hepatitis B; 2 per cent to Hepatitis C and 10 to 12 per cent to obesity related fatty liver disease. So the parents should watch their children's diet and weight.
As Dr Anil Dhawan, Professor of Paediatric Hepatology at King's College, London, explained, "Fatty liver disease presents no symptoms. It will be detected only incidentally but if a child is obese, he has 30 per cent chances of getting this disease. Once the disease sets in, transplant is the only solution. But we must remember transplant is in itself a disease as it requires lifelong medication. The easier way out is — watch your weight."
The fears of NAFLD epidemic has become even more real for India since the publication of a recent research in West Bengal which showed for the first time that rural farming populations had the disease even though they didn't report any of the risk factors associated with NAFLD. They were neither obese, nor sedentary nor alcohol consumers.
"Asian Indians are, in fact, at a higher risk of NAFLD than their American counterparts because they don't even have to be obese to get the disease. The implications of the West Bengal study are that NAFLD can be much more prevalent globally, and specially among Asian Indians than previously thought. Indians with a lower body mass index (BMI) and waist circumference get the disease which Americans with a higher BMI will get," explained Prof Patrick Kamath, Professor, Hepatology, Mayo Clinic College of Medicine, Rochester, Minnesota, US.
For a vast country like India, the summit had several critical messages. Topmost among these was the urgent need for 100 per cent Hepatitis B coverage considering Hepatitis B, unlike Hepatitis C, is vaccine preventable.
The second major message related to the need of awareness in respect of obesity related fatty liver disease which is affecting more and more children as they adopt westernised lifestyles high on fatty foods and low on activity.
Preventable disease
"Fatty liver is a big concern. However, 60 per cent of it can be prevented by preventing obesity, lipids and diabetes. Liver disease now affects one out of every five persons . Of the 20 per cent liver patients in India, 10 per cent will have a failure. That is about two lakh people annually who will need transplants," said A.S. Soin, Chairman, Medanta Institute of Liver Transplantation and Regenerative Medicine, Gurgaon, which is among the top five global centres for liver transplant with a load of 250 transplants a year.
But most patients of end-stage liver cirrhosis won't live much even after a transplant. Those whose cancer is detected in stage 1 and 2 will survive with 90 per cent positive result but the problem is non-availability of livers for transplant and dismal levels of liver donation in India.
As against 20 per million donations that India needs every year, it gets just 0.01 per million. "Annually, two lakh people need transplants but last year we conducted just about 700. Of these, 680 were living donor liver transplants and the rest were deceased donor liver transplants. In India, the relatives of brain dead people still hesitate to donate organs. Even others are not forthcoming even though one of the two lobes of a liver can be safely and easily donated," Soin explained.
Liver is in fact the only organ than can regenerate and it poses no risk to the donor who has 100 pc survival post-surgery. Any family member can donate. Only, a donor must be aged 18 to 55 years with no previous history of liver disease or alcoholism.