| | | |
| --- | --- | --- |
| | OPED RAILWAYS | |
An effort to rescue the Railways
R.C. Acharya
Despite the political storm it has raised Dinesh Trivedi's budget has made a bold effort to improve the Railways' finances and safety track record. He has tried to prepare the Railways to meet rising public aspirations in the coming decade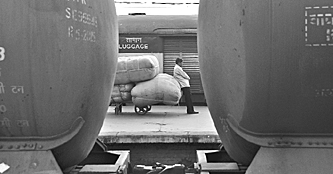 As the Railway Minister Dinesh Trivedi had two very clear and contrasting options – either keep the Railways in the status quo mode with just incremental annual changes or bite the bullet and go for a generational change with focus on safety and inclusive growth to meet people's aspirations in the next decade.
It was indeed a tight rope walk, balancing between populist demands and the need to drastically improve the Railways' safety record, and by all counts Trivedi in his maiden Rail Budget has acquitted himself admirably well!
He had already faced the public wrath when he went to the site of a train accident at Fatehpur Malwa, near Kanpur, as soon as he had taken over as the Railway Minister. No wonder safety was on top of his many priorities when he was busy framing the Railway Budget proposals for 2012, and for which the road map provided by the Kakodkar Committee for Review of Railway Safety came handy.
Special purpose vehicles
With management being freed from the shackles of the bureaucracy, Trivedi has found the setting up corporations as the way to move forward, and hence, the flavour of the season has been SPVs (special purpose vehicles)!
With Rs. 50,000 crore to be spent to eliminate all grade crossings — manned and unmanned level-crossings — which had been responsible for 40% of all train accidents and involved 60% to 70 % of casualties over the last five years, a SPV viz. Rail-Road Grade Separation Corporation of India, is proposed to be set up.
Another SPV viz. Indian Railways Station Development Corporation will redevelop stations and maintain them on the pattern of airports, while a Logistics Corporation would develop and manage the existing goods sheds, and multi-modal logistics parks. It would provide a more user-friendly approach for logistics solutions to the rail-users to help them cut down their operating costs.
He also proposes to create a Safety Authority as a statutory regulatory body which would function in line with international practices to ensure greater passenger safety as well as a Railway Research and Development Council at the apex level to spearhead developmental efforts to enhance rail safety.
Trivedi finds that safety and modernisation are two sides of the same coin, hence the Sam Pitroda committee's recommendations in areas of modernisation impacting safety — with a price tag of Rs. 5.6 lakh crore — is proposed to be vigorously pursued. 'Mission Directors' would be appointed for a period of not less than three years to vigorously pursue implementation of the projects, reporting directly to the Railway Board.
Investments of Rs. 7.35 lakh core for the 12th Plan are proposed to be met as follows: Rs. 2.5 lakh crore by gross budgetary support, Rs. 30,000 crore by government support for national projects, Rs. 20,000 crore by ploughing back of dividends, Rs. 1,99,805 crore by internal resources, Rs. 2,18,775 crore by extra budgetory resources, and Rs. 16,842 crore by the Railway Safety Fund.
Public private partnerships
Making a special reference to his successful PPP (Public Private Partnership) initiative with Chhatisgarh and user industries in the region, Trivedi announced that an MOU was signed with the concerned stake-holders to develop three new rail corridors in the northern parts of the state for the movement of passengers and freight.
Making a special mention of rail-based industries, Trivedi was happy to report on the successful production of the first lot of 78 wheels in 2011-12 from the Rail Wheel Plant at Chhapra in Bihar and that the plant would be ready for full commissioning in 2012-13. A new coach factory at Rae Bareli in UP is ready for full production with 10 coaches having already been rolled out. Phase II is expected to be completed by 2012-13.
A Diesel Component Works at Dankuni has commenced production of under-frames for high-powered diesel locomotives, and is likely to be fully operational by 2012-13 , while a wagon manufacturing unit at Kulti and a Fiat bogie manufacturing unit at Budge-Budge will start production in 2012-13.
Trivedi also proposes to augment the facilities at Dankuni for fabrication of locomotive shells and assembly of the three-phase electric locos for the new generation 9000 hp locos under transfer of technology from Japan, with capacity to assemble 100 locos a year.
All the above three projects in West Bengal were initiated by Mamata Banerjee last year when she occupied the corner room in Rail Bhavan !
More states have now joined in the clamour for such rail-based manufacturing facilities, starting with Kerala which has promised to chip in for a coach manufacturing unit at Pallakad, while Gujarat wants one in Kutch, Karnataka in Kolar and Odisha has thrown its hat in the ring for a wagon factory at Sitapali in Ganjam district. A facility for the manufacture of alternators for high horse power diesel locomotive at Vidisha in Madhya Pradesh is also on the cards.
Benefits for patients
As usual the 62 -page document is full of sops for the weaker and less privileged sections of society such as extending 50% concession in fares for 2 & 3 tier AC, chair car and sleeper classes for patients suffering from aplastic anaemia and sickle cell anaemia. Arjuna Award winners are proposed to be allowed to travel by Rajdhani and Shatabdi trains.
SIMRAN — a very popular name in Punjab — is a Real Time Train Information System (RTIS) developed by the Railways to provide accurate train running information to passengers through SMS, Internet etc. Already covering 36 trains, including Rajdhanis, Shatabdis and Durontos, it will be introduced for all mail and express trains in the next 18 months though it may not necessarily lead to any better punctuality!
Adding to the already top-heavy Railway Board, Trivedi now proposes to induct two new Members, one for PPP/Marketing who will be charged with finding ways and means for augmenting financial resources — a very tough job — and another for Safety/Research to provide a further focus on safety, taking the number of 'wise' men from 7 to 9!
As the Railway Minister over the last eight months, Trivedi had received as many as 5,741 requests, including 476 for new lines, doubling, gauge conversions or expediting completion of ones already in the pipe line. Some 273 requests were for ROB/RUBs (Road Over Bridge/Road Under Bridge), 48 for setting up new manufacturing facilities, 646 for new trains, 303 for extension of trains, 214 for increasing frequency, 811 for stoppages and 3000 miscellaneous requests, and he has tried to accommodate as many as possible!
More trains, unsafe tracks
Apparently Dinesh Trivedi was not ready to fully 'bite the bullet' yet. He chose not to ignore all demands for new trains, extension, increasing frequency etc. till such time as adequate line capacity and maintenance facilities had been built up, a pre-condition which had been strongly recommended by the Kakodkar committee.
A long list of 75 new express, 21 passenger, 8 MEMU, (Main Line Electric Multiple Units) 9 DEMU (Diesel Electric Multiple Units) trains features at annexure 20 of his budget speech. So are 39 extensions and 23 increases in the frequency of trains, undoubtedly further adding to the mayhem on the already crowded tracks.
Unfortunately, the cost of this highly populous step cannot be measured in financial terms alone. Windows available for hundreds of expensive track machines to efficiently perform and achieve a meaningful track maintenance to rated output will undoubtedly further shrink, making the tracks that much more unsafe.
Though Trivedi had already announced a 20% hike in freight tariff a week ago, he proposes to now rationalise the passenger fares by a nominal hike per km. of 2 paise for suburban and ordinary second class, 3 paise for Mail and Express second 5 paise for AC chair car, 10 paise for AC 3 tier & First, 15 paise for AC 2 tier, and 30 paise for AC 1st. Class.
The 1,388-km journey from New Delhi to Mumbai Central in the cool comfort of an AC chair car by Lalu Yadav's Garib Rath, which costs Rs.600, will now cost Rs. 630, an increase of a mere 2%, hardly making a dent in the poorest of the poor's finances!
This is a much delayed yet bold step, which is in keeping with inflation over the last nine years when the last hike in passenger fares was announced, and would help garner much needed finances. Unfortunately, it is will be a drop in the ocean for the level of funds needed to finance various programmes which Trivedi has now proposed to turn Indian Railways into a world-class system.
Rises above populism
Undoubtedly Trivedi has set an example of keeping the nation above self — a rare trait amongst politicians. Reportedly he is ready to face consequences for the decisions which were dictated purely by his conscience. As proudly claimed by him, the bold steps taken by him would indeed help bring the Railways out of the ICU!
The Railways would not have to come to the present sorry pass only if the scores of Railway Board mandarins over the last two decades had the same courage of their conviction. The successive Railway Ministers would not have been able to fritter away precious financial resources for hundreds of populist unviable projects costing Rs.80,000 crore at the last count.
Nor would they have been able to announce thousands of new trains crowding out precious freight traffic, the bread and butter of any transport business. Perhaps Nitish Kumar would have been stopped dead in his tracks and not allowed to play about with the carefully built command and control structure of the Railways and increase the number of Rail Zones from a manageable nine to 17, further adding to avoidable overhead.
The writer is a former Member, Railway Board