Neither feminine nor feminist
There is a thin line dividing sexual freedom and sexual violation. By mouthing filth and being blatantly sexual in The Dirty Picture, does Vidya Balan represent the quintessential Indian woman, for which she was honoured with a National award?
Shelley Walia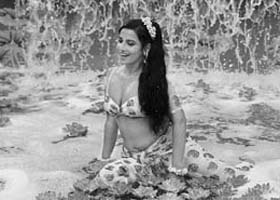 ON March 7, Vidya Balan won the National Award in the "Best Actress" category for her film 'The Dirty Picture.' It was perhaps the close proximity of the date with International Woman's Day, observed on March 8, that led Barkha Dutt, the anchor of the show "The Buck Stops Here", to include Balan among the panel of women — featuring the likes of Medha Patkar and Kiran Bedi — gathered together to argue about women's empowerment. This bemused me because I have believed for some time that there could be no direct connection between the rights of women and the manner in which Vidya Balan was portrayed in this film. What was odd on several counts was that although the film and its heroine had won major awards in virtually all Bollywood functions—Screen, Filmfare, Stardust and so on—they could generate the same sort of frenzy at the National Awards, which, I have always considered to be a class apart.
Vidya Balan is, no doubt, accomplished in two ways: she plays Silk ( Vijayalakshmi better known as Silk Smitha, a sought after erotic actress of the 80s, who did about 450 films in Tamil, Telugu, Kannada, Malayalam and Hindi) to perfection, although I cannot vouch for the authenticity of her portrayal; and she has, for the moment at least, shocked a male film industry into accepting that a woman can determine the financial health of a film. It has to be said, though, that sexual explicitness, to a large extent, will no doubt ensure box-office gains.
Did the character subvert male power?
In assaying the character of Silk, which is what makes the film a biopic, I cannot disagree that Balan has talent. So she deserves awards and accolades. But national awards are distinctions given for the best Indian cinema that promotes Indian art and culture by the President of the country who also happens to be a woman. This prompts one to think about the subject of the film—a woman called Silk. Who was she? Was she a "woman of substance", some kind of "iron lady" who subverted male power? In what way, by getting into her skin, does Vidya Balan claim to "celebrate sexuality" or "push the envelope", two phrases she incessantly loves to repeat in media interviews? Silk Smitha was not, by any stretch of the imagination, an empowered woman: she personified sleaze, rose to prominence in the Southern film industry precisely because she enabled box-office successes through her sexually audacious item numbers. While Vidya has talent, the character she portrays is far from being a feminist. We must make this distinction, therefore, between the actor and the character.
What has dignified the film is its recent "intellectualization", courtesy the many reviews of the film which claim that Vidya Balan challenges conventional representations of gender as well as the spate of her recent appearances on television where we see her in a new avatar, that of a spokesperson for the empowerment of women. Her frequent appearances on Barkha Dutt's shows (Dutt herself being a role model for a successful woman) have gone a long way in championing Vidya Balan as some sort of revolutionary representative of womankind. How does she send out a progressive message for social and cultural transformation which, in turn, emasculates men into accepting the power of a woman?
Is woman defined by her sexuality alone?
From what I have heard and read, 'The Dirty Picture' purports to be a representation of woman as a transgressive force, that both straddles and threatens the boundary in uncertain ways, appearing both as an aggressive sexual agent and a natural sexual victim. Women have always been used by men; it is now for women to use them for pleasure and material gain, if only through their bodies. Silk is a protagonist who has thrown the gauntlet to the world, making them see their ugly, raunchy faces in the mirror of a society that allows men to enjoy all forms of deviant sexual behavior, but the same is prohibited for women. Understandably, then, the crux of 'The Dirty Picture' lies in the definition of a woman through her sexuality. Some French feminists have done it, so why not Silk? Silk must therefore evoke both dread and admiration.
If this is the message of the film, so far so good. But as it turns out, the film reveals that a woman's sensual nature is also her natural character. I say this because she is sexually manipulative both on and off screen. She traps men by using her body to act in roles which too are "bold". But when these men tire of her heaving bosom, and when the audience—consisting of a male majority—wants a change, the rejection of the female body becomes a material reality. Silk commits suicide. There is no alternate reading between the lines but the abject subservience to a male sexual domination where the woman's body, yet again, becomes a victim. A "naďve conviction" of bestowing some empowerment on women, remains, in the words of Levi Strauss "allied to a greater intellectual poverty". Man's power in the end remains absolute, unapologetic and bedrock. More to the point, why should art proclaim this male authority?
But, to be fair, what makes the film feminist, in Vidya's formulation, is the element of "choice": while Silk Smitha did not exercise it, her character in the film does. In other words, while the former was exploited, the latter allows her exploitation on her own terms since she inhabits her sexuality quite comfortably. If so, how does choosing to be exploited any better than being a victim of exploitation? If Silk was a victim, then her character in the film is equally a victim, only willfully so. The element of choice hardly dignifies her stance. If it did, why would she have to die? Academic validation does not make the film a liberating text or free it from a sexist representation which only allows men to continue to despise women.
Slotting women in a new stereotype
In this (non)celebration of female sexuality, obscenity plays a big part. The salacious danger to one's sensibilities by the highly libidinal Vidya/Silk, driven by sex and consumed by a passion that caters to the sex-starved audience, is exacerbated by the frank focus on sexually explicit material that is at once fascinating and discomfiting. It seems that championing pornography is integral to challenging sexual repression. Yes, squeamish attitudes towards sex will not help in the liberation of women; we cannot chastise a woman for enjoying that which we love to do. But does speaking in a language that falls in the domain of filth, underpinned by the four letter word, become the "feminist" tongue of modern India, a tool to dismantle male discourse? If this is a film that was meant to overturn the ongoing male dominance and exploitation of the women's body which has always been under the "misogynist pornographic gaze", much has to be said about its loyalty to upholding the woman's status in our society, and its politically emancipatory inclinations.
Such analyses always tend to polarize thought between binaries: it would be easy to posit another category of women that exists in the Indian psyche, that of the ancient, Vedic women, a fetish of the prude mind, against whom the sexually provocative woman can be contrasted. But that is not intended here because the ancient Sita or Savitri were even more repressed in many ways. But blatant sexuality is not the way out of the morass because it slots women once again within the traditional stereotypes.
Dirty pictures sell
So what can one say about the recent incarnation of Vidya Balan that we see in TV interviews? Scarcely able to distinguish between "femininity" and "feminism", Vidya claims to "celebrate . . . the way [she is]". If 'The Dirty Picture' is that representation, how would Vidya answer scores of women in the country who, unlike her, have to negotiate their space in a nightmare of male control, who cannot afford to be the "entertainment" of roadside delinquents. National award winners should show the way, pioneer true emancipation. Vidya will walk away from the set, having mouthed her vulgarities, while many women in the real world will bear the brunt. If only the film were to beckon to us to try living beyond the boundaries framed by men, in which sexual freedom does not amount to sexual violation.
Dirty pictures sell and will keep selling in our social set-up until art does not provoke rage at the "natural right" of men possessing women. Vulgarization of language or the legitimation of cheap humour cannot be allowed to become the staple diet of the masses.
The writes is a professor of English at Panjab University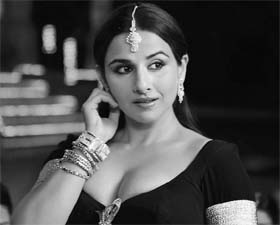 Pushing the envelop further...
If Silk was a victim, then her character in the film is equally a victim, only willfully so.
Blatant sexuality is not the way out of the morass because it slots women once again within the traditional stereotypes.
Vidya will walk away from the set, having mouthed her vulgarities, while many women in the real world will bear the brunt.