M A I N N E W S
Ahead of Zardari visit, Pak, India spar over Saeed's 26/11 role
Tribune News Service & PTI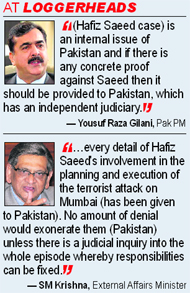 Bangalore/Islamabad, April 6
Ahead of President Asif Ali Zardari's Sunday visit, India and Pakistan today indulged in a war of words over Hafiz Saeed, the mastermind of 26/11, with Islamabad maintaining that they had not received "concrete" proof against the JuD chief and New Delhi asserting that no amount of denial by them could exonerate him.
The remarks come days after the US announced a $10 million bounty on Saeed, founder of the Lashkar-e-Toiba, for information leading to his arrest and conviction. Saeed operates openly in Pakistan, giving anti-India public speeches and the US decision has renewed pressure on Islamabad to take action against him. Even today, he and his supporters rallied against the US bounty across Pakistan.
"The dossier that the Home Minister (P Chidambaram) has provided to the Pakistan Government contains every detail of Saeed's involvement in the planning and execution of terrorist attack on Mumbai… So no amount of denial would exonerate them unless there is a judicial enquiry into the whole episode whereby responsibilities can be fixed but unfortunately Pakistan government has not thought it proper to investigate this," External Affairs Minister SM Krishna said in Bangalore today.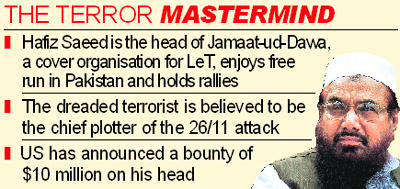 Krishna was asked about Pakistan Prime Minister Yousuf Raza Gilani's remarks that the Saeed case was an "internal issue" and if there was any concrete proof against the outlawed JuD chief, then it should be provided to Pakistan. Gilani had pointed out that cases against Saeed were dismissed in the past due to lack of evidence.
Asked whether the Saeed issue would figure in the luncheon meeting between Prime Minister Manmohan Singh and President Zardari in Delhi on Sunday, Krishna said all bilateral issues were likely to figure in the talks. "I don't know if they will have enough time to go into details, but the very fact that the Prime Minister is hosting a lunch, they might get a chance to discuss some bilateral issues," he said.
Zardari will hold talks with PM Manmohan Singh at the latter's official residence and have lunch with him before flying to Ajmer to offer prayers at the Sufi shrine of Khwaja Moinuddin Chishti.