Bibi enjoys privileges contrary to jail manual
Kapurthala, April 6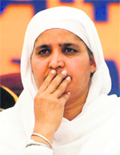 It's just that VIP convict Bibi Jagir Kaur can't roam around freely, but she has been enjoying all other privileges of a free person ever since she has was brought to the Modern Jail here last week. Even in confinement, the former Akali minister, who has been sent to five-year RI in connection with the murder of her daughter Harpreet, is being allowed to receive the choicest food and the best variety of fruits.
'Merchant of Death' gets 25-year jail in US
Network of arms dealer Viktor Bout is alleged to have armed Qaida, Taliban
New York, April 6
International arms dealer Viktor Bout, whose network is alleged to have armed the Al-Qaida and Taliban, has been sentenced to 25 years in prison by a US court for conspiring to supply deadly weapons, including surface-to-air missiles, to a Colombia-based terror group.
(Detalis on World page)
3,000 Sikh pilgrims to visit Pak for Baisakhi
Lahore, April 6
Around 3,000 Sikh pilgrims are expected to arrive in Pakistan from India and other parts of the world to participate in the 10-day annual Baisakhi festival starting from April 10 and authorities have completed arrangements to host them.
Maoists extend deadline to release hostages till April 7
April 6, 2012
PM trashes 'coup fears'
April 5, 2012
Act against 26/11 plotter Saeed, India tells Pak
April 4, 2012
Defence acquisitions to be fast-tracked
April 3, 2012
CBI lookout notice for Vectra boss
April 2, 2012
Army Chief names retd Lt Gen in his bribery complaint to CBI
April 1, 2012
Jagir Kaur gets 5-year jail term for daughter's abduction, quits
March 31, 2012
BRICS nations to promote trade in local currencies
March 30, 2012
Rajoana hanging stayed
March 29, 2012
Hang Rajoana, says court
March 28, 2012