Dhumal presents award to Himachal Tourism
Shimla, April 7
Himachal Tourism was conferred with the 25th award for the "Har Gaon Ki Kahani" scheme launched to promote rural tourism, at an international tourism conclave and travel award function held here today.
Anand Sharma's Visit to Kangra
Congress sings unity song
Dharamsala, April 7
After grumblings among supporters of Virbhadra Singh, it was a day of reconciliation among Congress leaders before the maiden visit of Union Minister for Industry, Commerce and Textiles to Kangra district on April 10.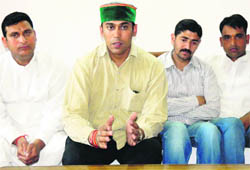 Youth Cong leaders rally behind Vikramaditya
Mandi, April 7
Youth Congress leaders from the Mandi parliamentary constituency today pledged their support to Union Minister Virbhadra Singh's son Vikramaditya Singh.


Youth Congress national secretary Amit Punia addresses mediapersons in Mandi on Saturday. Photo: Jai Kumar

State wants Annandale back, to approach Centre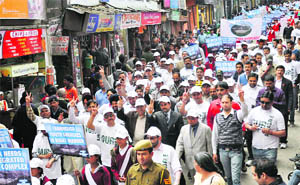 Shimla, April 7
Chief Minister PK Dhumal today said Himachal would present a memorandum, prepared by the "Citizens for Annandale", bearing the signatures of over one lakh persons to the Centre for returning the ground to the state government so that it could be developed as a multipurpose sports stadium.

Members of the "Citizens for Annandale", along with MP Anurag Thakur, take part in a rally in Shimla on Saturday. Photo: Amit Kanwar

e-services for taxpayers
Shimla, April 7
Chief Minister PK Dhumal today launched information technology-enabled services like e-CST and SMS alerts for the convenience of taxpayers of the State Excise and Taxation Department.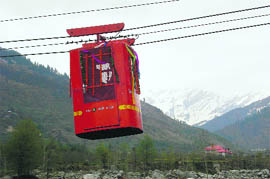 Goshal village gets modern ropeway
Manali, April 7
Gone are the days when residents of the historical Goshal village were forced to travel about 2 km on foot to remain connected with the highway for all essential works as seasonal floods in the Beas were damaging their foot bridge every year.

A power-driven passenger ropeway that was inaugurated by MLA Govind Thakur at Bahang, 4 km from Manali, on Saturday. Photo by writer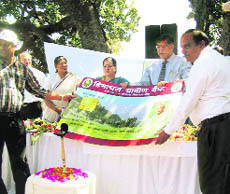 RBI Deputy Governor launches banking scheme
Nurpur, April 7
To "connect every citizen of the country with the banking service", the Reserve Bank of India (RBI) has launched the Financial Inclusion Scheme and in the first phase villages having a population of 2,000 are being covered.


KC Chaturvedi, Deputy Governor, RBI, launches the Financial Inclusion Scheme at Kotplahari village near Nurpur on Saturday. Photo by writer


Monkey count to help dept plan sterilisation
Solan, April 7
The wildlife wing of the state Forest Department has finally conducted a survey to estimate the actual simian population in the state. Since no authentic data about their presence was available, this survey will help devise strategies to plan their sterilisation. The last monkey census had taken place in 2004 in the state and their population has risen sharply ever since.
Run-for-Fun rally held on World Health Day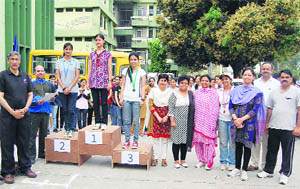 Kangra, April 7
A Run-for-Fun rally was organised at the Dr Rajendra Prashad Government Medical College (DRPGMC) at Tanda today in connection with the World Health Day. It was an effort to create awareness among doctors, medical students and staff of the college about their personal health.

Winners of the Run-for-Fun with Principal Anil Chauhan at the DRPGMC, Tanda, on Saturday. Photo: Ashok Raina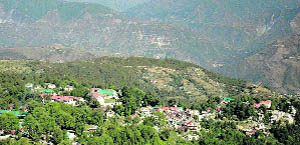 MC rejects move to rename Dalhousie
Dalhousie, April 7
The Municipal Council of Dalhousie has unanimously rejected a move to rename the hill station as Netaji Subhas Nagar or Tagore Nagar.


A view of Dalhousie town.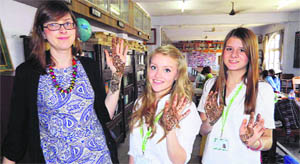 Indian students logically sound: UK students
Kangra, April 7
Indian students were logically sound and faster than British students because students in England were more dependent on technologies than logic.

A teacher and two students of Crawshaw Educational School, London, enjoy mehandi on their hands in Kangra on Saturday. Photo: Ashok Raina

Bindal opens integrated hospital info system
Solan, April 7
Health and Ayurveda Minister Rajeev Bindal inaugurated an integrated hospital information system, biometric machine and mobile-based reporting by health workers in the regional hospital on the occasion of World Health Day today.
NIT students to hold convention on architecture
Hamirpur, April 7
The National Institute of Technology (NIT), Hamirpur, will organise a zonal convention of the National Association of Students of Architecture (NASA) from April 13 to 15.
Best wrestler to get Rs 1,01,000 lakh
Bilaspur, April 7
The Bharat Kesari award with a silver mace (gurj) and Rs 1,01,000 lakh in cash will be given to the best wrestler of the Bharat Kesari wrestling bouts being organised by the Dangal Committee, named Jai Lakhdata Peer Dangal, at Chehd village near Ghumarwin town on April 18.