DPI snubs PU students' initiative
Chandigarh, April 10
The initiative taken by students of the Centre for Social Work of Panjab University to get children of migrants working at construction sites admitted in schools under the RTE in private schools turned out to be a nightmare with the education department asking the students not to act as mediators.


Hooda, Paes served snacks in dishes washed in toilet
Chandigarh, April 10
In a shocking incident, Haryana Chief Minister Bhupinder Singh Hooda and ace tennis champion Leander Paes were served high tea, sandwiches and mouth-watering fruit cakes in utensils that were cleaned in the washroom of the old hostel block at the Chandigarh Lawn Tennis Association (CLTA) complex in Sector 10 here this evening.

A toilet that was used as kitchen during the visit of Haryana Chief Minister Bhupinder Singh Hooda and tennis player Leander Paes at the CLTA complex, Sector 10, Chandigarh, on Tuesday. Tribune photo: S Chandan
PDS kerosene quota for UT slashed
Chandigarh, April 10
In a move affecting around 63,000 poor families in Chandigarh, the Union Ministry of Petroleum and Natural Gas has drastically slashed the quota of PDS kerosene by 45.89 per cent.
Admn to penalise mobile operators
Chandigarh, April 10
The UT Administration has now decided to impose penalties on mobile operators who had installed illegal mobile towers in the city. Earlier, the Administration had only issued notices to owners of residential and commercial buildings for violation of building bylaws but now mobile operators will face the music.


PCA barricading, a traffic hazard
Mohali, April 10
Tin-sheet barricades put up outside the Punjab Cricket Association (PCA) Stadium, near the traffic light point on the road separating Phases IX and X, pose a hazard to traffic from Chandigarh.
Tin-sheet barricades put up outside the PCA Stadium near the traffic light point on the road separating Phases IX and X of Mohali. Tribune photo: Vicky Gharu

Mercury to dip further in next 24 hours
Chandigarh, April 10
In view of the upper air cyclonic circulation over Rajasthan and western disturbances, drizzle accompanied by speedy winds will be experienced in the tricity during the next 24 hours.


A dust storm accompanied by drizzle hit Chandigarh on Tuesday. Tribune photo: Pradeep Tewari



Panchkula police gets more teeth
Panchkula, April 10
With an aim to strengthen the police force in Panchkula district and to deter the rising crime, the police has finally got two Assistant Commissioners of Police along with two Inspectors with three Assistant Sub-Inspectors.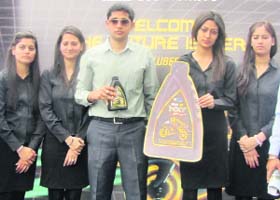 Employees of Bharat Petroleum during the launch of a generation lubricant in Chandigarh on Tuesday. A Tribune photograph
Dengue case surfaces
Panchkula, April 10
A dengue case was reported from Dhakoli village near Zirakpur here today. The patient identified as Sat Guru tested positive for the disease at a private clinic in MDC area of the town.
A fare of mouth-watering dishes
Panchkula, April 10
Tricity residents will be able to relish more than 40 mouth-watering dishes of different states during the four-day silver jubilee celebrations of Zonal Cultural Centres to be held at the Sector-5 Parade Ground from April 13.


Villagers allege police inaction, block highway
Mohali, April 10
Alleging police inaction, residents of about 10 villages today blocked the Banur-Landran highway near Saneta village for two hours. They said a youth of Durali village, Jasbir Singh (26), had been missing since March 27.
Villagers argue with a police official on the Banur-Landran highway on Tuesday. A Tribune photograph
Guest houses at UT villages may not get fresh permission
Chandigarh, April 10
The UT Administration will not give any fresh permission for opening guest houses in residential areas at villages of the city. This has been decided in revised draft village bylaws, 2011.


Driving chock-a-block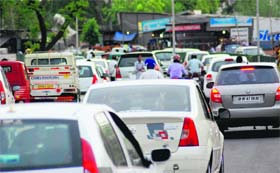 A view of traffic chaos near the furniture market on the road from Sector 42 to Mohali on Tuesday. Tribune photo: S Chandan
Even authorities not spared

Heaps of dry leaves lie in the parking at the entrance to the office of the municipal corporation at Sector 17 of Chandigarh on Tuesday. Tribune photo: Pradeep Tewari
Decision to withdraw 60 CTU buses in abeyance
Chandigarh, April 10
The proposal of the Chandigarh Administration to withdraw 60 ordinary buses from long routes and run those on local routes has been kept pending. The Chandigarh Transport Undertaking (CTU) has been asked to strengthen the local network.
Panel meets on traffic flow
Chandigarh, April 10
The 13th meeting of the central traffic advisory committee was held under the chairmanship of DIG Alok Kumar here today. Members gave suggestions in connection with issues pertaining to traffic flow.
F&CC meets tomorrow on no-vehicle zones at Sec 17
Chandigarh, April 10
A special meeting of the finance and contract committee (F&CC) to finalise modalities of converting two parking lots at Sector 17 into no-vehicle zones has been called for April 12.
Car overturns on PU campus
Chandigarh, April 10
A speeding car rammed into another car parked on the roadside and overturned on the Panjab University (PU) campus here today. The car was being driven by Yuvraj, a student of the University Institute of Engineering and Technology.



PU postpones BCom paper
Chandigarh, April 10
Panjab University postpones BCom II examination of Corporate Accounting, which was scheduled for today afternoon, following rumours of paper leak. The university authorities said the examination was postponed only as a preventive measure and that there was no information of paper leak from any centre.
The message on the cancellation of the test circulated among the students through SMSes.
A Tribune Photograph


Forgive expelled student, UICET appeals to PU
Chandigarh, April 10
Getting mild towards Sahil Gupta, a second year student of University Institute of Chemical Engineering and Technology (UICET) who was permanently expelled from the hostel for ragging a first-year student, the department has written to the PU authorities for ending his punishment.


Felicitated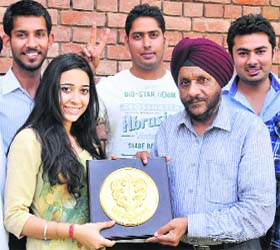 Students of Government College of Art, Sector 10, being honoured in Chandigarh. Tribune Photo: Pradeep Tewari
Education dept upholds decision to fail 30 students
Chandigarh, April 10
Highlighting the otherwise neglected importance of school attendance, the UT Education Department has maintained status quo on its decision to fail 30 Class XI students of Government Girls Senior Secondary School, Sector 18.
SSA to introduce farm tour in curriculum
Chandigarh, April 10
City students are likely to visit fields in August this year to learn about agriculture. According to the latest ambitious proposal by the Sarva Shiksha Abhiyan (SSA), "Krushi Vrutti Darshana" (Agri tour) will be a mandatory part of school curriculum from 2012-13.


Army equipment on display for school students
Chandigarh, April 10
As part of its endeavour to project the Army as an attractive career option and motivate youngsters to join the armed forces, the display of a wide range of weapon systems and equipment has been organised by the Western Command at Chandi Mandir here.

Students pose atop a T-90 tank during an equipment-and-weapon-system display at the Western Command headquarters in Chandi Mandir of Panchkula on Tuesday. A Tribune photograph