How helpful are career tests?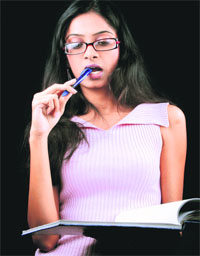 A vast variety of career options make many students turn to aptitude assessment in order to avoid making a wrong choice. Do these tests hold the key to taking the right decision?
Pre-board exams, board exams, entrance exams, class exams… who needs more tests, you would be forgiven for asking. Once past Class IX, the students seem to be suddenly overloaded with tests and more tests, raising anxiety levels skywards. The enormously difficult choices — which stream to opt for, what careers to target — further compound the situation. The latest entrants in this test-laden scenario are the tests which seek to help young people understand their interests and aptitudes in order to make better education and career choices.
Work on confidence level
Q. I've been trying to get a job in an MNC for quite some time now. But I am a very plain looking and simple person and this is what goes against me even though I have a good academic record. Even some of my friends have told me that I come across as a very unimpressive person. Is this the reason that I am not getting a good job? If yes, can you kindly suggest how I can build an impressive personality? — anubhav wadhwa
Newcastle University India Scholarships
Newcastle University is offering 10 Indian Scholarship (NUIS PG) awards. These are available for high achieving Indian students applying for entry in postgraduate degree programmes within the faculties of science, agriculture and engineering (SAgE), medical sciences (FMS) and the Newcastle University Business School (NUBS) commencing their studies in September 2012.
Career Hotline
What are the prospects of master's course in international relations?
Q. I have completed my bachelor's degree in history and am now planning to do my master's in International Relations from JNU. Can you please guide me about the prospects and preparations regarding this course? — shreya gogia


CareerCature
SANDEEP JOSHI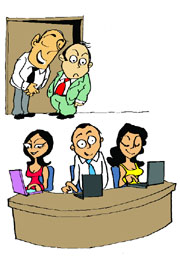 As a part of our talent-retention policy we have allowed our star performers to spend one third of the day to surf facebook and to tweet
A pleasure trip
A degree on hotel management not only opens up job options in the hotel industry but in several other fields also. Cruise Ship Management is one such field. Suited to individuals from a variety of hospitality backgrounds, particularly those with good sea legs, Cruise Ship Management not only offers diverse job opportunities but also a chance to earn well while travelling to exotic ports for free.
Low on cost, high on merit
The world has changed significantly in the past few years in terms of providing quality education, and so have the opportunities for globe-trotting students. Many countries have opened their arms to students from all over the globe, to come and join their institutions. Singapore - the international centre of art and culture - has remarkably drawn a fair number of students to join their esteemed educational institutions.
Grooming women to be politicians
The Centre for Public Policy (CPP), IIM Bangalore, in collaboration with New Delhi-based Centre for Social Research (CSR), an NGO working on gender empowerment, has launched a certificate course in political leadership to groom aspiring women politicians. The three-month-long India-Women in Leadership (iWIL) programme claims to equip aspiring women leaders with the requisite skills, knowledge and expertise in various aspects of governance.
Winning moves
Dance has rightly been called "music of the soul". For this music of the soul to follow a pattern, a harmony, a sequence, we need a science — the science is Choreography. Choreography is the earthly touch for the ethereal dance form. It is the art and science of designing sequences of movements in which motion, form, or both are specified. Choreography may also refer to the design itself, which is sometimes expressed by means of dance notation.
Small talk, big benefits
In today's day and age of high-tech networking, inter-personal communication is at its lowest ebb. When business moves out of the office confines and becomes social client-engagement, even some corporate honchos become tongue-tied because of the lack of skills of small talk and social interaction.
AICTE adopts cloud to improve tech education
The All-India Council for Technical Education (AICTE) in collaboration with Microsoft Corporation will be deploying Microsoft Live@edu over the next three months in more than 10,000 technical colleges and institutes throughout India. The cloud deployment will expand students' access to high-quality technical education and collaboration. Live@edu is the first step in AICTE's deployment of Microsoft cloud computing for education.
Go for innovations
Organisations need innovation on all fronts, not just in new products, services, or technologies. But many managers don't innovate because they don't think it's their job.
Happiness @ work
Gems of ancient wisdom
Rank may not indicate superiority
Just as age is not a dependable indicator of wisdom, a higher position in the hierarchy doesn't necessarily mean more ability. So seniors must give some freedom to their juniors to function.