Of infertility, drugs and twins
Sushil Goyal/TNS
Bathinda, April 22
An increasing number of women are taking to drugs/harmones to be able to conceive, resulting in the birth of twins and triplets. As many as 62 pair of twins were born during 2011-12 at the Government Women and Children Hospital here, 33 during 2010-11. Seventy per cent were normal deliveries, said Dr Dheera Gupta, a gynaecologist at the hospital.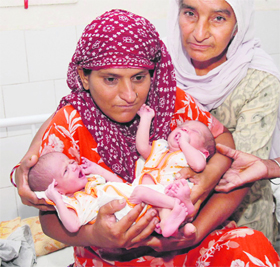 Amarjit Kaur with her twins at Civil Hospital in Bathinda. Tribune photo: Pawan Sharma
Dr Dheera said there were two major reasons for the birth of twins-use of drugs by women because of increasing infertility (not able to conceive for more than two years) and family history.
She said there were several reasons for infertility, including pesticides, pelvic TB, late marriage, stress, and food adulteration.
Dr Satish Jindal, child specialist, said women carrying twins faced many complications during pregnancy, including pre-mature delivery, low birth weight, increased risk of birth asphyxia(especially in the second twin) and anaemia in one of the twins. Two women have given birth to twins at the Women and Children Hospital here in April so far. One of them from Gehri Bhagi village had a son and a daughter.