The controversy over the Army's Czech-origin Tatra trucks is not just about quality of the equipment, but also raises the larger issue of indigenous defence production. The need is to pragmatically promote defence self-sufficiency by harnessing the military-industry interface using government subsidy-cum-support
TRUCK WITH CONTROVERSY
Maj Gen Raj Mehta (Retd)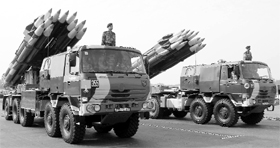 SMERCH Multi-Barrel Rocket Launchers based upon the Tatra truck during Army Day Parade 2012. Tatra trucks form the backbone of the military's specialist vehicle fleet.
With Parliament in session and a truculent opposition looking to embarrass the ruling coalition, the explosive interview by Army Chief Gen VK Singh to The Hindu datelined March 26, 2012 provided them with just that opportunity. Alleging that he had been offered a bribe of Rs 14 crores ($2.73 million) by an ex-Army officer lobbyist to clear purchase of 600 sub-standard Tatra vehicles, the General claimed that the 7,000 Tatra vehicles already in Army service "had been sold over the years at exorbitant prices with no questions asked." He added that he had informed the Defence Minister about the incident. By late afternoon, Mr Antony had ordered a CBI probe into the bribing allegation. Contradicting the Army Chief a few days later, the DRDO chief and scientific adviser to Raksha Mantri, Dr VK Saraswat said that the BEML-Tatra trucks were outstanding, adding that the Prithvi and Agni missile launchers were Tatra based and functioning optimally. BEML Chairman VRS Natarajan has said that and there is no issue with either serviceability or availability of spares of Tatra trucks. With the BEML-Tatra vehicle being awarded such extreme grades by top hierarchy, the lay reader needs to understand where the truth lies.
The All Terrain Tatra Military Vehicle
Tatra a.s. (named after the Tatra Mountains in Slovakia) is a reputed truck manufacturer based in Koprivnice, Czech Republic. It is the world's third oldest car maker after Daimler and Peugeot. The company produces a range of all-wheel-drive trucks from 4×4 to 12×12. In 1967, Tatra brought out the Kolos (Colossus) Tatra-813 model. This vehicle incorporated innovative design features like wide tyres, modular engine, central tyre inflation/deflation system, stunning towing capability and multi-fuel adaptability. Tatra-815, its successor has repeatedly won international off-road rallies. Some current models are tailor-made for the desert (Tatra-815-6) and C-130 Hercules air transportability (Tatra-815-7). Tatra-815/variants are exported to USA, Brazil, Australia, the Czech Republic, Romania, Slovakia, Saudi Arabia, Israel and India.
The BEML-Tatra Connection
Tatra a.s. entered Indian Army service in 1986 through a contract signed with Defence PSU, Bharat Earth Movers Limited (BEML) using completely-knocked-down (CKD) truck kits. BEML has business divisions in mining, construction, defence, aerospace and rail/metro coaches. In 1997, the contract for supply was reportedly signed with an intermediary and not with Tatra a.s., the original equipment manufacturer (OEM). This issue and its connected threads of the alleged bribe offer and connivance of other players is under CBI investigation and is outside the pale of this article. What is germane here is that BEML currently assembles nine variants of the Tatra-813 and Tatra-815 ranging from 6x6 to 12x12 vehicles for the Army. These have all-wheel-drive and very impressive cross-country capability. The ruggedised-for-Indian-conditions vehicle is 29 feet long, 8 feet wide and 9 feet high, weighs 16,000 kg and has a maximum speed of 80kmph.
The Tatra vehicle has, since induction been the Army's workhorse. Besides ferrying mechanised vehicles, it carries assault bridges and operational loads, following tanks with ease cross-country. Tatra variants are used as command posts, communication links, for recovery, as weapon platforms for multi-barrel-rocket-systems such as Pinaka, for the Prithvi/Agni missile systems and for the state-of-the-art Indo-Russian collaboration BrahMos missile system whose land version is carried on the 12x12 Tatra-815.
A Reality Check: Tatra is both Outstanding and Substandard
Exercise Brass Tacks was the first major exploitation of the Tatra vehicle, passing its rigorous desert induction with flying colours. The author had occasion to personally drive the vehicle both on and off-road when the vehicle was employed in the "follow-the-tanks-logistics-support" mode in both day and night conditions. The vehicle was quite simply outstanding. Years later, the author saw its utilization as missile-cum-communication-and-logistics carrier and found its performance high grade. If the left hand drive was a start-up problem, Army drivers quickly overcame it, driving the Tatra loaded with 50-tonne tanks on highways or off-road with logistics/containerised loads with ease, without any noticeable enhancement in accident rates.
Once past their prime, however, the Tatra-813/815 has started having problems of spares, maintenance and repairs because of grossly inadequate logistics support. These problems demand substantial attention from the field Army as tyres, batteries; critical engine spares are not only inadequately stocked but have also not been indigenously produced to the original, exacting standards of the OEM. The indigenisation figures being touted make for hair-raising reading. The Army Chief claims that 70 percent of the Tatra is imported. Rashmi Verma, MoD Joint Secretary (Land Systems) puts the figure at 45 percent and Chairman BEML at 40 percent -- figures that speak for the sordid, ham-handed way in which we look at defence procurement and indigenisation.
We must bluntly accept that a Tatra-815 without batteries, tyres or fitted with expensive though inefficient commercial-off-the-shelf substitutes, a vehicle reportedly with its nuclear, biological and chemical (NBC) filters stripped, is operationally unserviceable. The blatant violation of the Governments Defence Procurement Procedure which prohibits intermediaries between user and OEM adds to the irony that an outstanding vehicle has been rendered hors de combat by bureaucratic obfuscation, inadequate political oversight, blighted indigenisation, and possibly, lack of financial probity. The military's sluggishness in following up on its whistle blowing is equally distressing.
The Indigenisation Conundrum
MoD in 2011, belatedly ordered trials for a 'Made-in-India' all-terrain vehicle, with Tata Motors, Ashok Leyland, Ural (India) Ltd and BEML participating. Though a significant development, we must accept that our indigenisation work ethic is poor. India has 39 ordnance factories, 51 defence laboratories and eight Defence PSUs under the MoD, with many performing sub-optimally, notwithstanding occasional successes like the BrahMos, Prithvi/Agni and radar projects. Defence self-reliance is urgently needed as profit driven foreign vendors will always let you down when the chips are down. Some analysts have suggested that the conundrum can be solved by allowing defence foreign players bulk entry, hoping that they will replicate the effect foreign players had on indigenising India's automotive industry. Such analysis is a chimera as it misses the point that the defence sector worldwide is government and diplomacy controlled, and has deep ramifications far beyond just profit.
What we do need to do is to tackle two broad issues. Firstly, the need to reform the Defence Ministry per se through a constitutionally appointed National Defence Commission. The other is to pragmatically promote defence self-sufficiency through foreign collaboration using the BrahMos model and by harnessing the military-industry interface, using Government subsidy-cum-support. An example from Israeli civil industry-R&D support scheme shows that it raised Israeli exports from $422 million when the program started in 1969 to $3316 million in 1987. Funding for firms meeting the subsidy criteria ranged from 50 - 66 percent of their R&D budget. In 1993, Israel started a "Magnet" research scheme for consortia in which innovative people, firms and academia received huge R&D budgetary support and 18 consortia are currently working on projects such as digital wireless communications and multimedia-on-line-services. In all, Israel is funding over 800 firms engaged in involving 1162 R&D projects.
Finally, does the BEML-Tatra potpourri have a silver lining currently concealed by the ugliness of the confrontation and exposures thereto? Indeed, there is. The much needed Military Reform Process has finally fallen into place and India may finally come out a winner from this fracas.
The writer has served with the Armoured Corps which uses Tatra variants
The Stake Holders
TATRA
Tatra is a Czech vehicle manufacturer founded in 1850 as Schustala & Company and in 1897 produced the first motor car in central Europe, and one of the first cars in world, the Präsident. In 1919, it started to use the Tatra a.s. badge named after the nearby Tatra mountains in Slovakia. Tatra is the third oldest car maker in the world after Daimler and Peugeot. During World War II Tatra was instrumental in the production of trucks, and tank engines for Germany. Production of passenger cars ceased in 1999 but the company still produces a range of primarily all-wheel-drive 4×4, 6×6, 8×8, 10×10, and 12×12 trucks.
VECTRA
Vectra Group consists of diverse companies operating in various business domains across the world. The core businesses of the Vectra Group, according to its website, are aviation, engineering, material handling and construction equipment, automotive, real estate, information technology, and the services sector. Its operations are primarily in India and Eastern Europe, spanning more than 18 companies, with eight manufacturing facilities in four countries (India, the UK, Czech Republic, and Slovakia). In addition, Vectra Group has offices or investments in France, Russia, Singapore and Sri-Lanka. Vectra is the largest shareholder of the consortium Tatra Holding s.r.o. that owns Tatra a.s. Formerly known as Tatra Trucks India Limited, Tatra Vectra Motors Limited was the Vectra Group's first manufacturing plant in India. It. manufactures Tatra trucks in India and is located in Hosur in Tamil Nadu.
BEML
Bharat Earth Movers Limited is a public sector undertaking that manufactures a variety of heavy equipment for earth moving, transport and mining. BEML commenced operations in January 1965 and was wholly owned and operated by the Ministry of Defence until 1992, when the government divested 25% of its holdings in the company. BEML is Asia's second-largest manufacturer of earth moving equipment, and it controls 70% of India's market in that sector.
BEML-TATRA VEHICLES IN SERVICE WITH THE INDIAN ARMED FORCES
The backbone of Indian Armed Forces' fleet of heavy logistics and specialist vehicles is based upon Tatra variants, ranging from load carriers to missile launch vehicles. These include: