| | | |
| --- | --- | --- |
| | OPED YOUTH | |
Unbridled and politically inclined
Kudrat Kahlon
Unlike other quotas that divide people and increase communal hatred, income frustrations, lingual barriers or regional difference, there should be a youth quota. Not only would that increase youth representation but it would be a truly unifying bind in a country so diverse that we need to find common ground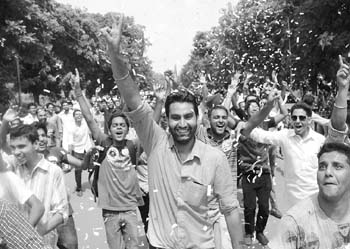 Samuel Ellman once said "Youth is not a time of life; it is a state of mind". Unfortunately, our political grandfathers take that statement too seriously. In a country where the youth accounts for 40 per cent of the population, they are truly the worst represented section in our representative democracy. The generation of tweeters is being governed by the generation of the rotary phone. The changes in the past few decades have been ameliorating, but our leadership trends unfortunately have not followed pursuit, and seeing the current dynastic politics, communal resurgence, and rampant elitism it is in fact degeneration from the time of Independence.
In a country infamous for handing out quotas like hot cakes, pulling one section of the underprivileged but creating a greater divide in the process. Instead of having quotas based on religious, regional, ethnic criterion, we need to have quotas that are progressive like that for women. Unlike other quotas that divide and increase communal hatred, income frustrations, lingual barriers or regional difference there should be a youth quota.
Not only would that increase youth representation but it would be a truly unifying bind in a country so diverse that we need to find common ground. Post-Independence, Jawaharlal Nehru searched for such a unifying bind in secularism. Today, we can unify all sections of our expansively diverse nation with the idealism of youth.
Agents of change
Not to paint a rosy picture and harbour delusions of grandeur about the youth's idealism, but proposing youth's involvement would annihilate corruption is an inadmissible argument, anyone who has witnessed a university election and the money that is exchanged could attest to that. What does make them more accountable is that they have to live with the decisions they make, unlike 70-year-olds deciding the trajectory the nation will take in the century to follow and not be alive to see those changes as progressive or redundant. There is a need for the youth to elect leaders younger, not leaders who legislate policies that will have their effects, positive or negative, after they depart. That would add a sense of accountability, credibility. Plus there is an obvious disconnect with the youths needs.
Inheriting seats of power
But there is a huge obstacle in making this true. In a shocking study conducted by an American historian, Patrick French, who, stumped by lack of credible statistics, set out to consolidate a very telling tale of Indian politics. He found that every MP below the age of 30 had inherited a seat, and that two-thirds of the 66 MPs under the age of 40 were hereditary. And of the 38 youngest MPs, 33 are hereditary. What does this tell about our vibrant democracy and future political trajectory? Gone are the times where grassroots-level leaders could rise in ranks due to their sheer integrity, will and grit. This is a very dismal reality for talented youth who willing to join politics stand a dismal chance.
A challenge that comes naturally to all democracies is that of paralysis. Paralysis in legislation, a prolonged indecision because of opposition and diversity in views, and abundance in diversity is no greater visible than in India. In such a system destined for molasses like change, youth can act as a catalyst to a common consensus. The present generation has needs shared and craved globally. The needs of the youth such as strong infrastructure, progressive education models, transcend ethnicity, religion or region.
And if the promise of a brighter future is not enough to pursue more youth involvement, it is not a far-fetched notion to suggest that involving youth in politics might be the only way to avert conflict. US Intelligence Agency pointed out that "Several troublesome global trends, especially the growing demographic youth bulge in developing nations whose economic systems and political ideologies are under enormous stress, will fuel the rise of more disaffected groups willing to use violence to address their perceived grievances." This was issued as a warning to US counterterrorist operations that might not eliminate the threat of future attacks because they fail to address the underlying causes that drive terrorists. A cry for lack of political action , which can be surely remedied by addressing needs of the youth, but not without representing them in politics.
Countering conflict
In 2003, researchers with Population Action International (PAI) reviewed the data on population and past conflicts and found that countries in which young adults made up more than 40 per cent of all adults were about two-and-a-half times as likely to experience an outbreak of civil conflict during the 1990s as other countries. The study identified 25 countries where a large youth bulge, coupled with high rates of urban growth and shortages of either cropland or fresh water, creates a "very high risk" of conflict. Conditions rampant in India. And while our nation does not lie on the extreme of the spectrum, it lies well within its purview. Central to remedy is addressal of youth needs before they divert to radical methods to have their voices heard. It is time we pay heed.
More mobility
So how does one go about bringing about these changes? For starters, there must be a system to increase mobility between the less privileged to enter the elite political platform. One way this can be enforced in an organised fashion where merit gets credit is by providing internships in government offices to students excelling in their fields. So a ministry would have actual interns who have studied and excelled in the subject matter of the department, instead of having inherited the seat from their forefathers. Such prestigious internships would help people from non-traditional political backgrounds not only get a glimpse of the inner political sanctum behind closed doors. It would also help to forge contacts and gather experience to help sustain a political career and build on such positions long after their apprenticeship is over.
But most importantly, the rhetoric and culture must be revamped. Schools, parents and the community must invest and encourage community service, arrange for public forums and recreate the general attitude towards political involvement. The political paradigm must shift from politics as a family business or a wealthy man's career to something anyone who wants to make a difference can participate in and subsequently succeed in doing so.
The writer makes documentary films for international news channels
We, the youth, matter

Youth needs to play a positive role towards socio-political causes. It may sound cliched but we already have a huge participation but that participation is restricted to political rallies or road shows. Everyone generally goes home after that and we sit down thinking 'yes we have the youth on board ' but that's mere groupism, not participation. The youth needs to come out and involve themselves in a way that would have a direct impact on the society, participate in issues such as prevalent drug addiction, female foeticide and agricultural development. Usually, youth who are politically involved are oblivious to these serious social problems.
— Sahil Sandhu, Student of aeronautical engineering, Embry Riddle, Florida
Beyond varsity politics

I consider student politics a worthy passage into building stronger networking skills and helping the student community at large. But after spending a year at Panjab University as a law student, I realised that the adventures of the student politics in Panjab University were only limited to university life. The realities of life were by far different and far removed from university politics. Further, there are no charismatic mentors or leaders that you can find at the university level. Rather, the entire scene becomes one of clashing egos and groupism. As soon as you realise that your education and professional networking is what really matter in life, you start seeing student politics as a mere game played during the free hours of the evening.
— Navratan Singh, doing his LLM from University of Toronto. President, Graduate Law Students' Association
Let the young speak out

In the future, the state should see more representation of youth in the Vidhan Sabha. The younger legislators should be given a chance to voice their opinion.
This is the only way effective legislation can be made to deal with serious issues such as drug abuse and other matters that affect the youth directly, which the government has so far failed to do.
— Mehtab Khaira, president Youth Congress, Bholath